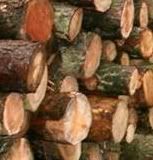 The
European Biomass Association
(AEBIOM) has
released
its overview of the state of bioenergy in the 27 member states of the EU and presented it to European Commissioner for Energy Andris Piebalgs. The document contains scenarios showing the roles different biomass fuels and technologies will be playing in the longer term and which developments should be given priority for research and funding. Recommendations for the upcoming Renewable Energy Sources Directive are included as well.
The report shows that biomass is by far the fastest growing renewable energy source and that it has the largest potential for clean energy generation within the Union. Biomass covers about two thirds of all renewables and plays the crucial role in meeting the 20% target for renewables by 2020 and in the future reduction of CO2 emissions in Europe.
A variety of different biomass raw materials from forestry, agriculture and waste is being used for energy purposes. Different conversion technologies are available to transform primary energy from biomass to heat, electricity or liquid and gaseous biofuels. All these technologies result in the production of carbon-neutral energy. In the near future, carbon-negative bioenergy will be produced in systems that couple the utilization of biomass to carbon capture and storage (CCS) technologies.
Forestry the basis, heat the biggest market
In 2004, woody biomass covered 85% of the total biomass supply in Europe. So far, wood and by-products of the forest and wood industries are the main source for bioenergy followed by waste (10%) and by agricultural based biomass (5%). 66% of the biomass was used to deliver heat, 31% for electricity and cogeneration and 3% for liquid fuels. Heat generation is currently the most important market for biomass (figure 1,
click to enlarge
).

In absolute terms, biomass is by far the fastest growing renewable energy source in the EU as is shown by the figures in table 1 (expressed in Mtoe = million ton oil equivalent). In the period from 1995 to 2004 the contribution of biomass to the energy supply grew by 27.5 Mtoe, that is 78% of the total growth in renewables and corresponds to an increase of 61% in 9 years. Yet, the annual growth rate of wind energy was larger.
The 'huge potential' of biomass
AEBIOM estimates that the contribution of biomass for energy can be increased from 72 Mtoe in 2004 to 220 Mtoe in 2020; the biggest potential for growth lies in biomass coming from agriculture (figure 2,
click to enlarge
). In the 27 EU Member States, 20 to 40 million hectares of land can be used for energy production without harming the European food supply:
energy :: sustainability :: climate change :: renewables :: biomass :: bioenergy :: biofuels :: European Union ::

Land reserves are available: set aside land, the use of so far unused land not part of the set a side program, less exports, continuation of plant breeding progress, better management of arable land, especially in those parts of Europe with low yields.

This land will be needed not only for production of liquid fuels but also for the production of solid biomass for heat and electricity. Additional biomass can also be produced by better use of by-products such as straw, manure and a better mobilization of woody biomass.



C02 reduction


To reach the targets of the spring Council of 2007 - which aim for a reduction of carbon dioxide emissions by 20% -, the emissions have to be reduced by about 840 million tons of C02 corresponding to 300 Mtoe fossil fuels. Biomass can substitute about 150 Mtoe of fossil fuels, if efficient biomass to energy chains are favoured.

The efficiency in the conversion of biomass to final energy varies widely between different technologies. This efficiency can be above 90% (biomass to heat) and below 40% (biomass to electricity only, stand alone second generation fuels).


The energy output per hectare varies between 1 toe up to 5 toe depending upon the energy crop cultivated and the conversion technology chosen. Specific high yields per hectare can be attained by growing perennial energy crops such as miscanthus, short rotation coppices or energy grass used to produce combustibles or maize for biogas production (table 2,

click to enlarge

).

Uneven use of biomass for energy in Europe
The share of biomass in the energy mix differs widely from member state to member state :
From 1.3% in the United Kingdom to 29.8% in Latvia, in the average 4.1%.

Typical biomass to energy chains are only used in a few countries as the following examples show:



Pellets

: In 2005 in Europe about 6 Mt pellets were used, roughly 50% for residential heating and 50% for thermal power plants. 95% of these pellets were used in only 7 countries : Sweden, Netherlands, Denmark, Belgium, Italy, Germany, Austria.



Biomass for district heating

: on average, in Europe only one per cent of the heat demand is covered by district heat coming from biomass, yet in a few countries like Sweden, Finland, Denmark, the Baltic countries and Austria this share lies between 5 and 30%.



Land requirement for transportation fuels


In 2006 about1.5 Mm³ ethanol were produced in Europe, the needed raw material corresponds to about 2% only of the total wheat and sugarbeet production of a year.




Targets of biomass deployment


The AEBIOM sees the main targets to promote biomass as being (1) the reduction of C02 emissions in the EU, (2) improving the Union's security of energy supplies, (3) delivering competitive energy prices.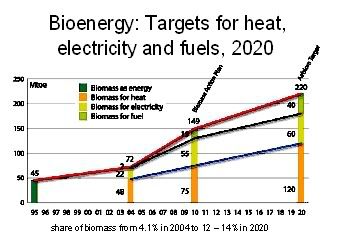 Following these targets the following scenario for the contribution of biomass to the different energy markets has been development by AEBIOM for 2020.



Principles for biomass deployment


The report also contains a list of priorities that must be considered when promoting, funding or analysing biomass.

priority to technologies with high efficiencies
priority to biomass-to-energy chains with high energy output per hectare
preference to energy chains with competitive cost
sustainable production of biomass for energy
preference for decentralized solutions
preference for biomass from Europe – security of supply issue (note, the EU itself is favorable to biomass trade with countries outside of the EU)

In applying these principles the ranking for the further promotion of biomass appears as follows: (1) biomass-to-heat, (2) biomass for combined heat and power, (3) biomass for biogas, and (4) biomass for liquid fuels.



Biomass for heat


Additional 70 to 80 Mtoe biomass should be used for the heat supply, this requires a restructuring of parts of the European heat supply systems: more district heating systems, more biomass fuelled heating installations instead of fossil fuel systems or electrical heating systems. A European fund for renewable heat (biomass, solar thermal, geothermal) is proposed to support the member states in financing the necessary investments.



Biogas


A concept to further develop biogas for transport but also for electricity and heat should be developed in all member states, given the high yields per hectare of this technology.



Transportation fuels


Bioethanol and biodiesel will remain the main biofuels until 2020. Biogas as transportation fuel should be promoted considering the high yields per hectare. The research and demonstration work on 2nd generation biofuels is important, but a specific priority for 2nd generation fuels as compared to other biofuels is not recommended. A protection of the ethanol market against cheap imports from abroad is as necessary as a certification system concerning the import of vegetable oil.



Efficiency


It is not enough to substitute coal by biomass in inefficient thermal power plants. In the future biomass should be used in plants with efficiency higher than 60%. Therefore a restructuring of the heating system and the systems to generate electricity will be necessary in order to reduce the transformation losses. The future lies in a more decentralised energy system, where electricity production follows the demand for heat.



Mobilisation of agriculture and forestry


Rapid actions are proposed to better use the potential of agriculture for energy. More than 10 Mha land for new perennial crops are necessary to comply with the targets. New incentives and stable conditions for farmers are required to develop this new production. But also new programs to better use the by-products of agriculture and forestry will be necessary. Besides this, the improvement of the agronomic techniques would lead to better yields in regions where they are at present far below the current average.



Recommendations RES-directive


The upcoming RES directive and its implementation will play a decisive role in achieving the EU targets. Concerning the biomass sector the Directive should contain the following elements:



Targets


Besides the binding targets such as 20% RES until 2020 and 10% biofuels by 2020 the directive should also contain an indicative target for heat: 25% heat from RES by 2020.



Principles for biomass implementation


The above mentioned principles for biomass implementation should be part of the directive.



National RES strategy


Each member state should be obliged to elaborate a national RES-strategy. This development strategy should present the national sub targets and measures on how to reach the allocated RES target of the directive. Concerning the heat sector this national strategy should contain technology targets for: heat from biomass, cogeneration with biomass, development of DH and also detailed instruments how the member state is operating to reach these targets.



Monitoring


A regular monitoring should be foreseen to see how the member state is moving towards the targets.



Trade


The trade of biomass between member states will be necessary in some cases to reach the national targets, but there should not be a possibility to trade RES obligations. The global trade especially concerning commodities for transportation fuels or biofuels should not be completely liberalized due to concerns about the food supply and environmental risks in some exporting countries.

On the latter point, Biopact, like many other organisations and governments, strictly disagrees: biofuels should be produced there where they can be made in the most efficient, competitive and sustainable way, and there where they yield large social benefits and reduce greenhouse gas emissions most. That is not in the EU, but in tropical and subtropical countries. Therefor, trade must be liberalized fully, provided a biomass and biofuel certification instrument is put in place that ensures sustainable production. This is an ongoing debate, but more and more EU countries are becoming favorable to the idea of free bioenergy trade.



References:


AEBIOM: Biomass: the renewable energy source with the biggest potential and fastest growth in Europe [*.doc] - September 13, 2007.