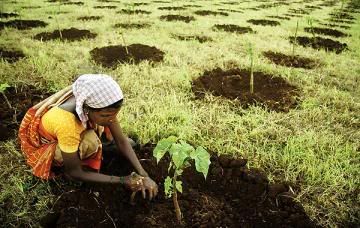 Australia's Mission Biofuels Limited
announces
that its Indian subsidiary, Mission Biofuels (India) Pvt Ltd (MBIPL), has signed an agreement with an Indian district controlled entity granting it exclusive, long-term access to
Jatropha Curcas
seeds from already planted lands as well as access to additional land in the district that is to be planted with the oilseed bearing shrub over the next three years. The agreement is presented as a win-win partnership with government and small farmers, with the potential to replicate the model in other communities.
The district authority has formed a producer company which is owned by smallholder farmers and Jatropha growers in the district which will be managed by the district authority. The district authority has, from funding received from the state and central governments under various programs including the rural employment guarantee programs, planted over 25,000 acres (10,100 ha) of jatropha during the last three years.
The district authority will continue to plant more jatropha under these programs, with an estimated 12,500 acres (5000 ha) in the current planting season. The district has now transferred all planted and to be planted trees to this new producer company.
This win-win partnership provides an excellent example of how a forward thinking government authority can help to provide: sustainable benefits to people living in poverty; long term value accrual to the farmers as owners of the producer company; achievement of economies of scale; and benefits from the research and technical and commercial inputs from an integrated biofuels player. More districts should follow this example.

- Mr. Ashish Swarup, CEO of MBIPL
Under the agreement, the first-of-its-kind in India, MBIPL has agreed with the producer company to:
provide technical inputs and know-how to the Jatropha Curcas farmers;
establish nurseries

provide a primary processing center in the district to augment the efforts of the producer company
This will enable MBIPL to gain exclusive access to all Jatropha Curcas seeds harvested in the district and will favorably impact the price MBIPL will pay for the Jatropha Curcas seeds purchased from the producer company:
energy :: sustainability :: biodiesel :: biomass :: bioenergy :: biofuels :: jatropha :: smallholders :: poverty alleviation :: India ::

MBIPL has been in active discussions with some other districts for similar arrangements and is confident that this first success with a win-win agreement will help it finalize arrangements with some more districts in the region providing it immediate and long term access to large scale

Jatropha Curcas

seeds.

With the signing of this agreement, MBIPL says that it is well on track to achieve its 100,000 acres (40,700ha) of planted Jatropha Curcas target for 2007. MBIPL will continue with its efforts to increase the acreage further.

Mission Biofuels Limited is an ASX Listed company developing a 100,000 tonnes per annum biodiesel plant and a 12,000 tonnes per annum glycerine purification plant at Kuantan Port, Malaysia.