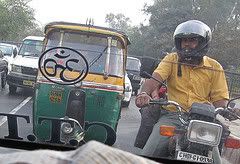 In a very interesting development, India's TVS Motor is
set to launch
CNG-powered motorbikes and three-wheelers on the huge Indian market next year. The motorcycles promise much lower carbon emissions and urban air pollution compared to petrol powered bikes, and would cut fuel consumption by up to 50 percent. Two- and three-wheelers are the
major means of personal transport
in many of the Global South's rapidly growing megacities. In Delhi, for example, close to 80 percent of households own a two-wheeler, not a car. In the highly developed world too the vehicles are making a come-back: in 2006, scooter sales in the U.S. soared by 200% as the bikes are increasingly energy efficient and tackle urban traffic congestion. In Europe some of the largest car leasing firms have recently begun introducing motorcycle lease plans for companies, with increasing success.
In what could be seen as a case of leap-frogging, the compressed natural gas motorbikes could eventually be fuelled by biogas in developing countries that are still building their fuel infrastructures. Biogas would be produced from local biomass resources near the point of consumption and coupled to CNG filling stations. The use of this green fuel would make such bikes very attractive on a well-to-wheel basis, since biogas is one of the most efficient and cleanest biofuels (
earlier post
). Even though a transition towards a CNG fuelling infrastructure requires large investments, countries like Argentina and Pakistan have shown that it is possible to make the switch. The latter country succeeded in getting 1 million CNG cars on the road in under two years time (
earlier post
). In India too, serious initiatives are underway to build a gas infrastructure for the transport sector.
For its part, Europe has demonstrated sufficiently that biogas can readily be used in CNG-vehicles. And when it comes to ideas for future mobility, it is no coincidence that a €3.35 million EU-financed research program on the most optimal and cleanest vehicle for urban transport resulted in the
CLEVER
, a CNG-powered three-wheeler that can readily use the biofuel (picture,
click to enlarge
).
TVS Motor, India's third-largest two-wheeler manufacturer,
announced
the news of its CNG motorbike plans during a presentation of seven new products to be rolled out from its Hosur plant, including a range of CNG three-wheelers.
We will invest Rs 50-60 crore [€9/US$12.3 to €10.8/US$14.7million] every year to increase our capacities and launch new products. [...] We are close to launching hybrid and CNG bikes, which will bring fuel costs down by 50%. We are expecting major volumes from our CNG bikes.

- Venu Srinivasan, chief managing director TVS Motor
Challenging Bajaj Auto on the three-wheeler front, TVS has invested Rs 150 crore [€2.7/US$3.7 million] to roll out petrol-LPG-CNG three-wheeler variants and is targeting 25% market share in the 540,000 unit market. "We are targeting major metros such as Delhi, Mumbai and Ahmedabad and the neighbouring markets of Sri Lanka, Bangladesh and Africa for exports. Despite a general slump in the automobile sector, three-wheelers have shown consistent growth. There is tremendous demand from smaller cities and towns and our product has been customised to meet the demand of small operators," said TVS Motor senior vice-president for 3-wheelers HS Goindi:
energy :: sustainability :: biomass :: bioenergy :: biofuels :: biogas :: CNG :: motorbike :: mobility :: air pollution :: emissions :: India ::

TVS Motor, which has faced reversals on the two-wheeler front with 10% negative sales in the first five months of the fiscal and had cut production to control inventories, expected a turnaround in 2008. "We are expecting flat growth during the festival period of October-December. We had strengthened our portfolio and entered the 125cc executive segment with Flame, that will being incremental sales and help us achieve positive sales in 2008," Mr Srinivasan added.

The series of launches will give the two-wheeler major incremental 40,000-unit sales every month from early next year October taking the total monthly sales to around 1 million units.

With the aim to emerge as an Indian multinational in the automobile sector, TVS Motor will also invest Rs 200 crore (€3.6/US$4.9 million) in its Indonesian facility. There it would be launching two new products this year, taking the total tally to four.



References:


Daniel Sperlingand Eileen Claussen, Motorizing the Developing World [*.pdf] - Access, 24, Spring 2004, University of California Transportation Center.

The Economic Times: TVS to roll out hybrid, CNG two-wheelers - August 31, 2007.

TVS Motor: Seven new models [*.pdf].

Compact Low Emission Vehicle for Urban Transportation: CLEVER website.

Biopact: Report: carbon-negative biomethane cleanest and most efficient biofuel for cars - August 29, 2007