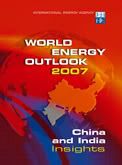 According to latest estimates of the International Energy Agency (IEA) to appear in the World Energy Outlook 2007 (WEO-2007) focusing this time on
China and India
, these rapidly expanding economies will continue to put pressure on tightening global oil supplies next year as they are projected to suck even more imported oil to feed their industries and meet transportation needs. This means sustained high oil prices, with grave consequences for developing countries as well as for India and China's poorer populations.
This year, the demand for oil in China is expected to increase by 5.9 per cent to 7.6 million barrels per day. In 2008, the demand will rise 5.7 per cent to eight million barrels, the Paris-based agency says.
The IEA expects oil demand in India to rise 4.3 per cent this year to almost 2.8 million barrels, but growth should slow down to 2.3 per cent in 2008, given the resumption of naphtha's structural decline.
The strength of gasoline sales [in India] is directly related to the country's rising vehicle fleet, which is expanding at some 15 per cent per year and is poised to exceed two million vehicles by the end of the decade, compared with 1.3 million in 2006. - IEA, WEO-2007,

China and India Insights
China imports about 40 per cent of its crude oil requirements, while India imports around 76 per cent of its overall crude needs.
The IEA, which acts as an energy policy advisor to 26 member countries, last week revised downward its 2007 forecast for global oil product demand to 85.9 million barrels a day, largely as a result of high prices and poor weather in countries comprising the Organisation for Economic Cooperation and Development (OECD).
However, the IEA said global oil prices are unlikely to see a drastic fall in the near term as tight fundamentals and renewed geopolitical concerns outweigh worries of an economic downturn:
energy :: sustainability :: biomass :: bioenergy :: biofuels :: oil :: China :: India :: IEA ::

Crude oil futures in the US surged to a record high of $81.90 this week.

The IEA's report, available in November, presents new and more detailed models for both China and India to allow a more comprehensive analysis of different future energy paths.

WEO-2007 analyses the impact of rising energy use in these countries on:
- international energy prices;
- investment needs and financing arrangements;
- energy-related greenhouse gas and other emissions; and
- energy and non-energy international trade flows.

The prospects for coal use, the role of nuclear, renewables, energy-efficiency improvements and urban and rural energy poverty in these two countries are all examined in depth. The work rests on close collaboration with public authorities and private organisations in China and India, as well as with key international organisations.

The energy challenges for China and India are enormous. How they meet those challenges will have farreaching consequences for the rest of the world. With extensive data, detailed projections and in-depth analysis, WEO-2007 provides invaluable insights into the prospects for these two emerging energy giants and the consequences of their choices for the global economy.

We will present a more in-depth analysis of the findings as soon as the report is released.



References:


Gulf News: India and China expected to exert pressure on dwindling oil supplies - September 21, 2007.

IEA: World Energy Outlook 2007 - China and India Insights - to be released on November 7, 2007.