Next-generation biofuels are here. The first buses running on ultra-clean second-generation biodiesel were
introduced
in Helsinki's public transportation this morning. The vehicles utilize fuels produced via state-owned Neste Oil's proprietary NExBTL (Next Generation Biomass-to-Liquids) process. Finland ambitiously aims to replace 30% of petroleum fuels with such next-generation biofuels by 2020, more than the EU requires (
previous post
). Interestingly, Neste Oil has recently announced that it is looking into sourcing feedstocks for its second-generation biofuel from the developing world, where they can be produced in a sustainable and competitive way, while potentially offering chances for rural development (
here
).
NExBTL is a biodiesel production process that differs from classic transesterification but also from second generation biomass-to-liquids processes used to obtain synthetic biodiesel (which is based on the gasification of biomass, with the gas being liquefied via the Fischer-Tropsch process). NExBTL instead consists of hydrogenating fatty acids under high-pressure, using hydrogen produced at the oil refinery (schematic,
click to enlarge
). The process can use multiple vegetable oil feedstocks and results in a product with characteristics similar to ultra-clean synthetic biofuels.
Several companies are developing the same process. In Brazil, Petrobras is investing in 'H-Bio', in Portugal Galp Energia is doing the same, whereas UOP, a Honeywell company, is developing the fuel which it dubs 'green diesel' (
earlier post
, and references there).
First tests with the NExBTL fuel shows efficiency remains high, while NOx emissions are down almost 20% and particulates close to 30% compared to standard diesel. In addition, the fuel reduces fossil CO2 emissions by up to 80% (
earlier post
). Neste Oil recently started construction on its €100/US$134 million NExBTL plant, the first large-scale second-generation biodiesel facility in the world, capable of producing 170,000 tonnes per year (more
here
).
The bus trials are part of a larger test program. Six buses are on the road today, but in the coming weeks this figure will increase to around 60. In all, there are around 1,400 buses operating within the Greater Helsinki area's public transportation system. The aim is to have every second bus operating in the Greater Helsinki Area running on biofuel by the year 2010.
Two capital area bus contractors, Pohjolan Liikenne and Veolia Transport, are taking part in the first phase of the experiment. From the beginning of 2008 they will be joined by Helsingin Bussiliikenne, the capital area's principal bus operator owned by the City of Helsinki:
energy :: sustainability :: biomass :: bioenergy :: biofuels :: biodiesel :: synthetic biofuels :: vegetable oils :: hydrogenation :: Helsinki :: Finland ::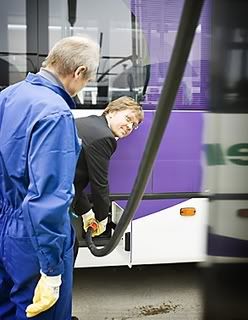 The idea behind the experiment is to reduce the capital area's emission levels from public transportation. The nitrogen oxide and particle emissions of biodiesel are lower than those of regular diesel.

The experiment will not yet have an impact on the air quality, but in 2010 it certainly will, confirms Reijo Mäkinen, head of public transportation services at the Helsinki Metropolitan Area Council (YTV).

Switching to biodiesel does not require any alterations to buses. The outlay of the experiment is around €100,000 per year, and it will be split evenly between Helsinki City Transport (HKL) and YTV. Neste Oil's investment in the experiment is slightly higher. For the bus and coach contractors, there are no expenses from taking part in the pilot project.

Photo: Helsinki Deputy Mayor Pekka Sauri fills up a Pohjolan Liikenne bus with NExBTL biodiesel under the watchful eye of Henrik Lindgren.

Credit

: Roope Salonen.



References:


Helsingin Sanomat: Biofuel buses introduced in Helsinki public transport - September 28, 2007.

Neste Oil: NExBTL Renewable Synthetic Diesel, presentation [*.pdf].

Biopact: Scania tests show bio-based synthetic diesel sharply cuts Emissions - June 05, 2007

Biopact: Finland's Trade & Industry minister wants 30% biofuels by 2020 - June 01, 2007

Biopact: Finnish oil major is considering jatropha oil for next-generation biodiesel - April 19, 2007

Biopact: Eni to produce green diesel from vegetable oils based on UOP's hydrogenation technology - June 20, 2007