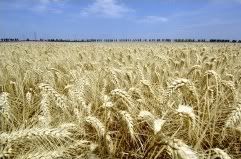 The European Union's set-aside scheme, whereby farmers receive subsidies to leave 10% of their land unused to avoid surplus production, has been suspended for 2008. The European Parliament (EP)
approved
the use of the so-called urgency procedure on a report relating to the direct support schemes and support schemes for farmers for the coming year. The Commission proposed the measure to deal with tightening grain supplies and record prices, which it blames on (worldwide) low harvests. We also think inefficient grain-based biofuels have played a significant role, even though the EU Agriculture Commissioner disputes this (see
here
and
here
).
Neil Parish (EPP-ED, UK, South West Conservative) and Chair of the EP Agriculture Committee spoke in favour of using this procedure.
My committee agreed to the request that urgent procedure should be approved. It was approved unanimously. The Commission is proposing to set a 0% rate of compulsory set-aside for 2008. This proposal must be adopted as soon as possible - that is before the end of this month - in order to allow farmers to take their decisions for growing crops on set aside land in 2008. The land concerned must be brought back to adaption because a poor 2008 harvest combined with 10% set-aside will expose the internal market to potential serious risks.
The European Commission
proposed
to set at 0% the obligatory set-aside rate for autumn 2007 and spring 2008 sowings, in response to the increasingly tight situation on the cereals market. In the EU-27, a lower than expected harvest in 2006 (265.5 million tonnes) led to tightening supplies at the end of marketing year 2006/2007 and to historically high prices. Intervention stocks have shrunk from 14 million tonnes at the beginning of 2006/2007 to around 1 million tonnes now in September, mainly composed of maize held in Hungary. Reducing the set-aside rate from 10% to 0% is expected to increase output by at least 10 million tonnes:
energy :: sustainability ::biomass :: bioenergy :: biofuels :: grain :: set-aside :: Common Agricultural Policy :: European Union ::

Set-aside was introduced to limit production of cereals in the EU and applied on a voluntary basis from 1988/89. After the 1992 reform, it became obligatory i.e. producers under the general scheme were required to set-aside a defined percentage of their declared areas in order to be eligible to direct payments. With the 2003 reform, they received set-aside entitlements, which give the right to a payment if they are accompanied by eligible land put into set-aside.

LibDem Euro MP Liz Lynne, joint agriculture spokesperson for the European Liberal Democrats, is in favour of the decision, but also feels that the time is right to completely scrap the set-aside scheme, which has existed since 1992, so long as more money is put into environmental stewardship schemes.

Speaking today from Strasbourg, Liz said:

I think today's decision marks a victory for common sense and I hope a step in the right direction. Unusual weather across Europe and elsewhere, as well as alternative land use such as growing crops for bio-fuels, has reduced yields and this needs to be addressed. I think set-aside has now served its purpose and we should scrap it altogether.

Many people think there is something absurd about the notion of paying farmers not to produce on 10% of their land while continuing to farm the remaining 90% as intensively as before. Currently, high grain prices are threatening to push up meat and bread prices for consumers. Bringing set-aside land back into production should help to offset these increases and also help to cut bureaucracy.
Speaking about the unexpected benefits of set-aside which may be lost if set-aside is suspended, Liz added:

I can understand concern that there have been environmental gains from set-aside areas, strips alongside hedges for example, but there are much better ways to encourage farms to be more green and sustainable, as well as commercially viable."

We should instead boost green practice through the Environmental Stewardship Scheme. Many farmers say they would like to be greener but the Environmental Stewardship Scheme is under-funded. The newer, second tier of the scheme, Higher Level Stewardship, for more far-reaching environmental projects and practice, is so overstretched that it is hardly worth their while to put in a claim because the budget has been cut. The government and the European Commission could address this.



References:


European Parliament: Direct support schemes and support schemes for farmers set aside for year 2008 - September 25, 2007.

European Parliament: Common agricultural policy CAP: direct support schemes and support schemes for farmers, as regards set aside for year 2008 (derog. Regulation (EC) No 1782/2003)

European Commission: Cereals: Commission proposes to set at zero the set-aside rate for autumn 2007 and spring 2008 sowings - September 13, 2007.

Biopact: EU to free up set-aside land to ease cereal prices - July 30, 2007