Citroën is to
launch
its first flexfuel vehicle in Europe this month. The 1.6-litre powered C4 BioFlex has the ability to run seamlessly on low-carbon E85 bioethanol, regular unleaded or a mixture of both.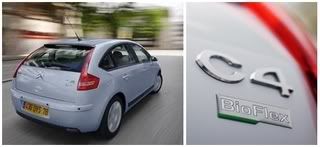 Already well established in Brazil, where flexfuel models currently account for 80 percent of Citroën sales, the company is now introducing the technology to Europe as availability of E85 fuel increases. The car will initially be launched later this year in France and Sweden, where it is set to be priced the same as the equivalent petrol models. Both countries are implementing plans to make ethanol widely available, with 500 stations by the end of the year in France and 900 already established in Sweden. The last country imports a substantial amount of the biofuel from Brazil.
When E85 bioethanol is used in the C4 BioFlex, CO2 emissions on a 'field-to-wheel' basis drop by 40 percent compared to standard fuel. Its oxygen-containing, sulphur-free properties also help reduce other harmful pollutants, particularly carbon monoxide (CO). At the same time CO2 emissions fall by 5 percent from 169g/km to 160g/km on the combined cycle.
As an added bonus, when running on E85 bioethanol, performance for the 1.6i engine is boosted by 2.5 percent to give a maximum output of 113bhp (compared to 110bhp on standard unleaded) at 5,800rpm and a 4 percent improvement in torque from 147Nm to 153Nm at 4,000rpm:
energy :: sustainability :: biomass :: bioenergy :: biofuels :: ethanol :: flex fuel :: Sweden :: France ::

In order to accommodate the flexibility afforded to the C4 BioFlex, modifications have been made to the engine, such as the rings and valve seats, as well as the fuel circulation system, including the tank, fuel gauge and pump module, pipes and fuel filter.

The engine's intelligent ECU software has also been adapted to monitor the alcohol content of the fuel mix, and automatically recalibrate the operating curve to optimise performance. As a result of all this, regardless of the fuel type or mixture, there is no discernible difference in the driving experience.

The choice to launch in Sweden is obvious: since the introduction of ethanol on a large scale there, rival automaker Saab's Biopower, which runs on E85, topped the list of most environmentally friendly cars. Its introduction has been a runaway success, taking almost 30% of sales in a segment that has already grown to account for 13% of the total car market there. For the first nine months of 2006, Bio-Power sales totaled 7,700 units. As a result, Saab raised its full-year Bio-Power sales forecast to 10,000 units, twice its original estimate.



References:


GreenCarCongress: Citroën Launching C4 BioFlex in September - August 20, 2007.