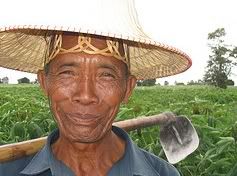 When urbanites in Thailand hear about 'mansampalang', 'manioc' or 'tapioca' they usually think of poor Isaan farmers who are unable to grow anything better on their parched sandy soil. But Reinhardt Howeler, scientist at the Cassava Office for Asia of the
International Center for Tropical Agriculture
(CIAT),
thinks
those poor farmers may not be so poor in the future thanks to the 'Green Cassava Revolution' that is currently sweeping most Southeast Asian countries. With a combined effort from the science and policy community, cassava can bring a rural renaissance and benefit the poorest.
Howeler, working for the CIAT, a leading 'Green Revolution' institution supported by the
CGIAR
, says that in Thailand, cassava production expanded rapidly in the 1970s and 1980s in response to an ever-increasing demand for cassava pellets used as an energy source for animal feed in Western Europe. The country's cassava production area, initially located in southern Thailand, first moved to the eastern seaboard provinces of Chon Buri and Rayong during the late 1970s, and in the 1980s expanded greatly in the Northeast.
During the late 1980s, Thailand's cassava-production area covered 10 million rai (1.6 m ha/3.9m acres). Almost all of this was destined for the lucrative export market for cassava pellets in Europe. However, changes in the EU's agricultural policies in 1993 lowered the support price of their own grain crops, and made Thailand's cassava pellets no longer competitive as a cheap source of energy in animal-feed rations. Thus, the amount of cassava pellets Thailand exported to the EU began to drop precipitously year after year and is now less than 400,000 tonnes.
Foreseeing the problem of overproduction, the Thai government tried to decrease the cassava-growing area by encouraging farmers to plant other crops, however, none of these were as well adapted to the climatic conditions in the Northeast as cassava. As a result, farmers continued to grow cassava, albeit in a much reduced area of about 6.2 million rai (1m ha/2.4m acres). But while the area was reduced, cassava yields started to increase substantially from about 2.24 tonnes per rai (14t/ha, 5.6t/acre) in 1995 to 3.55 tonnes per rai (22t/ha, 9t/acre) in 2006/2007. The result was that total cassava production decreased only marginally from a peak of 24 million tonnes in 1989 to about 16 million tonnes in 1998/1999 and back up to 25 million tonnes in 2006/2007.
So, what does Thailand do with 25 million tonnes of cassava roots?
First, the Thai cassava industry quickly changed from making mainly cassava pellets for export to making more and more cassava starch for both the domestic and export markets. Currently the cassava starch and modified starch industry absorbs over 50 per cent of all cassava roots produced in the country, as compared to 36 per cent in 1991. Secondly, Chinese neighbours to the north have also built more and more starch factories, to the point that domestic production could not keep up with demand. Thus, in 2001, they started importing dry cassava chips from Thailand, first in very modest amounts, but increasing every year to four million tonnes in 2006.
Finally, in 2000, Thailand was one of the first countries in Asia to initiate a 'gasohol' or E10 programme, with the aim of replacing 10 per cent of normal gasoline with fuel-ethanol, which is a renewable energy source made from locally produced sugarcane (or molasses) or cassava. When the biofuel is made from cassava, it shows a strong energy balance (
previous post
):
energy :: sustainability :: biomass :: bioenergy :: biofuels :: ethanol :: cassava :: poverty alleviation :: rural development :: Thailand :: CIAT ::

There are several advantages to the use of 'gasohol' over normal gasoline:

It reduces the consumption of imported oil and thus saves foreign exchange and increases the country's energy security. (According to Dr Niphon Poapongsakorn, dean of Economics at Thammasat University in Thailand, cassava-based ethanol is competitive when oil is above $40 per barrel. See our 'Quicknotes' for September 14, 2007.)

Ethanol is an octane booster that can replace the imported chemical additive MTBE.
Ethanol combustion in cars pollutes the air less and produces less CO2 than normal gasoline, thus reducing global warming.
Ethanol is made from renewable and locally produced crops, thus helping Thai farmers increase their sales and improve their income. The rapid increase in the demand for cassava roots has already resulted in the doubling of the price of fresh roots, dry chips and starch as compared to 2003.
Increased incomes for the rural poor allow them to strengthen their food security, a problem mainly resulting from a lack of income, not from a lack of natural resources or physical food scarcity

Presently there is only one ethanol factory in the country using cassava as its raw material and producing about 80,000 litres per day. However, two additional factories are ready to start operation and another 12 factories should be completed by the end of 2008, producing a total of 3.4 million litres of ethanol per day. This will require an additional six million tonnes of fresh roots, on top of the 25 million tonnes currently being produced. Since the cassava growing area of about seven million rai cannot increase substantially due to competition from other crops, the increased supply can only be met through increases in yield, from the current 3.5 tonnes per rai to about 4.5 tonnes per rai in the next couple of years. How can this be achieved?

Thailand currently has the second highest cassava yield after India and nearly double the average yield in the world. The rapid increase in the country's cassava yield was achieved through the hard work and excellent collaboration among the Agriculture Department, the Agriculture Extension Department and Kasetsart University as well as with the private processing and trading sector and the Thai Tapioca Development Institute.

So what does the future hold for cassava in Asia? In many countries the increasing demand for cassava roots can only be satisfied through marked increases in yield.

This will require renewed efforts in breeding, agronomy, biotechnology and improvements in processing technologies, coupled with a dynamic and effective extension programme using a farmer participatory approach. Even though cassava is the third most important food crop in Southeast Asia after rice and maize, it has always been considered as an "orphan crop", with little funding allocated for research of the crop.

While there are thousands of researchers all over the world working on important crops like rice, maize, soybean, oil palm and rubber, there are only a few dozen researchers working on cassava. Unless this situation improves and the crop receives adequate funding and research attention, it will remain an "orphan crop", only grown by the poorest farmers and eaten by the poorest people, except that the increased demand for fuel-ethanol, if not met through rapid increases in production, will push up the price until the poor will no longer be able to afford it.


Reinhardt Howeler is a scientist from the Cassava Office for Asia of the International Center for Tropical (Agriculture), an international agricultural research centre that engages in cassava research and development, and supported by the CGIAR, a strategic alliance of members, partners and international agricultural centers that mobilizes science to benefit the poor. CGIAR is the science body that led the Green Revolution.



References:


The Nation: Cassava and biofuel: the new magic - September 24, 2007.

Biopact: First comprehensive energy balance study reveals cassava is a highly efficient biofuel feedstock - April 18, 2007