China unveiled a two trillion yuan (€194/US$265 billion) plan to increase its use of renewable energy by 15 percent or the equivalent of 600 million tons of coal by 2020. The plan is meant to reduce the country's green house gas emissions while sustaining its economic growth. Bioenergy and biofuels take a large share in the proposed energy mix.
In 2005 China derived only 7.5 percent of its total energy consumption from renewable sources, roughly the equivalent of 160 million tons of coal. Now, Beijing says the People's Republic will develop hydropower, biomass and biofuels, wind power, solar energy, geothermal, tidal and biogas energy to replace 15 percent of the nation's coal, oil and natural gas consumption.
The plan was created by the National Development and Reform Commission (NDRC), China's macroeconomic management agency, which studies and formulates policies for economic and social development and guides the overall structuring of the economic system.
Under the renewables plan, 1 trillion yuan is slated for spending on pollution reduction and energy efficiency goals for 2010, 80 percent would come from companies and just 10 percent from central government with local authorities and others making up the rest.
Over half the proposed investment will go into large dams, which environmentalists criticise and some scientists believe are a significant source of methane, a most potent greenhouse gas.
Table 1 shows the share of the different renewables in China's new plan: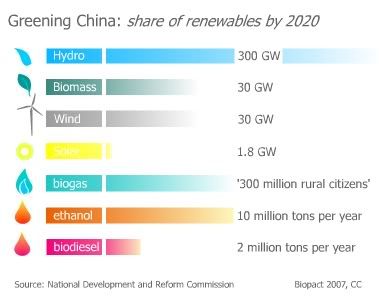 Geothermal and tidal energy are included in the plan but will make marginal contributions. Besides utilizing biomass for electricity generation, China will also cut its use of 10 million tons of oil per year and instead use 10 million tons of bio-ethanol and two million tons of biodiesel from non-food forestry and agricultural crops. The plan says that by 2020, 300 million people from rural areas will be using biogas as their main household fuel:
energy :: sustainability :: climate change :: renewables :: wind :: solar :: hydropower :: biofuels :: biomass :: ethanol :: biodiesel :: biogas :: China ::

Tax and fiscal policies will support the shift to cleaner energy, together with new rules for companies, which are expected to come up with most of the cash.

Power firms with over 5 GW of generating capacity have to get at least 3 percent of energy from renewable sources by 2020, Chen said, when asked about the role of large companies.

And China's central bank has already added the energy consumption and pollution records of over 12 million firms to a nationwide credit database as part of a push for greener growth, state media said on Tuesday.

Short-term reforms to China's system of state-set power prices have been rejected because higher tariffs would encourage construction of more coal-burning plants, rather than foster development of renewables.

The country is struggling to stop illegal construction of new plants, most of them coal-burning, as the national grid cannot always meet booming demand.



References:


Xinhua: China aims high in renewable energy usage - September 4, 2007.

Reuters: China plans $265 billion renewables spending - September 4, 2007.

Biopact: Greening the desert with biofuels: Inner Mongolia peasants show it's possible - August 14, 2007

Biopact: China to boost forest-based bioenergy, helps win battle against desertification - July 17, 2007

Biopact: China mulls switch to non-food crops for ethanol - June 11, 2007