In a very important step towards the creation of a global carbohydrate economy, Syngenta has
introduced
sugar beet in India for cultivation in tropical climatic conditions. The newly bred tropical sugar beet brings significant agronomic, environmental and output advantages to Indian farming and the Indian economy. The beet, which took over ten years to develop, delivers similar output yields to sugar cane and can be used both for processing sugar for food and conversion to bio-ethanol.
The new sugar beet can be grown in relatively dry areas across the tropics, with substantially less water than typically required by sugar cane. It is faster growing and can be harvested after five months allowing farmers to grow a second crop on the same land, thus increasing agricultural output and raising farmer income.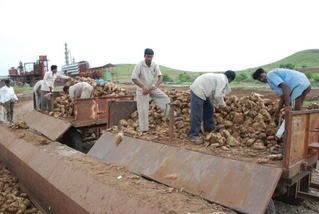 Syngenta is engaged in two tropical sugar beet projects:
Sugar for food

: at Ambad near Jalna, in the state of Maharashtra, the Samarth Cooperative Sugar Mill has commissioned a pilot plant for processing tropical beet in co-operation with the Vasantdada Sugar Institute. First harvests delivered the expected high yield of top-quality sugar.

Sugar for biofuel

: at Kalas, near the city of Pune, Syngenta co-operates with over 12,000 farmers linked to Harneshwar Agro Products, Power and Yeast Ltd, which built and operates a bio-ethanol production plant processing the tropical beet. The faster growth of tropical beets increases annual ethanol output over sugar cane.
The development of tropical sugar beet took over ten years, building on Syngenta's extensive breeding know-how and technology base. The biotech company will explore use of tropical sugar beet in other tropical regions with poor soil conditions:
energy :: sustainability :: tropical agriculture :: water :: biomass :: bioenergy :: biofuels :: ethanol :: biohydrogen :: biogas :: sugar beet :: biotechnology :: carbohydrate economy ::

The Indian government is highly interested in Syngenta's technological capabilities to support growth of India's agricultural sector, says Sharad Pawar, India's Minister for Food and Agriculture. According to Pawar, the successful introduction of sugar beet leads to higher sugar output available for food and energy in a shorter period and using less water. He is sure the Indian sugar industry will happily work together with Syngenta to further optimize the crop and introduce it to growers across the country.

Robert Berendes, Head of Business Development at Syngenta added: "This is a unique project that benefits growers, consumers and the environment. It is an outstanding example of the application of our technology to enhancing agricultural productivity under conditions of climatic stress."

India is currently the world's second largest sugar producer, with output for 2006-2007 estimated to be a record 28 million tonnes. Next year, another increase of around 7 per cent is expected.

World sugar prices have been falling over the last year, despite a record output of ethanol in Brazil, the world's largest producer of the biofuel. Indian sugar producers have been urging the government to speed up the creation of an ethanol policy, so that blending can start immediately. This should strengthen prices and alleviate the crisis (earlier post).

The new tropical sugar beet promises the production of carbohydrates on land not suitable for sugar cane. Thus India's prospects to develop ethanol (and later biohydrogen) now look better.

Images, credit Syngenta.



References:


Syngenta: Syngenta introduces tropical sugar beet for food and biofuels - August 28, 2007.

Biopact: Switch to ethanol can alleviate sugar crisis in India - June 09, 2007

Biopact: World sugar prices keep falling, despite ethanol boom - July 22, 2007