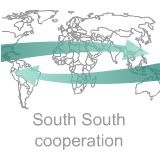 Luiz Inacio Lula Da Silva is the president not only of Brazil, but of the largest black community living outside the African continent. The Latin American nation has profound cultural and social links with the continent at the other side of the Atlantic that go back centuries. President Lula is undoubtedly the first Brazilian leader to revive these relations and to see them as a great opportunity for cooperation. Under his time in office, Brazil for the first time became a net donor of development assistance to Africa.
Recently, Brazil was invited as the sole non-African government at the first high-level conference on biofuels in Africa, organised by the African Union. The country has also established a center for agricultural and technological outreach to African countries in Accra, Ghana, from where EMBRAPA helps transfer Brazil's biofuel technologies. Clearly, Brazil is very much present in Africa and succeeds in giving the continent hope for a brighter future, fueled by green energy sources that bring wealth, energy security and rural development.
In a recent
letter
to the media, entitled
Biofuels Can Allow All Humanity to Prosper
, Lula expressed his views on how biofuels may help 'humanity as a whole', but Africa in particular. As he often does, he urges people to look at the issue from the point of view of 'world citizens', - with history, solidarity, economic justice, and sustainability in mind. If it is up to the Brazilian leader, Africa stands to play a key role in our biofueled future.
It was clear from the discussions during the recent G8 Summit in Heiligendamm, Germany, that issues like climate change, sustainable development, new and renewable sources of energy, and development financing are global matters that the countries of the South must have a say in, Lula writes.
Ultimately, it is our populations that are directly affected. Moreover, our countries are generating innovative and creative proposals to resolve the problems. The contributions of leaders from South Africa, Brazil, China, India, and Mexico during the Broader G8 Summit made the importance of real North-South dialogue clearer than ever.
Africa has a central role to play in this debate. The continent is undergoing profound transformations that are laying the groundwork for a new cycle of political stability and economic dynamism. With 53 countries, vast natural resources, and a young population, it is anxious to realise its full potential for development and prosperity. This Africa, which I have visited five times during my first term and will certainly return to, is strengthening its economic, trade, and political ties with Brazil.
In the Africa-South American Summit in 2005, and in the two sessions of the Brazil-Africa Forum, we explored in depth the great potential of this alliance, which can be further strengthened and improved by biofuels.
Brazil has over 30 years of success in its production of fuels that combine energy security and broad economic, social, and environmental benefits. The one-quarter ethanol and three-quarter gasoline mix used by regular cars and the use of alcohol by flex-fuel cars, made it possible for Brazil to cut the consumption and imports of fossil fuels by 40 per cent. Since 2003, we have reduced our carbon dioxide emissions by over 120 million tonnes, thus helping slow global warming:
energy :: sustainability :: ethanol :: biodiesel ::biomass :: bioenergy :: biofuels :: poverty alleviation :: rural development :: energy security :: South-South :: Africa :: Brazil ::

But the potential uses of biofuels go far beyond providing a new source of clean and renewable energy. The ethanol industry has created 1.5 million jobs directly and 4.5 million indirectly in Brazil. In its first phase, the biodiesel programme created more than 250,000 jobs, especially for small-scale farmers in semi-arid areas, generating income and helping to settle people on the land.

It is also important to point out that biofuel production does not threaten food security, because it affects only 2 per cent of our agricultural land. Moreover, by generating new income that can be used to buy food, it helps combat hunger.

These programmes also put a damper on chaotic migration, staunching the exodus from rural to urban areas, reducing the pressure on major cities, and providing a disincentive to small-scale miners and farmers to raze forests.

In addition, the expansion of sugar cane production has helped restore overgrazed pasture land that had little or no potential for agriculture.

Developing countries thus stand to benefit significantly from biofuels.

Given their enormous potential for creating jobs and generating income, they offer a real option of sustainable development, especially in countries that depend on the export of scarce natural resources. At the same time, ethanol and biodiesel open up new paths of development, especially in the bio-chemical industries, in the form of social, economic, and technological alternatives for countries that are economically poor but rich in sun and arable land.

FOR A world facing environmental degradation and the increase of energy prices, biofuel offers real promise. It can help poor countries combine economic growth with social inclusion, and environmental conservation. In short, it is a valiant ally in the fight against social and political instability, violence, and migratory chaos.

However, this revolution can only occur if the rich countries open their markets to the poorest and eliminate agro-subsidies and barriers to the import of biofuels.

It is a win-win situation. Developing countries will generate jobs for marginalised populations and funds to energise their economies, while developed countries can tap into a source of competitively-priced clean energy instead of investing in massively expensive innovations to make conventional fuels more green.

Biofuels offer us a way to allow all humanity to prosper without mortgaging the future of generations to come. This is the message I will carry to the World Conference on Biofuels that Brazil is organising for 2008. Together Brazil and Africa can help forge a global solution to the challenges of the 21st century.



Reference:


Luiz Inacio Lula da Silva: Biofuels Can Allow All Humanity to Prosper, The East African (Nairobi) (via AllAfrica), - July 31, 2007.