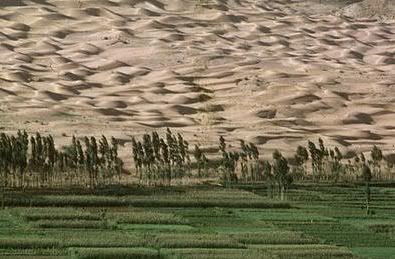 Greening the desert by planting biofuel crops and making a profit from it? Yes, it is possible. Many energy crops have the capacity to fight major environmental problems like erosion, soil nutrient depletion or desertification. Biofuel crops can restore and revitalize entire ecosystems (
earlier post
). An excellent example comes from China's Inner Mongolia autonomous region, where poor peasants are pushing back desertification by planting a drought-tolerant shrub that is being used for the production of timber and bioenergy. The effort provides livelihoods, brings wealth to the poor, and ensures local access to energy.
Besides the farmers' own initiatives, the Chinese government has also developed an 'integrated sand-fixation technology' that makes it possible to grow more crops in the desert to halt its merciless progression.
The Worldwatch Institute's 'China Watch'
reports
that every year, gusting winds from Inner Mongolia's sprawling desert — a 150,000-square-kilometer area the size of Greece — threaten China's capital Beijing with damaging sandstorms. Inner Mongolia is also one of the country's most impoverished areas. But these days, local peasants are benefiting from the region's challenging environment.
In the early 1990s, to bridle the wind and prevent the sand from drifting, the city government called for the planting of sand willows (
Salix psammophila
). The desert greened for the first time. More importantly, local residents quickly discovered other uses for the bushes, such as making packaging planks. They established several local plank processing factories.
The sand willow has a fast growth cycle. It matures in three years and regrows quickly when cut, making it a high-yielding and cheap source for the planks. As market demand for the planks rises, many firms are now buying sand willow timber from villagers at a price of 240 RMB (roughly US$30) a ton.
Because local residents can earn money from it, they have begun planting more sand willows. In Pojianghai Village, plantations of the bushes are expanding quickly over the vast desert. Within 100 square kilometers of plank factories, sand willows have become the major income source for many peasants, and some households make as much as US$4,000 a year from them. This makes local pockets bulge, and has intensified the bridling of drifting sands.
Biomass plant brings wealth
Others have discovered new energy sources from the multi-use bushes. Li Jinglu, a businessman from Beijing, found out that the heat generated from burning sand willows is equivalent to that from burning coal.
In early 2007, the first desert biomass thermal power plant was constructed near to an existing methanol chemical plant, two kilometers away. The power plant uses the waste water from the methanol plant, and the biomass residue can be further processed into potassium fertilizer. The power plant is slated to begin operation early next year and will generate some 180–210 million kwh of electricity annually, according to Li.
Wulan Dalai, who lives in the Mu Us Desert, is the first resident to provide raw materials to the biomass plant. Last October, before the construction of the plant, he signed a contract with the investor, leasing out 3,500 mu (roughly 233 hectares) of his land for sand willow plantations. He will receive 20,000 RMB (US$2,500) a year in land rent alone:
energy :: sustainability :: biomass :: bioenergy :: biofuels :: erosion :: desertification :: sand willow :: Inner Mongolia :: China ::

The invisible hand of the market is bringing new hope to Inner Mongolia's expanding desert. In the past, the local government had to hire people to plant trees to hold back the drifting sands, and the trees seldom survived. Today, seeing the returns on sand willows, local villagers are treating their bushes like their babies.

So far, more than 1,300 households in the province have treated over 1,000 mu (67 hectares) of deserts. Residents are not only benefiting from the market, but they have also found an effective way to save the ecosystem.



Integrated Sand-fixation Technology


In 2005, the Institute of Plasma Physics of the Chinese Academy of Sciences developed an integrated "Sand-fixation Technology of an Integration of Ion Beam Vegetation Improvement and New Materials", which passed appraisal by an expert team. The appraising team was made up of sand control experts from Grassland Research Institute of the Chinese Academy of Agricultural Sciences of Inner Mongolia and members of a special topic expert team.

The appraisal concluded that the new technology to fix sand by the comprehensive integration of plants, microorganisms and ion beam improvement has evolved from the study of the compatibility of biological groups and their interaction with the environment to a study that has improved the micro-ecosystem of the rhizosphere of sand-binding plants by using such new materials as water-absorbing resin and rare earth.

This research topic studied the "micro-environment cultivation technology system" for licorice root and the "technology system of planting dryland willow and sand willow stems for thermal-radiation prevention and moisture-preserving cultivation", which has brought about the advanced technology system that can protect and promote the growth of plants in the desert.

Two years of application test in Kubuqi Desert has proved that this technology can increase the plant survival rate of licorice root, dryland willow and sand willow trees. It is both reliable and practicable, very suitable for re-vegetation in the desert and sandy land.

In a word, this research has put forward a new concept and new method for fixing and controlling sand. This technology is innovative in theory and has very good prospects in future application. So far there has been no document reporting this integrated technology system and this research is of advanced international standard.

China is a world leader in the fight against desertification. The PRC's recently announced forest bioenergy program is integrated with these efforts (earlier post).



References:


WorldWatch Institute: Residents of Inner Mongolia Find New Hope in the Desert - August 14, 2007.

Ministry of Science and Technology of the PRC: "Integrated Sand-fixation Technology" Passed Appraisal - October 2005.

Biopact: China to boost forest-based bioenergy, helps win battle against desertification - July 17, 2007