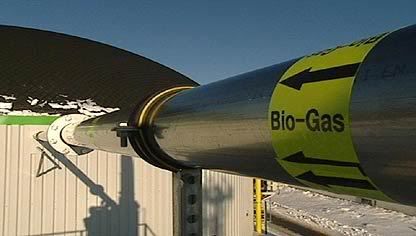 Germany's Federal Ministry for the Economy and Technology is
considering
[*German] opening the country's natural gas network to feed in biogas. Under the proposal made by minister Michael Glos, gas network operators will be mandated to blend a certain percentage of bio-based methane into the pipelines. Interestingly the new policy will break with the current renewable energy law, which gives producers of green power a fixed price. The biogas mandate instead will be based on real market prices. The sector sees Glos' proposal as a major boost.
According to the ministry, by 2030, locally produced natural gas from biomass would supply up to 10 percent of Germany's total gas consumption and reduce, without extra costs, around 22 million tons of carbon dioxide. This comes down to around 2.5 per cent of Germany's projected greenhouse gas emissions for that year.
The ministry will instruct natural gas network operators "to give biogas producers priority access to the network as well as to feed in biogas", even though a target has not been disclosed. If needed, compensations for the effort will be paid at actual market prices.
Such a policy would differ from Germany's current Renewable Energy Law ('Erneuerbare-Energien-Gesetz' - EEG), which applies to electricity generated from renewables such as biomass, solar, hydro and wind power. Under this current system, producers of green electricity receive a fixed price which is set each year and which often is well above prevailing market prices. It is basically a subsidy. Last year, this subsidy ran up to a net sum of €3,2 billion. The costs are carried by the consumer. From an environmental perspective, the EEG can be called successful because it has brought the share of renewable electricity in Germany to 13 per cent - one of the highest shares in the industrialized world:
energy :: sustainability :: biomass :: bioenergy :: biofuels :: biogas :: natural gas :: Germany ::

Currently, biogas is Germany's fastest growing renewables sector, and energy from biomass has taken the second largest overall share of the renewables mix (22%, against 4% for solar; wind remains by far the largest player). According to a recently released Eurobarometer for biogas, the country is Europe's largest producer, generating approximately 40% of all biogas produced in the Union in 2006 (more here).

Biogas is currently being fed into the natural gas mains in Germany only on a trial basis. But feasibility studies show that the technical barriers to couple purified biogas to natural gas networks can be overcome. A European Union funded project has made this clear (previous post).

The total energy potential for biogas has been the subject of several projections and scenarios, with the most optimal setting it at a total replacement of all European natural gas imports from Russia by 2020 (more here).

The Federal Ministry's proposal is welcomed by the German biogas sector which sees it as a major boost.



References:


Markenpost: Glos will Einspeisung von Biogas ins Erdgasnetz - August 10, 2007.

Biopact: Study: Biogas can replace all EU imports of Russian gas by 2020 - February 10, 2007

Biopact: Study: EU biogas production grew 13.6% in 2006, holds large potential - July 24, 2007