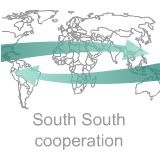 More and more organisations are becoming convinced of the fact that biofuels can help lift millions of poor farmers out of poverty, boost their access to food and energy, and offer economic development and energy security. Most recently, the UN's Food and Agriculture Organisation (FAO) called for the creation of a 'biopact' between the North and the South, saying biofuels offer a historic chance to alleviate poverty in the developing world (
ealier post
). Likewise, the
UNIDO
, the
IEA
, the
EU
, the
Worldwatch Institute
and several
food research organisations
stressed the same basic facts. Recently, African scientists concluded that bioenergy and biofuels are key to help achieve the UN's ambitious Millennium Development Goals (
previous post
).
One country has been promoting this vision like no other and is actively
introducing
its own successful biofuels model and technologies to Sub-Saharan Africa: Brazil. The country's president, Luiz Inácio Lula da Silva, has been touring both Africa and Latin America tirelessly, promoting biofuels as a tool to create a more just world, to fight climate change and to combat poverty and food insecurity. According to the president, biofuels may bring genuine sovereignty to developing nations and unite the Global South around a new energy paradigm (
earlier post
).
The technical potential for the sustainable production of renewable fuels in Africa and Latin America is vast, with some estimates putting it at more than 650 Exajoules for both continents, by 2050 (
earlier post
). Consider that the world currently consumes roughly 440EJ of energy from all sources (oil, gas, coal, nuclear).
To turn this huge technical potential into concrete opportunities, Lula has signed biofuel cooperation agreements with dozens of countries, offering technical assistance and policy advice based on Brazil's decades-long experience in the sector. The latest
agreement
[*Portuguese] was signed yesterday between Lula and his Beninese counterpart Thomas Boni Yayi. In a series of letters of intent both countries will strengthen cooperation in biofuel production and exchange political consultation.
Under the biofuel agreement, Brazil and Benin agree to work together to produce, use and commercialize fuels made from crops, and to offer support to each other. A team of eight Brazilian ethanol experts will establish a presence in the West-African country to help it develop a production capacity:
energy :: sustainability :: ethanol :: biodiesel ::biomass :: bioenergy :: biofuels :: poverty alleviation :: South-South :: technology transfer :: Brazil :: Benin ::

The two nations will also establish a political consultation mechanism. Under the mechanism, Brazil and Benin will hold regular contacts to develop bilateral cooperation in politics, economy, society, culture, science and technology, as well as regional issues.

In his speech, President Lula said fuels like ethanol and biodiesel will give more countries the chance to become involved in energy production which serves as a tool to promote development.

President Yayi described Lula as 'a friend' of Africa and recalled the fact he had surpassed previous Brazilian leaders in the number of African countries visited. Lula has traveled to 17 nations on the continent, paying a visit to Benin in February 2006. Brazil hosts the largest black community outside of the African continent, and has deep relations with the people across the Atlantic.

On Thursday, the Beninese president will travel to Sao Paulo, where he will visit an ethanol plant and meet biofuel entrepreneurs as well as the FIESP (Federação das Indústrias do Estado de São Paulo). On Friday, he will visit Salvador, in northeastern Brazil, where there are many descendants of slaves brought from Benin during the colonial and imperial period. There he will sign a Cooperation Protocol between Salvador and Cotonou.



References:


Agência Brazil: Presidente do Benin deve assinar protocolo de intenções na área de energias renováveis - August 15, 2007.

Biopact: Brazil in Africa: South-South cooperation on bioenergy speeding up - March 13, 2007