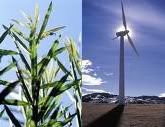 According to veteran energy reporter Matthew Wald all renewables have their pros and cons, without there being a clear favorite. Wald analysed the trade-offs associated with alternatives in
Getting Power to the People
[*.pdf], a special in-depth feature appearing in the September/October 2007 issue of the
Bulletin of the Atomic Scientists
.
However, Kurt Alen of Thenergo, a Belgian green energy firm, disagrees. Investors can expect to see more profit from biomass companies than they would from ploughing their capital into wind power and other renewables.
When it comes to reducing greenhouse gas emissions - a growing market with carbon emissions as a commodity - energy investors have four basic choices: either backing fossil fuels with all the future risks and uncertainties this entails (peak production, increasing prices, climate penalties); throwing their weight behind nuclear, which is being plagued by limited long term uranium supplies and the eternal waste problem; investing in carbon-
neutral
renewables like wind and solar; or backing energy concepts that fight climate change most effectively, namely carbon-
negative
bioenergy.
While wind has been a favoured alternative technology of the investment community, biomass is a more attractive prospect for several reasons. According to Alen, a lot of people understand the wind concept, but few understand biomass and its present and future advantages.
Profitability
Biomass projects generate more profits than other renewables for two key reasons:
First, by partnering with the producers of the fuel - be they farmers, forests or facilities producing large quantities of organic waste - such schemes can ensure a steady supply of the fuel and a reliable market for the heat produced from CHP plants. In one of its projects Thenergo charges farmers a gate fee for unwanted manure, extracts the methane to produce power and then sells the residue back to the farmers as fertiliser. The biomass energy producer often gets paid for his raw materials. When waste is not available, biomass can always be traded physically and imported in an efficient and competitive manner.

The second advantage over wind is the operational time. Wind is an energy 'converter' whereas biomass is an 'energy carrier', which is a major advantage. Investors sometimes make the mistake of comparing potential schemes by the Megawatt, but fail to take into account that a 10MW wind park might produce less energy than a 3MW biomass plant because it would be running at a lower efficiency and would not use its full capacity - the wind does not always blow, whereas a well-run biomass facility is operational on a continuous basis.

Using these arguments, Alen showed that a €15million biomass might sell €4.1million of power per year, twice the value of the energy produced by an equivalent priced wind farm.
Carbon-

negative

energy and carbon credits
Added to this is the fact that in the medium to long term, biomass projects can be coupled to carbon capture and storage (CCS) technologies, resulting in carbon-
negative
energy production. Only biomass can achieve this. Wind power is carbon-neutral at best and only prevents a rise in atmospheric CO2 emissions in the future. Carbon-negative bioenergy on the contrary takes CO2 emissions
from the past
out of the atmosphere. With the prospect of CCS being included in carbon-trading schemes (
earlier post
), this gives carbon-
negative
biopower a strong advantage over other renewables:
energy :: fossil fuels :: nuclear :: renewables :: wind :: bioenergy :: biomass :: carbon-negative :: carbon credits :: bio-energy with carbon storage ::

Thenergy attempts to maximise its profits through shrewd trading of certificates for green power production and selling its energy on the markets at the right time. But even without subsidy from certificates, alternative energy sources will soon be a viable business proposition, said Alen.

Thenergo is a leading European bioenergy company. Recently it launched a Belgian-Dutch partnership to develop a 5MW biocoal project in the Netherlands. The project will generate annually up to 42,800MWh of power and 75,000 tons of biocoal pellets. These pellets are made from thermally processed biomass either from dedicated energy crops or from wood debris, forest residue and chippings. This 'designer coal' can be burned in existing coal plants.

It also announced the development of a 3MW CHP biogas project in Flanders. The project will be operational for up to 8,000 hours per year, generating annually 24,000MWh of clean power, enough to supply around-the-clock electricity for up to 6,000 households. Feedstocks are locally sourced waste streams for which it gets paid.




References:


Eurekalert: Trade-offs reveal no clear favorites in alternative energy market - September 11, 2007.

Wald, Matthew, "Getting power to the people"[*.pdf], Bulletin of the Atomic Scientists, Vol. 63, N° 5, September/October, 2007, pp. 26-43, DOI: 10.2968/D630D5008

Edie News Center: Biomass 'more attractive investment' than wind - August 31, 2007

Biopact: Carbon-negative energy gets boost as UNFCCC includes CCS in CDM mechanism - September 19, 2007.

Biopact: Thenergo to develop new 3MW CHP biogas project in Flanders - August 08, 2007

Biopact: Belgian-Dutch partnership to develop 5MW biocoal project - August 10, 2007