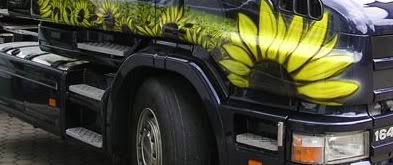 As part of its aim to support biofuel stakeholders through the provision of information, the
Biofuel Cities European Partnership
presents a frank analysis of the perhaps most controversial biofuel, Pure Vegetable Oil (PVO), in the first issue of its
Biofuel Cities Quarterly
newsletter. The Biofuels Cities European Partnership is a forum to share information on the development and use of biofuels for sustainable mobility, supported by the European Commission under the EU's Sixth Framework Programme.
In the world of biofuels, PVO or straight vegetable oil (SV0), has often been portrayed as a practical, yet problematic option to meeting the needs for transport biofuels and this is reflected in its widely varying uptake across Europe. For example, in France and Italy use of PVO is more or less prohibited, while in Germany and Austria, it is the fuel of choice for a fleet of approximately 10,000 vehicles, including a large fleet of trucks and tractors.
The primary arguments for the promotion of PVO as a fuel include the fact that it can be produced decentrally, even by small farms or other agricultural units and it is immediately usable. Energy losses in the well-to-wheel chain are, therefore, low. Technology, also, has come to a level where vehicle modifications, necessary for emission reduction and engine protection, can be easily undertaken.
However, as a result of biofuels' recently high profile, much discussion has been raised regarding emissions and engine compatibility. For example, under certain test conditions, PVO generates unacceptably high levels of carcinogenic emissions (
earlier post
). Still, when asked about this in the Biofuel Cities Quarterly interview, Dr. G. Gruber of the United Workshops for Plant Oil Technology stated that, 'emissions from vegetable oil fuelled adapted engines are most probably less carcinogenic than emissions from diesel engines fuelled with conventional diesel or with biodiesel'.
Such controversies discussed across the entire biofuels community, show the relevance of PVO as a fuel, but also illustrate the various aspects under which biofuels must be analysed and compared, not only against conventional transport fuels, but also other biofuels.
Let us look at these issues more in depth. How is the oil produced, what does it take to run a car or a truck on it, and what does PVO's emissions profile look like? How much PVO can the EU produce sustainably? And are there any import opportunities?
Decentralised production
Pure vegetable oil can be produced decentrally and is immediately usable. There is no lengthy manufacturing chain. This has two consequences: Firstly, even small agricultural units are able to produce fuel. This results in a stabilisation of agricultural structures, which is desirable for socio-economic and spatial-structural reasons. Secondly, the energy losses and required energy input from harvest on the field to filling of the tanks (well-to-tank losses) are the lowest of all biofuels:
energy :: sustainability :: biomass :: bioenergy :: biofuels :: pure vegetable oil :: straight vegetable oil :: emissions :: decentralisation :: efficiency :: EU ::

Pure vegetable oil has a by-product for which a large market exists; oil cake – a protein-rich product that can be used as a domestic animal feed, replacing imports of soy into the EU.



Vehicle modifications


The most fundamental argument against pure vegetable oil is that its low viscosity and low cetane number make it principally unsuitable for use in existing and future internal combustion engines. This is, however, disproved by some 10,000 vehicles running smoothly on pure vegetable oil once some vehicle modifications were undertaken.

The concepts for vehicle modification can roughly be broken down into two-tank and single-tank concepts.



Two-tank concept


Two-tank concepts overcome the principle difficulties of pure vegetable oil combustion by starting the engine with conventional diesel taken from one tank and then switching over step-by-step to higher content of vegetable oil taken from the other tank.

These concepts differ mainly in the sophistication of the control unit, which measures the temperature at different points of the engine and the fuel circuit and regulates the switch over between both fuels. Engine components in two-tank systems are generally little modified in comparison with standard diesel engines.



Single-tank concept


Single-tank systems allow engine starts with pure vegetable oil and require a modification of the engine itself. The components that are modified are essentially the fuel circuit and the injection system.

Modifying the engine, however, terminates the warranty of the original engine manufacturer, however some specialist vegetable oil engine workshops compensate this loss with an own-warranty on the modified motor.

PVO Emissions
Exhaust emissions are a major point of the debate. Engines that have not been converted to pure vegetable oil operation generally produce high emissions, above legal thresholds, when fuelled with vegetable oil. The exact level depends on the specific engine, as well as on the quality of the vegetable oil that is used. This has recently been highlighted on German TV, where emission measurements on nonadapted engines fuelled with vegetable oil, not corresponding to the existing German pre-norm DIN V 51605, were presented. The measured emissions were not only high, but have shown a higher mutagenicity of the particulates than for diesel in the AMES test, which is a quick method of estimating the carcinogenic potential of a substance.

Advocates of pure vegetable oil in Germany commented on the 'perfect timing' of this broadcast, which coincided with an important legislative debate on biofuels in Germany and stressed that the results presented tell nothing about converted engines running on pure vegetable oil. What can be learnt from this is that statements about pure vegetable oil – and other biofuels – are not untainted by the position of various interest groups and need to be examined more closely.

A modification of the engine, either as two-tank or singletank system changes the situation and suitably adapted engines can comply with the EURO-3- norm even when running with pure vegetable oil.



Lack of framework


The lack of a legal norm for vegetable oil fuel leadsto a paradoxical situation: in the course of the vehicle registration, the authorised workshops must measure the engine emissions with standardised diesel as test fuel, i.e. exactly with the fuel that will not be used in daily operation by the vehicle owner. Hence, this obligatory exhaust emission measurement tells nothing about the emissions under real operating conditions.

Even worse, the engine cannot be adapted for lowest possible emissions under vegetable oil operation, as this requires setting engine parameters, such that the emission tests with diesel fuel might fail. As a consequence, not all specialist workshops that offer diesel engine modification care about the emissions under real operating conditions with pure vegetable oil and those that do are impeded by the present legislation to reduce emissions to the lowest technically possible level.

Sustainable production of pure vegetable oil in Europe
A further point to be examined is the potential that exists for producing pure vegetable oil and how much this potential depends on (un)sustainable cultivation practices. Rapeseed oil, which is the presently most used vegetable oil in Europe, is difficult to cultivate organically, i.e. it requires energy input in the form of plant protection chemicals and mineral fertilisers.

In addition, the oil yield per hectare is low, at approximately 1,000 litres, whereas the cultivation of maize for the production of biogas or of energy plants for the production of sun fuels can lead to yields up to 4,000 liters per hectare.

However, three considerations put this comparison into perspective:

First, rape cultivation leads to a yield of about 2-3,000 kg of protein-rich oil cake in addition to the oil. Oil-cake can replace imports of soy for cattle feeding – an important aspect if one considers that the EU is a net importer of proteinrich animal food. The remaining straw can serve as additional fuel.
Secondly, plant breeding has the potential to develop rape species that are more suitable for organic farming, the only fully sustainable form of agricultural production.
Thirdly, other oil plants can be considered for producing engine fuels. Sunflower oil is also appropriate and is more suited to organic cultivation. An important opportunity for organically produced oil seeds in Europe, however, lies in companion cultures or mixed cropping. The method consists in cultivating oil plants like wild flax (Camelina sativa) simultaneously with cereals or legumes. This leads to synergy effects between the plants and allows a strong reduction in the use of plant protection agents, which is a large step towards organic farming by a simple change of the cultivation method. The yield of the main fruit, cereal or legume is not reduced, but is stabilised on average over the years. In addition to the main crop, 100 litre oil and 200 to 300 kg oil cake are gained per hectare.
As huge areas in Europe are used for cereal production, the potential for producing pure vegetable oil is about 60 petajoule. This is only 60 % of the German biodiesel use in 2006, but can be produced without running into competition with food production and – due to synergy effects – at almost zero cost.



Oil import options


There are a lot of other oils that could be taken into account for the development of vegetable oil engines. Coconut and palm oils, for example, are suitable for the use in CHPs. In hot countries, the oil is also suitable for mobile use. However, the risk of possible deforestation of the tropical rain forest for the cultivation of palm oil plantations requires that caution be exercised, if sustainability criteria are to be met.

The most interesting (sub)tropical oil plant is jatropha, which has numerous advantages. Firstly, jatropha is not in competition with food production. Jatropha grows in arid and semi-arid regions and is used in hedges to protect fields from goats. The plant stabilises the groundwater level and can even deal with a certain salt content. Jatropha has not been cultivated very much until now, however a number of pilot projects have been implemented to produce jatropha oil as an engine fuel. It seems to be well suited for converted engines. In this respect, jatropha even has advantages over sunflower oil. The engines that have been converted for rapeseed oil need only a few changes to run on jatropha oil.



Challenges ahead


In summary, one can say that pure vegetable oil can be considered as an engine fuel. It is most suitable for applications that require few starts of the engine, i.e. engines used in hot countries, hybrid engines and engines used for long distances or longer constant loads, such as tractors and other agricultural machinery.

The environmental-friendly nature of pure vegetable oil make it suitable for applications in environmentally sensitive areas. From a logistics point of view its low flammability is a strong advantage, as the risk of explosion is almost zero.

The potential for pure vegetable oil does not allow to replace a major part of the presently used mineral fuels, but is large enough to make an important contribution to the biofuels market. In particular, pure vegetable oil has by-products that can be used for animal feed (oil cake) or may not compete with food production at all (oils from mixed cropping). Specific advantages of pure vegetable oil include the fact that it can be produced in small units, allowing income generation for farmers, who profit from the whole value-creation chain and that very little energy losses occur in the process chain from seeds to oil.

The challenges to be met are oil quality, definition of standards for emission measurements, breeding of suitable oil plants and engine conversion. A European standard for pure vegetable oil needs to be defined and, when the vehicle is intended to be run on vegetable oil, emission measurements need to be taken with pure vegetable oil in the tank.

Research and development is needed on plant breeding for vegetable oil, and engine conversion. A European standard for pure vegetable oil needs to be defined and, when the vehicle is intended to be run on vegetable oil, emission measurements need to be taken with pure vegetable oil in the tank.

Research and development is needed on plant breeding for vegetable oil use as fuel. In particular, oils with a low iodine number, i.e. high oleic acid content and low linoleic and linolenic acid content are required and corresponding species need to be bred. In addition, the research and development of engine concepts that until now been carried out by a few small technology development companies needs to be intensified.



The perspective of an engine supplier


An interview with Dr. G. Gruber, who runs a leading company adapting diesel engines to run on PVO, tells us more about the efficiency and the cost of such modifications. The company is called 'United Workshops for Plant Oil Technology', Vereinigten Werkstätten für Pflanzenöltechnologie (VWP), and has modified more than 4000 engines. Within the EU-Fifth Framework Programme funded project "100% RENET", VWP managed to realise the breakthrough of the adherence to the EURO-3-Norm for passenger cars, as well as the first use of plant oil in a small combined heat and power unit (CHP) with soot filter.

Is pure vegetable oil actually a motor fuel or not? The automobile industry says it is not, but your company has lived on the business of pure vegetable oil engines for 14 years now and you have already converted more than 4,000 vehicles. How do these positions reconcile with each other?

The answer is very simple: It is problematic to use vegetable oil as a fuel for mobile applications. This is related to the enormous variability of its viscosity within the operating temperature range and its low flammability and cetane number.

After fuelling a modern standard diesel engine with pure vegetable oil, for certain the engine will be ruined – exceptions might prove the rule. Pure vegetable oil is not a fuel for the currently serially produced diesel engines. Unfortunately, already here the perception of many people and institutions comes to an end. It is, thus, our challenge to demonstrate that with an appropriate adaptation of the engine, for which we have developed and applied concepts successfully for 14 years, an engine can run perfectly between pure vegetable oil and any blend with conventional diesel.

Having this is mind, why is the rumour that plant oil is categorically not suitable as an engine fuel so persistent?

This is due to the fact that a lot of companies offer concepts for the conversion of engines that are poorly conceived. As a consequence, the engines may be damaged and at the very least emissions may reach unjustifiably high levels.

Dr. G. Gruber also answers some questions on the emissions of PVO. One of the main points of those opposed to the utilisation of plant oil as an engine fuel is the accusations that this would result in high emissions. Asked by Dr. Michael Stöhr, of INEM/B.A.U.M., what the norms for exhaust gases are that may be reached by engines converted by Gruber's company, he answered as follows:

For new passenger cars this is the EURO-4. The main challenge is cold starting, which is compulsory for all exhaust-gas tests for passenger cars. These make it very difficult to reach EURO-4- and -5 norms with vegetable oil. There is still a lot of research to do. As tractors normally operate at constant load, there is no legally regulated testing with cold starts for tractors. Instead of this, a test with eight different load and idle steps is carried out. Our company reached the TIER 3 norm for tractors at the beginning of this year. This norm is valid for diesel, as well as for vegetable oil until 2011. Besides, the possibility of achieving the TIER 4 norm also exists.

Measurements, broadcast recently on German TV, have shown that emissions from vegetable oil-fuelled vehicles are much more carcinogenic than emissions from diesel.

But Gruber says hese measurements have been made on a non-adapted motor with vegetable oil of unknown quality. They teach us nothing about emissions from engines adapted to vegetable oil. Quite the opposite. We know about measurements that show that the opposite is true: emissions from vegetable oil-fuelled adapted engines
are most probably less carcinogenic than emissions from diesel engines fuelled with conventional diesel or with biodiesel.


Biofuel Cities
Biofuel Cities is a European project to build and maintain a European Partnership, a platform in which participants can share all that they need to make progress in the implementation of biofuels. For instance, a few dozen European local car or bus fleets have been, or are, shifting from regular fuels to biogas, pure biodiesel or almost pure ethanol.

Through the Biofuel Cities European Partnership, all participants can share information and experience to profit from this.

Within Biofuel Cities you can find information and partners, start a discussion, address barriers and create new initiatives. Biofuel Cities was created to accelerate developments leading up to an increased use of biofuels in Europe.

The Biofuel Cities European Partnership is an EU-funded project. The project involves
seven project partners: SenterNovem (Netherlands, project coordinator) and Exergia (Greece), ICLEI - Local Governments for Sustainability, INEM, the World Federation of National Business Associations for Environmental Management, the Institute for Fuels and Renewable Energy (Poland), NEN, the Dutch Standardisation Institute (Netherlands) as well as VITO, the Flemish Institute for Technological Research (Belgium). The organisations ICLEI and INEM operate world-wide.




Thanks to Ciara Leonard.





References:


Bockey, D. (2006): Current situation and prospects for biodiesel and vegetable oils as fuels: From niche products to market players [*.pdf], Berlin.

Haupt, J. & D. Bockey (2006): Running vehicles successfully on bio-diesel. Product quality requirements for FAME [*.pdf], Berlin.

Kampman, B., den Boer, E. & H. Croezen (2005): Biofuels under development [*.pdf]. Delft. (An analysis of currently available and future biofuels and a comparison with biomass application in other sectors).

Website of EPPOA - European Pure Plant Oil Association.
Information on pure plant oil on the SenterNovem website.

Website of VWP – Vereinigte Werkstätten für Pflanzenöltechnologie.

Eder B. & F. Eder (Staufen 2004): Pflanzenöl als Kraftstoff. Autos und Verbrennungsmotoren mit Bioenergie antreiben.

Website on the EU Strategy for Biofuels.

Country reports on implementation of the EU's Biofuels Directive.

The European biofuels technology platform.

The EUBIONET II – European bioenergy network analyses current and future biomass fuel market trends and biomass fuel prices.

PREMIA investigates the effectiveness of support programmes to facilitate and secure
the market introduction of alternative motor fuels in the European Union.