The Automotive X PRIZE (AXP), a competition designed to inspire a new generation of viable, super-efficient vehicles to help break America's addiction to oil and stem the effects of climate change,
announced
today that over 30 teams have signed a letter of intent to compete once the prize is officially funded and launched.
The international competition, in which qualified teams will compete head to head, aims to dramatically increase consumer access to ultra-efficient, clean, affordable and desirable vehicles. The 30 plus teams include diverse groups from the United States, Canada, the United Kingdom, Germany and Switzerland. More than 300 additional teams have inquired about joining and are actively considering entry.
The independent and technology-neutral AXP competition is open to teams from around the world to prove they can design, build and bring to market 100 miles per gallon (2.35liter/100km) or equivalent fuel economy vehicles that people want to buy. Industry experts will scrutinize team plans. Those that qualify will race their vehicles in rigorous cross-country stages that combine speed, distance, urban driving and overall performance. The winners will be the vehicles that exceed 100 mpg equivalent, fall under strict emissions caps and finish in the fastest time.
In just a short time, we have seen a tremendous enthusiasm for the Automotive X PRIZE. We believe this enthusiasm reflects the strong interest among the car-driving public for new options of super-efficient vehicles. It is clear energy legislation in Congress will fall far short of encouraging the type of breakthroughs that are needed to provide a new generation of ultra-efficient vehicles. We have designed AXP to be a technology-neutral competition to help provide this new generation of vehicles, and we are pleased that the fairness of our competition guidelines has been ratified by the interest among a wide variety of teams and technologies.

- Donald J. Foley, executive director of the AXP.

The competition is expected to travel through multiple cities while broadcast to a global audience in 2009 and 2010, building consumer demand for vehicles in the competition and demonstrating many practical, clean and affordable vehicle options. Cities involved in the competition route have not yet been chosen:
energy :: sustainability :: biofuels :: oil independence :: fuel economy :: electric vehicles :: efficiency :: Volkswagen ::

Reflecting the nature of the non-partisan effort, two leading members of Congress on energy issues, Senators Richard G. Lugar (R-IN) and Jeff Bingaman (D-NM), have expressed their support for the AXP.

The AXP has also received support and encouragement from several government agencies that will help the privately-funded organization conduct the competition and test vehicle compliance, including the U.S. Department of Energy and Argonne National Laboratory; the U.S. Department of Transportation's National Highway, Traffic and Safety Administration (NHTSA) and Federal Highway Administration (FHA); the U.S. Environmental Protection Agency's Office of Transportation and Air Quality (OTAQ); and the California Air Resources Board (CARB).

In addition, non-governmental organizations supporting the AXP include the National Resources Defense Council, Union of Concerned Scientists, the Apollo Alliance, the Consumer Federation of America, Global Green USA, CALSTART and Greenpeace among others.

The AXP has recently finalized a supporting sponsorship from Adobe. Other early AXP sponsors and donors include Idealab, Ray Sidney of Big George Ventures, the Elbaz Foundation, and the Jack D. Hidary Foundation.

Once fundraising for the prize purse and administration is complete, the AXP will officially launch. "We are seeking assistance from major foundations, corporations and philanthropic individuals to help bring about this revolution in transportation," Diamandis said. "Visionary individuals and organizations have risen to this type of challenge before by backing the Ansari X PRIZE for personal spaceflight, and the Archon X PRIZE for Genomics. We're confident we can build a financial base for this competition as well, and expect one or more heroes to rise to this challenge."

The following 30 teams have signed a letter of intent signaling their intent to apply for the AXP competition:

Disruptech - California, USA
Dragonfly Technology LTD - Northhampton, UK
Michigan Vision - Michigan, USA
Spirit One - Alberta, Canada
X Tracer - Winterthur, Switzerland
It will be interesting to see how different propulsion technologies (combustion engines, hybrids and plug-in hybrids, fuel cells, battery-electric systems) will be coupled to different fuels and their production paths (e.g. over 70 possible combinations have been identified and studied for their well-to-wheel efficiency in a recent EU-report). Radically new designs and materials will be used and all this with saleabilty and commercial viability in mind. A tall, but exciting order.



Volkswagen's 264 mpg concept


Many who have followed the creation of the Automotive X Prize have pointed to Volkswagen's 1 liter concept, developed back in 2002. So we will do here too, because it remains a classic example of what is possible in principle: 264 miles per gallon!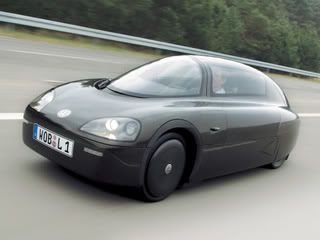 Some specifications of this ultra-efficient car: an unusually narrow and very flat body form, a necessity for a small frontal area. The body was developed in a wind tunnel, is 3.47 metres long, but just 1.25 metres wide and just over a metre in height, and is made completely of carbon fibre composites. To save weight, it is of course not painted. The carbon-fibre-reinforced outer skin is tensioned over a spaceframe that is not made of aluminium, but rather of magnesium, which is even lighter.

The 1-litre car is powered by a one-cylinder diesel engine, centrally positioned in front of the rear axle and combined with an automated direct shift gearbox. The crankcase and cylinder head of the 0.3-litre engine are of an aluminium monobloc construction. The naturally aspirated, direct-injection diesel engine employs advanced high-pressure unit injection technology to generate 6.3 kW (8.5 bhp) at 4,000 rpm. This gives the vehicle, which weights just 290 kg, an astonishingly lively temperament.

Fuel consumption is a mere 0.99 litre per 100 kilometres. With a 6.5-litre tank, this gives a range of some 650 kilometres (404 miles) without refuelling.



Picture

: Volkswagen hyper-efficient 1-litre (264mpg) car, developed in 2002.

References:
Automotive X PRIZE: Automotive X PRIZE Announces First 30 Teams in Multimillion Dollar Competition for 100 MPGe Vehicles - August 1, 2007.

Serious Wheels: Volkswagen 1-Liter Car - s.d. 2002.

Biopact: EU study looks at pros and cons of 20 most promising alternative fuels - July 25, 2007

The study showing the WTW efficiency of 70 fuels and propulsion technologies can be found here: Biopact: Hydrogen out, compressed biogas in - October 01, 2006