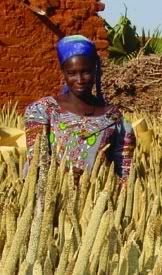 Zambian scientists researching the use of biofuel as an alternative energy source
presented
results from studies showing the country has the capacity to produce a large amount of biofuels. This, however, would depend on proper investment to produce the renewable energy.
The analyses to this effect were conducted by the University Of Zambia School Of Agriculture and the National Institute for Scientific Research. According to the studies' findings, the country has the capacity for the large scale production of biofuels based on a range of crops.
The call comes after the National Association for Peasant and Small-Scale Farmers of Zambia (NAPSSF)
announced
that it wants about 300,000 small-scale farmers to start growing biofuel crops on more than 150,000 hectares of land next year, in order to reduce rural poverty and cut energy costs.
Zambia is one of the countries that make Africa's sustainable and long-term biofuel potential so large (
earlier post
); the country has been identified by Biopact as having vast opportunities, for several reasons. Key points:
Zambia has some 58 million hectares of potential arable land
The country's farmers currently use 5.2 million hectares of this, or around 9%
Zambia has excellent agro-ecological conditions for a range of crops, including sugarcane, sweet sorghum, maize, cassava, groundnut, jatropha and tropical grass species
63.5% of people there live in the countryside and in 2030, more than half of Zambia's population will still live in rural areas
85% of the nation's people try to make a living in the agricultural sector but some 50% of all people are un- or underemployed.
86% of all Zambians (the vast bulk of the rural population) lives below the poverty line
In such a situation, biofuel production promises to bring massive chances for poverty alleviation and rural development. Currently, because of a lack of access to modern farming inputs, agricultural yields are extremely low. This situation is such that with truly
minor
interventions, such as
micro-doses
of fertilizer, crop yields can in some cases be doubled (as was recently demonstrated in a
study
amongst smallholders in neighboring Zimbabwe). But in order for small farmers to make such micro-interventions, they need extra incomes - which can be provided by biofuels, which allow them to diversify their crop portfolio.
The Zambian scientists made a basic study on sweet sorghum, to show the potential for biofuels in the country. They demonstrate the crop is environmentally friendly, requiring low water inputs; moreover, besides biofuels (sugar for ethanol), it also yields food and fiber. (See the
ICRISAT's pro-poor biofuels initiative
based on improved, high yield and drought-tolerant sweet sorghum).
The other crop that has undergone scrutiny in recent months is Jatropha curcas, which has, however, attracted controversy from local farmers, who called for caution in its use. Although the plant can grow well in the country, there were concerns from farmers that jatropha had a tendency to overgrow other vegetation which can cause serious environment problems:
energy :: sustainability :: ethanol :: jatropha :: sweet+sorghum :: biodiesel :: biomass :: biofuels :: energy security :: rural development :: Zambia ::

Sweet sorghum on the other hand has now been identified as a crop that can be used for both food production and as a source for ethanol.

The two research institutes have called for increased funding towards research to find alternative sources of energy which would provide the country relief from spending large sums of money importing fossil fuel for energy.

Zambia is highly dependent on imported oil. With high prices, the entire economy is impacted, because all fuels all economic sectors, from agriculture and industry, to transport and services. According to the UN, some poor countries are now spending twice the amount of money on importing oil, than on health care.

References:
Afriquenligne: Zambian scientists call for investment in biofuel energy - July 16, 2007.

Biopact: ICRISAT's pro-poor biofuels initiative - video - May 28, 2007

Biopact: Fertilizers boost crop production amongst smallholders in Zimbabwe - April 13, 2007