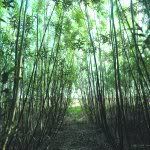 ScottishPower
announced
it is looking to contract Scottish farmers to produce 250,000 tonnes of energy crops to be burned at Scotland's two coal fired power stations, Cockenzie and Longannet. The energy crop will displace coal burned in the stations.
Energy crops provide carbon neutral fuel as the CO2 that is released when the crop is burned is equal to the CO2 that is captured as the plant is grown. ScottishPower already burn carbon neutral biomass such as wood at the coal fired power stations as part of their renewable programme.
The project will use about 12% of Scotland's total agricultural land – roughly 35,000 hectares - with 5 % of the company's coal requirement displaced by energy crops by 2013.
The energy crops will be a mix of crop types including cereal crops and short rotation coppice (SRC) such as willow. ScottishPower, part of the Iberdrola group, plans to maximize the use of set aside land, and minimize the effect on land used for food crops.
SRC consists of densely planted, high-yielding varieties of either willow or poplar, harvested on a 2 to 5 year cycle, although commonly every 3 years. SRC is a woody, perennial crop, the rootstock or stools remaining in the ground after harvest with new shoots emerging the following spring.
A plantation could be viable for up to 30 years before re-planting becomes necessary, although this depends on the productivity of the stools. In the UK, yields achievable from willow SRC at first harvest are expected to be in the range 7 to 12 oven dry tonnes per hectare per year depending on site and efficiency of establishment. New varieties are expected to greatly increase yields:
energy :: sustainability :: climate change :: coal :: co-firing :: biomass :: bioenergy :: short rotation coppice :: energy crops :: Scotland ::

ScottishPower is already the UK's largest generator and developer and operator of on-shore wind energy and this is the latest strategic initiative toward reduced carbon emissions.

Frank Mitchell, ScottishPower's Generation Director, said: "This is a significant step in our renewable energy programme ultimately displacing 300,000 tonnes of carbon emissions per year. However, it is also an excellent opportunity for farmers with ScottishPower offering support for the Scottish agricultural community".

In the UK, support for renewables is provided through the Renewables Obligation (RO) that requires suppliers to source 10% of their electricity from renewable sources by 2010, rising to 15.4% by 2015.

The UK Government announced new support for biomass in March 2006 under the revised Climate Change Programme and in May of the same year the Scottish Executive pledged funding of £20 million for biomass, marine, hydrogen and fuel cell projects and microrenewables.

More recently, the UK's Department for Environment, Food and Rural Affairs, the Department of Trade and Industry and the Department of Transport released their joint Biomass Strategy for the UK, which shows considerable potential for locally produced biofuels. However, it also considers imports (earlier post).



Picture

: short rotation willow coppice.

Credit

: Defra Energy Crops.



References:


ScottishPower: ScottishPower Announces UK's Largest Energy Crop Plan - July 19, 2007.

U.K.'s Forestry Research service: Information about short rotation coppice for growers, researchers and the bio-energy industry.