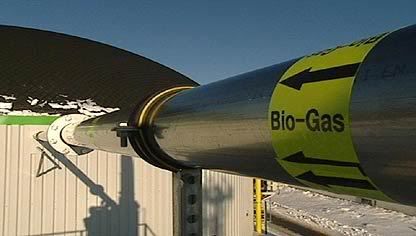 Schmack Biogas AG, the world's largest biogas plant manufacturer and service company,
announces
[*German] it will build Europe's biggest biogas plant together with
E.ON Ruhrgas
and
E.ON Bayern
. The investment for the 4MW facility is around €15.8 million, with each partner contributing a third. After upgrading, high quality bio-methane produced from renewable biomass will be fed into the natural gas grid.
The total output of the new plant will be 10 MWGas which is the equivalent of around 4MW of electric power. The construction of the facility will take place in Schmack's industrial park in Schwandorf and will begin mid-2007. From December 2007 onwards, biogas will begin to be fed into the natural gas grid.
To get a grip on the scale of the plant, consider that most currently built biogas plant in Germany are in the 150kW to 500kW range. The new facility has a much larger capacity and was designed to ferment 61.500 tonnes of biomass per year. Using current technologies, some 16 million cubic meters of biogas can be obtained, which translates into energy for around 5000 households.
The project management, construction and operation of the mega-plant will be taken care of by the Schmack Energie Holding GmbH. E.ON Bayern Wärme, will market the heat, whereas E.ON Bioerdgas GmbH will market the biogas and feed it into the natural gas pipelines.
Biogas has a huge potential on a global scale, with some experts seeing it so large that the plant based methane could replace
all
of the EU's natural gas imports from Russia by 2030 (
earlier post
):
energy :: sustainability :: biomass :: bioenergy :: biofuels :: biogas :: maize :: natural gas :: Germany ::

Schmack's use of renewably grown biomass is a boon to the economy and agricultural sector of the region around Schwandorf. For the first time, the region's farmers have an opportunity to start growing bioenergy crops that are certain to be taken off by the biogas plant.

Compared to other biogas companies, Schmack uses dedicated biogas crops (energy maize), which reduced the land needed to grow feedstocks by up to a third. The energy crops restore degraded land and increase its fertility.

Ulrich Schmack, CEO of Schmack Biogas said: "We are pleased to be working with two of the most prominent energy companies to build this large plant. By marketing the heat generated, an important new stream of income is obtained. We think this scale represents the future of the biogas market."

Dr. Peter Deml, E.ON Bayern AG: "With Schmack Biogas we have a highly competent partner for this project. With this investment, we are showing that E.ON Bayern is committed to renewable energy, both in the short as the long term."

Schmack Biogas AG is the world leading provider of biogas plants and services. The company was founded in 1995 and has quickly become a provider of total solutions. Besides technical services, it offers microbiological expertise. Recently it created a subsidiary, Schmack Energie Holding, with which it invests in operations of biogas facilities owned by Schmack. Up to today, the company has built 179 plants with a combined capacity of 45MW.

Schmack's announcement comes after another German player, Nawaro Bioenergie AG, said its vast 20MW biogas complex is nearing completion. Contrary to Schmack's project which is based on one large plant, that of Nawaro consists of 40 smaller units (earlier post).

Translated by Laurens Rademakers, for Biopact, CC, 2007.



References:


Schmack Biogas AG: Schmack Biogas plant Bau einer 4 MW-Biogas- Anlage zur Gaseinspeisung Gemeinsame Investition mit E.ON Ruhrgas und E.ON Bayern [*.pdf] - July 13, 2007.