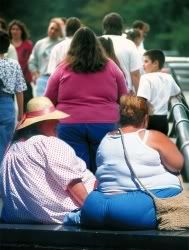 In the food versus fuel debate, some myths must be dispelled, such as the idea that there is somehow not enough food being produced for all people on the planet. Or that biofuels will threaten future food supplies. The fact is that there is an
overabundance
of extremely cheap food, but that it is badly distributed. It is well known that food insecurity is not the result of a lack of food (material scarcity), but of
lack of access
to food. 800 million poor people can't feed themselves because they don't earn enough
income
to buy food which is so abundant in this world (
earlier post
).
Our view, which has recently gained interest at the EU level, is that biofuel production by the world's 2 billion farmers in the South offers an opportunity to raise their incomes - the critical factor enabling the reducing of food insecurity. Studies on the potential of biofuels clearly show that we can feed the world's rapidly growing populations, and at the same time produce an abundance of bioenergy (
earlier post
). In the 20th century, world agriculture was aimed at securing sufficient
production
of food - a goal that was fully achieved (we currently produce food for 9 billion people). The 21st century must be aimed at
distributing
it in more equitable ways. Farm subsidies and trade barriers (to e.g. biofuels) in the wealthy West keep many developing countries in poverty and has turned them into net food importers, while these countries should in fact be major agricultural exporters (they have the agro-ecological potential). Infrastructural problems, lack of investment, political instability, bad governance and unfair socio-economic policies on the part of developing country governments are other key factors driving food insecurity and undernutrition in the South.
In the West, the overabundance of extremely cheap (subsidized) food is now so large that it has led to a health crisis of major proportions: the obesity pandemic. Speaking of distributing food in wrong ways, new research shows some staggering figures on how this global epidemic keeps expanding in the United States.
According to a just released
meta-study
[*abstract] carried out by researchers at the Johns Hopkins Bloomberg School of Public Health Center for Human Nutrition, America's obesity prevalence increased from 13 percent to 32 percent between the 1960s and 2004. The prevalence of obesity and overweight has increased at an average rate of 0.3–0.8 percentage points across different sociodemographic groups over the past three decades. 66% of U.S. adults are currently overweight or obese (2003-2004). By 2015, 75 percent of adults and nearly 24 percent of U.S. children and adolescents will be overweight or obese. The meta-analysis was published online in advance of the 2007 issue of the journal
Epidemiologic Reviews
.
The obesity rate in the United States has increased at an alarming rate over the past three decades. We set out to estimate the average annual increase in prevalence as well as the variation between population groups to predict the future situation regarding obesity and overweight among U.S. adults and children. Obesity is a public health crisis. If the rate of obesity and overweight continues at this pace, by 2015, 75 percent of adults and nearly 24 percent of U.S. children and adolescents will be overweight or obese.

- Youfa Wang, MD, PhD, lead author of the study and an assistant professor in the Bloomberg School of Public Health's Department of International Health
The obesity pandemic is no laughing matter, because here too, the problem is strongly correlated with the socio-economic status of people. Some minority and low socioeconomic status groups—such as non-Hispanic black women and children, Mexican-American women and children, low socioeconomic status black men and white women and children, Native Americans and Pacific Islanders—are disproportionately affected.
The study authors included 20 journal papers, reports and online data sets in their meta-analysis. In addition, data from four national surveys—NHANES, BRFSS, Youth Risk Behavior Surveillance System and National Longitudinal Survey of Adolescent Health—were included in order to examine the disparities in obesity. They defined adult overweight and obesity using body mass index cutoffs of 25 and 30, respectively. Children at risk for overweight and overweight were classified as being in the 85th and 95th percentiles of body mass index, respectively. The key findings include:
biofuels :: energy :: sustainability :: agriculture :: food production :: food insecurity :: obesity :: pandemic :: United States ::
66% of U.S. adults were overweight or obese in 2003-2004.
Women 20–34 years old had the fastest increase rate of obesity and overweight.
80% of black women aged 40 years or over are overweight; 50% are obese.
Asians have a lower obesity prevalence when compared to other ethnic groups. However, Asians born in the United States are four times more likely to be obese than their foreign-born counterparts.
Less educated people have a higher prevalence of obesity than their counterparts, with the exception of black women.
States in the southeast have higher prevalence than states on the West Coast, the Midwest and the Northeast.
16% of children and adolescents are overweight and 34% are at risk of becoming overweight in 2003-2004.
White children and adolescents had the lowest prevalence of overweight and being at risk of overweight compared with their black and Mexican counterparts.
Our analysis showed patterns of obesity or overweight for various groups of Americans. All groups consistently increased in obesity or overweight prevalence, but the increase varied by group, making this public health issue complex. More research needs to be completed to look into the underlying causes. Obesity is likely to continue to increase, and if nothing is done, it will soon become the leading preventable cause of death in the United States.

- May A. Beydoun, coauthor of the study and a postdoctoral fellow in the Bloomberg School of Public Health's Department of International Health.

In a related study, the Johns Hopkins co-authors published a research article in the May 7, 2007, issue of the European Journal of Clinical Nutrition that found people purchase foods based on their income level and perception of a food's health benefit and cost. Ethnicity, gender and environmental factors also impact people's food choices.



References:


Note: Unlike definitions for adults, the U.S. Centers for Disease Control and Prevention uses "overweight" to refer to the highest body mass index for children and adolescents. Therefore, it is inaccurate to use the term "obese" when referring to elevated body mass index in this age group.

Youfa Wang and May A. Beydoun, "The Obesity Epidemic in the United States—Gender, Age, Socioeconomic, Racial/Ethnic and Geographic Characteristics: A Systematic Review and Meta-Regression Analysis" [*abstract], Advance Access published online on May 17, 2007,

Epidemiologic Reviews

, doi:10.1093/epirev/mxm007.

John Hopkins Bloomberg School of Public Health: Obesity Rates Continue to Climb in the United States - July 10, 2007.