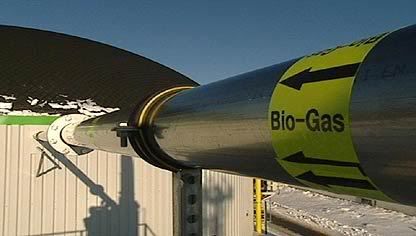 According to a new report
released
by Helmut Kaiser Consultancy, the market for biogas plants is seeing an explosive growth worldwide in municipalities, industry and agriculture, with the sector's investments set to expand from around €2 billion in 2006 to €25 billion by 2020. The key to participate competitively in this market is advanced knowledge in biotechnology, molecular science, and a push towards the convergence of nanotechnology, biotechnology and IT ('nano-bio-it').
The study shows that over the past few years, the biogas market has been growing at a rate of 20 to 30 percent annually, depending on the country. The study is the first analysis of the global market for biogas plants in 50 countries, projecting future potentials and developments to 2030, with a focus on the development of new technologies and drivers of worldwide competition.
Germany as a technology leader reached investment levels of around €700 million in 2006 with 400 companies involved in segments of the sector and 100 companies offering the whole value chain. Export of biogas related technologies and services is between 10 and 15 percent. The production of biomethane is Germany's fastest growing renewables sector, outpacing both wind, solar and other types of biomass use (
earlier post
).
In Germany alone, 900 new plants were built in 2006, reaching a total of 3,600. By 2020, the market size in the country is expected to reach €7.5 billion for plants, with 30 percent coming from exports. Some 85,000 full and direct jobs will be created in the sector in Germany.
In Europe, biogas is being developed on a large scale for the production of fuels for stationary power generation (to be used in natural gas plants or
in fuel cells
), as well as for the transport sector (
earlier post
and
here
). It is being fed into the natural gas grid on a large scale (
previous post
and especially
here
) or in dedicated pipelines supplying cities, while some are creating real biorefineries around it that deliver green specialty chemicals, fuels and power (
earlier post
). The green gas can be made by the anaerobic fermentation of biomass, either obtained from dedicated energy crops (such as specially bred
grass species
,
biogas maize
or
sugarcane
), or from industrial, municipal or agricultural waste-streams.
Of all biofuels, biogas delivers most energy per hectare of crops. It is also the least carbon intensive production path, with some biogas pathways actually delivering carbon-
negative
bioenergy (
earlier post
and
here
). Importantly, biogas can be integrated in carbon capture and storage systems (CCS), in a way that presents advantages over other CCS pathways (
earlier post
).
According to the Helmut Kaiser Consultancy report, the world market for biogas currently has a value of around €2 billion, expected to grow to €25 billion by 2020. But the competition is growing, worldwide. Even though some projections show biogas may replace
all
of Europe's natural gas imports from Russia by 2020 and yield up to 500 billion cubic meters per year (
earlier post
), the report sees an even greater potential for biomethane in the U.S. and China:
biofuels :: energy :: sustainability :: biomass :: bioenergy :: natural gas :: biogas :: biomethane :: biotechnology ::

Many plants today remain low tech and easy to reproduce and design. To acquire a competitive edge, the key is knowledge in biotechnology, molecular science and optimization in the future. Biogas is part of a rapidly growing renewable energy sector, that saw investments leaping to around $100 billion in 2006 (earlier post).

According to the report, the total energy mix of the future will be more regenerative and sustainable. The generation and storage of renewable energy will be the fastest growing sector in energy market for next 20 years. The market volume of renewable energy worldwide will increase from US$ 95.8 billion in 2007 to US$ 124.4 billion in 2010 and reach US$ 198.1 billion in 2015. These figures and developments are based on the whole value chain.

Biogas power plants are a combination of anaerobic digestion systems with associated electricity generators such as gas turbines or gas engines. The electricity they produce is classified as renewable or green energy and if sold into the national grid attract subsidies.

In the last 20 years, biogas utilisation been successful in wastewater treatment plants, industrial processing applications, landfill and the agricultural sector.
The future increase use of biogas is a strong goal in most countries, not only because is it a renewable energy source but it will help to reduce greenhouse gas emissions, water pollution and soil degradation and last not least it will change agriculture sectors in many countries worldwide to produce partly energy.

For a more in-depth overview of why analysts think 2007 is the year of biogas, see here.



References:


PRLog: Biogas Plant Markets boom Worldwide in Municipalities, Industry and Agriculture. Profit potential high - July 13, 2007.