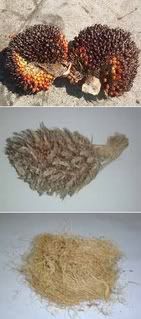 According to Credit Suisse Research, Malaysian company
TSH Resources Bhd
's earnings will be given a boost from rising crude palm oil (CPO) prices, but also by new refining capacity and by maiden profits from a biomass power project and from bioproducts and carbon credits. The company is trying to green its image and tries to squeeze profit out of waste.
Plantation-based TSH, with a market capitalisation of 1.2 billion ringgit (€253/US$346), had planted 20,500 hectares of oil palm trees (9,000ha matured and 11,500ha immature) and it has another 43,500ha of new landbank in Indonesia for future expansion.
Its plan is to plant 10,000ha to 15,000ha per annum. The management has indicated its Fresh Fruit Bunches (FFB) output will grow at 20% per annum over 2006-2010, as 56% of its plantations will mature in stages over the next three years.
Credit Suisse remarks that TSH has embarked on a series of 'value-added' projects, giving it an 'environment-friendly' image, which is quite a rarity in Malaysia. The projects include a biomass power plant fed by palm residues, a biogas project utilizing palm mill effluents, green paper made from empty fruit bunches (EFB), and fully certified carbon credits. The company has now made a 'waste is profit' philosophy a core value:
It is known that only 20% of the biomass in oil palm trees is utilized. We foresee huge potential for commercial application of the remaining 80% deemed as 'wastes'. Thus, we are pioneering a fully integrated bio-integration complex, with biomass power plant, biogas power plant and palm pulp and paper plant.
The vast biomass residue stream from palm plantations can be used in many different ways for the production of solid, gaseous or liquid biofuels as well as bioproducts ranging from paper to bioplastics (
earlier post
). THS has chosen for a straightforward and currently commercially feasible approach by building 14MW biomass power plant using mainly fiber-rich EFB as fuel. It also built a large biogas power plant to channel methane gas from palm oil mill effluents expected to come online in the second half of 2007.
On the cards is a plan to make 'EkoPaper' from empty fruit bunches, with a pulping plant scheduled to come online in mid-2008. The paper will be based on totally chlorine free bleaching of EFB. THS says that the economic value of 1 tonne of EFB as mulch is low, but that as a raw material for paper making, the return is more than 10 times:
energy :: sustainability :: oil palm :: ethanol :: biodiesel :: biofuels :: biomass :: bioenergy :: biogas :: paper :: carbon credits :: Malaysia ::

Further TSH has teamed up with Wilmar in a 50:50 joint venture in a 800,000-tonne refinery in Sabah, which has been operational since January 2007. Current utilisation is 50% and it will be ramped up to 75% by year-end. "Management has indicated that the refinery was profitable from the first day of operations," it said.

On the carbon credits, Credit Suisse said TSH expected to start earning fully certified carbon credits through the biomass project in the second half 2007. Although profits from its carbon credit are not significant relative to the group's total profits, TSH is taking the sustainability issue seriously. It has committed half of its carbon credits to the Swiss Foundation.

TSH, through its brand Ekowood, sells engineering hardwood timber flooring. These products are environmental friendly, with certification from the Forest Stewardship Council, and 85% of the products are exported.

Another core business is trading in cocoa butter, cocoa powder, and cocoa cake to multinational corporations such as Hershey and Cadbury. Credit Suisse said for FY07, management indicated the strong profit increase of 60%-75% would be driven by rising CPO prices and this would see the palm division becoming more dominant in 2007 and 2008.



Picture

: palm plantations yield a large amount of biomass currently not being used for products. One 'waste product' is derived from the 'fresh fruit bunches' (top), which, after the palm fruits which contain the palm kernels are removed, results in fiber and cellulose-rich 'empty fruit bunches' (middle), which can be defibrized (bottom) and used to make, for example, paper.

Credit

: Tanaka Ryohei - Forestry and Forest Products Research Institute, Japan.



References:


The Edge Daily: TSH rides on rising CPO prices - July 30, 2007.

THS: Why waste the waste?

Tanaka Ryohei, Mori Yutaka and Kosugi Akihiko, "Utilization of oil palm empty fruit bunches as 'solid materials' " [*.pdf], Third Biomass Workshop, Japan - November 2006.