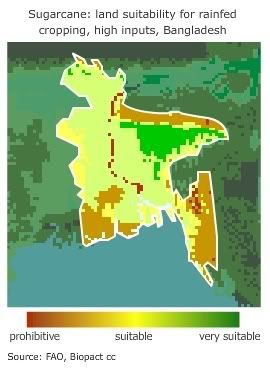 According to
EnergyBangla
, Japanese industrial giant Honda Denki Co. Ltd has expressed its interest to invest up to US$1 billion in Bangladesh's green power, biofuels and sugar sectors.
The investment offer came when the president of the Japanese firm Shin-ichi Honda met Bangladesh Industries Advisor Geetiara Safiya Chowdhury in the capital, Dhaka on Sunday. Bioethanol project manager Dr. Salem Monem was present on the occasion, an official statement says.
During the meeting, Shin-ichi said his company wants to invest in power generation and environment-friendly alternative energy bioethanol projects. He said his firm is also interested in providing pure drinking water to the poor and financing housing projects.
Shin-ichi informed the advisor that the Japanese industrial giant is also keen to extend its cooperation to the country's sugar mills. It would help in boosting production through providing training to the farmers, distributing high-yielding seeds and offering modern technologies for bioenergy production.
Together with Brazil, the Caribbean and Central Africa (DRCongo), Bangladesh belongs to the world's most suitable areas for growing sugarcane. Soils, temperatures, sunlight, precipitation levels and other agro-ecological factors combine in set of highly suitable conditions.
According to the International Institute for Applied Systems Analysis (IIASA) and the FAO, following the
Global Agro-Ecological Zones method
, out of Bangladesh's 14 million hectares of land, some 10.1 million are very suitable, suitable and moderately suitable for sugarcane under rainfed cropping with high inputs (see map, and check the FAO's
Land Suitability Maps
).
In 2005, Bangladesh produced some 6.7 million tonnes of cane sugar, harvested from 175,000 hectares of land:
energy :: sustainability :: ethanol :: sugarcane :: bagasse :: biomass :: bioenergy :: biofuels :: Bangladesh ::

Commenting on the Japanese announcement, the Bangladeshi advisor said the ethanol investments could play an important role in developing sugar industries. Describing the investment proposal of the Japanese firm in sugar industry as a very positive one, the advisor urged Honda to set up urea fertilizer industries in Bangladesh.

The Honda Denki has a large investment portfolio in sugar cane ethanol industries and power generation in Cambodia, Brazil and Venezuela.



References:


GAEZ database: datasets on land suitability for different crops under rainfed conditions (datasets are *.xls format).

FAO, Land and Water Development Division: Land Suitability Maps for Rainfed Cropping, database.

Sugarcane production data for Bangladesh can be found in the FAOStat database.

EnergyBangla: Japanese Company Honda to Invest $1b in Power Sector of Bangladesh - July 9, 2007.