India's
Enhanced Biofuel Technologies
(EBT) has
proposed
plans to the Suriname government to invest up to US$150 million in bioenergy, the Surinamese Council of Ministers disclosed this week. EBT has submitted a business plan to the government covering 7 years in developing new crops for the production of biofuels.
Meanwhile, the
Ministries of Agriculture
[*Dutch], Natural Resources and Spatial Zoning, Land and Forest Management are reviewing the proposals, while a Memorandum of Understanding is being drafted.
"If the government decides to cooperate with this company and the project is successful, Suriname will play a major role in the field of bioenergy in the region," said the cabinet in a press release.

'Social sustainability'
EBT is aming at reducing dependency on fossil fuels and relieving pressure on the environment by growing perennial energy crops and by utilizing biomass waste streams from farming comunities to produce green electricity. Most importantly, it has created a social sustainability program that should ensure feedstock growers and communities benefit from biofuel production.
The integrated social sustainability scheme is built around a stream of byproducts and coproducts flowing back to the communities, either in a material form (e.g. livestock feed, biofertiliser), in the form of energy (e.g. electricity from biomass residues) or in an immaterial form (sales of bioproducts) (schematic,
click to enlarge
).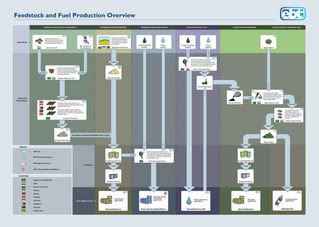 The strategy of EBT is to grow
Jatropha curcas
in a series of tropical and subtropical countries, like Suriname, for the global market. Within 5 years time, the company plans to begin to make an impact on replacing rapeseed oil based biodiesel in Europe and North America (schematic,
click to enlarge
):
energy :: sustainability :: ethanol :: biodiesel :: biomass :: bioenergy :: biofuels :: social sustainability :: Suriname ::

EBT is a commercially-driven business that addresses the pressing global issues of the scarcity of fuel supply, climate change, poverty reduction and sustainable development. The company is building a global production, supply and distribution chain for the high volume production of commercialized renewable, energy efficient and reduced carbon emission fuels.

Energy production on a global scale will require the sourcing of vast quantities of crude vegetable oil, the company says on its website. EBT has negotiated the procurement of rapeseed, palm oil and soya bean, while creating projects to increase the growth of energy crops in rural communities.

EBT fuels are targeted at industries that are amongst the highest producers of carbon emissions and other toxins, including cement, mining, and power generation.

According to EBT, crops such as sunflower, rapeseed and tree-borne oil seeds like Jatropha Curcas provide rich biomass and nutrients for soil whilst combating degradation of land, a problem affecting millions of hectares of land world wide, particularly in the subtropical zones which will be the focus of the agricultural extension kit's deployment.

In 2007, EBT will begin the process of delivering the company to market in the UK, in India and alternative energy development markets. For the past two years the company has continually invested into the development of a global platform of corperate endevour in India, South East Asia, Africa, the Middle East, USA, Canada, UK, EU, South America and the Caribbean.

Besides biofuels from energy crops, EBT is researching the production of biohydrogen from algae.



References:


Caribbean News Network: Indian company proposes million-dollar bio-energy investment in Suriname - July 13, 2007

Government of Suriname: Ministerie van Planning en Ontwikkelingssamenwerking [*Dutch].

Government of Suriname: Ministerie van Landbouw, Veeteelt en Visserij [*Dutch]