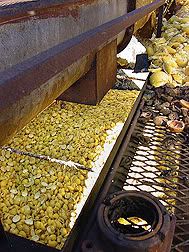 FPL Energy, LLC, a subsidiary of FPL Group, today
announced
that it has signed a letter of intent with
Citrus Energy, LLC
, of Boca Raton, Florida, to develop a commercial scale biorefinery that will convert citrus waste to cellulosic ethanol.
The ethanol plant will be owned and operated by FPL Energy and is expected to produce 4 million gallons (15m liters) of ethanol per year. It will be located on the grounds of a local Florida citrus processor.
Citrus Energy's mission is to develop fuel ethanol that minimizes environmental impact and cost by using citrus waste and other biomass. FPL Energy, as the largest renewable energy generator in the U.S., is the ideal partner.

- David Stewart, president of Citrus Energy
FPL Energy says that ethanol from citrus peel could result in a new Florida industry producing over 60 million gallons of fuel per year, which could replace about one percent of Florida's annual gasoline consumption. Florida has 100 million citrus trees on 700,000 acres yielding around 5 million tons of citrus waste per year.
Citrus Energy recently received a US$2.5 million grant to study
"Fuel Ethanol Production from Citrus Waste Biomass"
[*.pdf], from the Florida government under its 'Renewable Energy Technologies Grant Program' (
earlier post
).
The feedstock
Typically citrus processing waste is dried into citrus pulp pellets (CPP) and fed to cattle. But production of CPP requires a large capital investment by the processor with a negative return on investment. The CPP losses are borne by the main product from citrus, orange or grapefruit juice.
Citrus processing waste, a pectin, cellulose and soluble sugar rich mixture of peel, segment membranes and seeds is thus available at no cost and in large volumes with potentially no transportation costs. This waste citrus biomass stream will be used as a cellulosic ethanol feedstock. According to Cirtus Energy, citrus waste feedstock can produce ethanol at significantly lower cost than corn feedstock and is the most economically attractive and technically feasible of the potential cellulosic feedstocks.
The conversion process
The project's competitive advantage is based on technology which allows the ethanol production process to take advantage of a feedstock where the primary costs of growing, harvesting, and collection are supported by the existing product stream.
Comprehensive research, conducted largely at the
USDA/ARS Citrus and Subtropical Products Laboratory
(Citrus Lab) in Florida provides the technical background for the proposed bio-refinery. The key step is conversion of citrus (primarily orange and grapefruit) processing waste to a mixture of glucose, fructose, galacturonic acid, arabinose, galactose, and xylose by hydrolysis using a mixture of commercial pectinase, cellulase, and beta-glucosidase enzymes. The soluble sugar content in processed citrus waste increases from 23 to 62 percent through this enzymatic hydrolysis process. Fermentation of the sugars is done using traditional brewers yeast and the resulting "beer" has the ethanol separated and converted to fuel grade ethanol using a distillation and dehydration process:
According to Citrus Energy, the economic and environmental advantages of this process are:
energy :: sustainability :: ethanol :: biomass :: bioenergy :: biofuels :: cellulosic :: citrus :: Florida ::
Feedstock is available at the plant at no cost with no transportation costs.
The feedstock is processed immediately with no requirement for storage.
Unlike lignocellulosic feedstocks, this cellulosic process is commercially viable in the short term.
Rural economic development including local energy expenditures; cleaner fuel; and rural employment.
No toxins produced. The acid or high temperature pre-treatment used in conversion of other cellulosic feedstocks for ethanol production can cause toxins which raise environmental concerns.
Reduced foreign oil dependence and improved trade deficit.
Energy Security through domestic fuel source; local energy security.
Less combustion related emissions of global climate change (greenhouse) gases.
Environmental protection and improvement including less toxic emissions than fossil fuels.
10. Biodegradability of ethanol leaks and spills when compared to MTBE.
Citrus Energy sees itself as strategic player in the cellulosic ethanol opportunity because of the following factors:

A citrus waste feedstock that allows an economically attractive cellulosic ethanol revenue stream to be the basis for broadening the feedstock supply to energy crops.
The ability to raise funds for new cellulosic ethanol opportunities based on a profitable business and proven economic and technical success in cellulosic ethanol production.
A four month window (the citrus off-season) to use the enzymatic hydrolysis, fermentation, and distillation equipment at the production facility as a large scale experimental operation for energy crop research. This capital equipment is available at no cost as the financial burden is being carried by the citrus ethanol product.
An opportunity to have significant state and federal funding assistance to grow the energy crops on the tens of thousands of acres of phosphate mined lands that require remediation to be returned to food production agriculture. This could allow Citrus Energy to continue in its "no cost/low cost" biomass feedstock model.
FPL Energy is an energy supplier utilizing clean fuels such as natural gas, wind, solar, hydroelectric and nuclear to generate electricity. It is the U.S. leader in wind energy with 49 wind facilities in operation in 15 states. It is a subsidiary of FPL Group, (NYSE: FPL) one of the nation's largest providers of electricity-related services with annual revenues of nearly $16 billion. FPL Group's principal subsidiary is Florida Power & Light Company, one of America's largest electric utilities, serving 4.4 million customer accounts in Florida.

Picture: citrus peel waste like this will beused for ethanol production rather than cattle feed, its current use.

Credit

: Bill Widmer.



References:


Cirtus Energy: "Fuel Ethanol Production from Citrus Waste Biomass" [*.pdf].