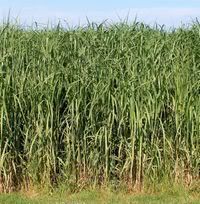 E.ON UK, an arm of German energy giant E.ON,
announces
it has submitted a scoping statement to build a £60 million (€89.2 /US$123.2 m) dedicated biomass power station in Sheffield. Rated at 25MW, the new renewable energy plant would produce enough power for around 40,000 homes by burning a combination of recycled wood and specially grown energy crops such as willow or tropical elephant grass (
Pennisetum purpureum
).
This is the second of E.ON UK's biomass developments, with construction nearing completion at the UK's largest dedicated biomass power station at Steven's Croft near Lockerbie in Scotland. That plant is rated at 44MW, generating enough electricity to power 70,000 homes (
earlier post
). The company started
testing
the facility yesterday. Besides building dedicated biomass power plants, E.ON also co-fires biomass at two of its coal power stations.
The Sheffield plant would displace around 80,000 tonnes of carbon dioxide emissions every year - the equivalent of taking more than 20,000 cars off the UK's roads each year - and is expected to create 20 full-time jobs.
[...] biomass development is a great opportunity to make a contribution to the Yorkshire and Humber Region's target of reducing greenhouse gas emissions by at least 20% by 2010. It's through projects like this that we can change the way that we produce energy in the UK, helping keep the lights on at the same time as reducing the impact we have on our environment. And it's not just the environment that will benefit - we're expecting there to be a number of benefits to the local community in terms of new jobs and investment in the area.

- Dr Nilton Chan, E.ON UK Project Developer
In addition to the displacement of carbon emissions, the company is investigating the potential for supplying renewable heat to neighbouring commercial and industrial establishments, further strengthening the project's efficiency:
energy :: sustainability :: climate change :: coal :: co-firing :: biomass :: bioenergy :: energy crops :: United Kingdom ::

The scoping statement has been submitted to statutory consultees, including Sheffield City Council and Rotherham Metropolitan Borough Council, and outlines the proposed project including the potential environmental impact of the new development.

It is hoped that a full planning application will be submitted to the council later this year, following the completion of initial design activities and environmental studies.

If the project gets the green light, construction is expected to start early in 2009, with the first power being produced in 2011.

Local people will get the opportunity to learn more about the proposed development at a public exhibition planned for later in the year.

In addition to Sheffield City Council and Rotherham Metropolitan Borough Council, statutory consultees include Darnall Ward, English Nature, English Heritage, Environment Agency, Groundwork Sheffield, Sheffield Wildlife Trust, Highways Agency, South Yorkshire Forest Partnership, Tinsley Forum and Yorkshire Forward.

E.ON is co-firing biomass alongside coal at two of its power stations, building the UK's largest dedicated biomass power station in Scotland and owns the largest traditional hydro power station in England and Wales. The retail business, branded Powergen, is a leading energy supplier in the UK, with around 8.5 million electricity and gas customer accounts, both domestic and SME.



Picture

: a stand of elephant grass.

Pennisetum purpureum

is a species of grass native to the tropical grasslands of Africa. It is a tall perennial plant, growing to 2-4.5m tall (rarely up to 7.5 m), with razor-sharp leaves 30-120 cm long and 1-5 cm broad. It has a very high productivity and has received considerable research attention because of its potential as a dedicated biomass crop.



References:


E.ON UK: E.ON UK gets the ball rolling on biomass power station at Blackburn Meadows in Sheffield - July 18, 2007

E.ON UK: Next stages of testing to be undertaken at E.ON's Steven's Croft biomass power station - July 19, 2007