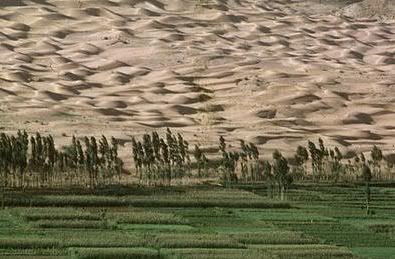 Jia Zhibang, director of the State Forestry Administration
announced
today China will establish 13.33 million hectares of forests by 2020 to produce liquid and and solid biofuels for power generation and transport. The hectarage will rise from a planned 833,333 hectares in 2010 and provide enough biomass to produce over 6 million tonnes of biodiesel a year and power generators with capacity of 15 gigawatts. The energy forests will contribute massively to China's already successfull attempts aimed at reducing desertification.
The People's Republic recently presented its 'Agricultural Biofuel Industry Plan', which raised targets for all types of biofuels. The forest-based bioenergy plan is part of this policy (
earlier post
), which may bring a large number of jobs to China's many farmers (
previous post
). Because the energy forests help fight desertification, they contribute positively to restoring the environment and may protect agricultural land.
Presenting the plan, Jia said the lipid- and starch-rich materials from the forests could be processed into liquids to make biodiesel and ethanol fuel, whereas woody biomass can be pelletized and used in power plants to replace coal, and thus reduce carbon dioxide emissions substantially. (More on China's biomass-fired power plants,
here
and
here
).
The country plans to produce more than six million tons of forest-based biodiesel and will increase the installed capacity of renewable, biomass-based power generation by more than 15 million kilowatts by 2020, Jia said. The potential of the country's forest-based bioenergy would thus be equivalent to 200 million tons of coal, the utilization of which would reduce the consumption of fossil energy by 10 percent. Ultimately, biomass can be used in carbon-
negative
energy systems (more
here
,
here
and especially
here
), and reduce carbon dioxide emissions even further.
Currently, China is home to more than four million hectares of oil plants nationwide, and 154 kinds of energy trees could produce seeds containing more than 40 percent of oil, with total production of the seeds totaling five million tons. Another 57 million hectares of waste land are available and suitable for planting trees for the production of forest-based bioenergy, according to Jia.
Jia said the administration would develop the forest-based bioenergy together with the China National Petroleum Corporation, the country's grain importer and exporter COFCO and the State Grid Corporation of China.
Jia's collegue, Zhu Lieke, vice-director of the State Forestry Administration (SFA), said Chinese land vulnerable to desertification is dwindling by about 1200 square kilometers per year thanks to years of afforestation efforts. China now tops the world in afforestation with 54 million hectares of man-made forest, according to Jia:
energy :: sustainability :: climate change :: coal :: biodiesel :: biomass :: bioenergy :: biofuels :: energy crops :: afforestation :: desertification :: China ::

The nation has been promoting voluntary tree-planting and forestation, closing the forest area to allow for natural regeneration and fostering of young forests, said Jia. Since China began advocating voluntary tree-planting and forestation 26 years ago, the Chinese people have planted 49.2 billion trees, he added. The Chinese government will endeavor to double the total forest annual growth in 30 to 50 years, to one billion cubic meters, Jia said.

China's aim to expand its acreage of trees suitable for providing feedstocks for power plants and biodiesel makers comes down to an increase by 16 times during the 2010-2020 period.

China had a total of 622 gigawatts of installed generating capacity as of late 2006. Output for diesel totaled 117 million tonnes last year. China has been anxious to boost its use of alternative energy in recent years as its heavy reliance on burning coal to meet energy needs has caused serious environmental problems. The government plans to reduce the percentage of coal in consumption to 66.1 percent by 2010 from 69.1 percent in 2005, while improve renewable energy usage, excluding hydropower, to 0.4 percent from 0.1 percent.




References:


Xinhua: China to boost forest-based bioenergy - July 17, 2007.

People's Daily Online: China sees shrinking deserts: official - July 17, 2007.

Reuters: China anxious to boost energy output from forest - July 17, 2007

Biopact: China announces 'Agricultural Biofuel Industry Plan': new crops, higher targets - July 04, 2007