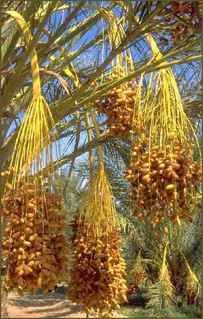 Entrepreneurs based in the city of Sohar, Oman, want to turn the sultanate and oil producer into the first Arab country to use biofuels on a large scale. Mohammad Bin Saif Al Harthy and his partners at the Oman Green Energy Company claim they have been successfully producing and testing ethanol from biomass obtained from the abundantly present date palms for the last 18 months.
In an interview with
Gulf News
Al Harthy said that the production method does not affect the date crop nor does it require the removal of palm trees. Instead, cellulose biomass will be extracted from around 80,000 date palms in a 'non-intensive' way. The description of the process remains vague and could involve tapping glucose-rich sap from the tree, a technique which would however be very labor-intensive (see
here
for an Algerian biotech company that simply uses the sugar-rich fruits).
Sugars in dates consist of a mixture of sucrose, glucose and fructose. Traditionally, dates have been used more to make date palm wine, alcohol, syrup and liquid sugar than as fruits. Dates belong to the sweetest of all fruits, with a sugar content ranging from 45 to 85% on a dry weight basis (table,
click to enlarge
). So in principle, they make for an interesting biofuel feedstock.
The Omani company sees an opportunity and immediately thinks big:
over the next 10 years, it wants to establish plantations with a total of 10 million date palms
a biofuel refinery will be set up in Sohar and will have an annual capacity of 900,000 tonnes for the first two years, to be increased to 4.8 million tonnes within four years
it wants to open 100 ethanol stations across the country by 2010
large-scale production and marketing of the biofuel will begin by 2010
the biofuel project is expected to generate employment for over 3,500 Omanis in the first five years
Date palms (
Phoenix dactylifera
L.) thrive in Oman's hot and arid climate. They require temperatures of around 40°C but quite some water, which is provided by irrigation systems (some of which are millenia old). The palm is the sultanate's the primary crop where it represents 82% of all fruit trees. Soil and water salinity, pests and diseases, increased production costs as well as limited market outlets led to a decline in date production in recent years. In 2005, Oman harvested some 238,000 tonnes of dates, grown on 34,000 hectares, yielding an average of 7 tonnes per hectare - down from 2001, when the country's date palm production reached a highpoint with 298,000 tonnes harvested (
FAOstat
). Apparently, biofuels may revive the sector.
Even though it is not a member of OPEC, Oman is heavily dependent on oil production. The sultanate derives over 90% of its export revenues from the 700,000 barrels of petroleum it produces each single day:
energy :: sustainability :: biomass :: biofuels :: ethanol :: date palm :: sugar :: Oman ::

Al Harthy claims his company has acquired a licence to set up the biorefinery in Sohar, the northern town in Oman that has become a hub of petrochemical industries. The entrepreneur and his partners at the Oman Green Energy Company are also hoping to raise 55 million Omani riyals (€106.3/US$142.8 million) capital from European countries.

Talking about the experiment of running his own car on biofuel, Al Harthy said: "All small cars can run on biofuel without any problems and it is much cheaper compared to conventional petrol and also helpful for our environment." Al Harthy also said that the prime target would be automobile users but they would also supply ethanol to power stations.

He claimed that Oman would be the first country in the world neither to cut trees nor to use waste, chip wood to extract cellulose ethanol. "We plan to use the enzyme that we have developed to extract the biomass from palm trees," he said, admitting that they are also seeking collaborations with laboratories in the West.

It is unclear whether Al Harthy's company has developed any innovative technologies either for the harvest of primary feedstock or for its conversion into ethanol. But the production of ethanol from date palm fruits is not unfeasible as such. The oil-producing sultanate may well have cars running on biofuel in the near future.



Table

taken from: Date palm products, Agricultural Services Bulletins - 101, 1993, T0681/E



References:


Gulf News: Tapping green alternative - June 23, 2007.

R. Al-Yahyai, "Improvement of date palm production in the Sultanate of Oman", ISHS Acta Horticulturae 736: III International Date Palm Conference, February 2006.

The FAO has an interesting overview of the date palm's cultivation and uses: Date palm products, Agricultural Services Bulletins - 101, 1993, T0681/E