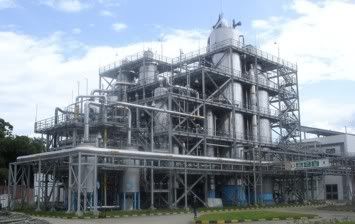 Praj Industries Ltd, one of India's leading engineering, technology and equipment providers for alcohol and fuel ethanol plants,
announces
it is setting up a full-fledged marketing office in Brazil next month to tap the growing global demand for fuel ethanol that is expected to cross 90 billion litres by 2010 from the current 59 billion litres. The company hopes to expand in Brazil via acquisitions. Serial biofuel entrepreneur Vinod Khosla - who is
investing
in Brazilian biofuels himself - is one of the backers of Praj Industries.
A joint-venture with European company Aker Kvaerner, in which Praj has a majority stake, also becomes operational next month in Brazil, with the 10 per cent blending mandate of the European Union acting as a main driver of growth, Mr Pramod Chaudhari, Chairman, Praj Industries, said (
earlier post
).
Among the company's other initiatives outlined at the shareholders' annual general meeting were its focus on biotechnology, efforts to improve the existing biofuel production technology and development of "sustainability metrics", a framework that will take into account "earth and people" while chalking out its own evolution and earnings:
bioenergy :: biofuels :: energy :: sustainability :: ethanol :: biodiesel :: biomass :: engineering :: India :: Brazil ::

On the business road map for the next five years, Mr Chaudhari said, "We are working on a blue print that will be guided by our vision to be a powerhouse in industrial biotechnology and continue to work towards environmental protection."

Earlier this fiscal, Praj introduced biodiesel technology besides its existing ethanol operations and plants as a new line of business and expects to consolidate it. Mr Chaudhari said that with per capita beer consumption expected to double over the next five years, the brewery business was poised for a major upswing as well.

Praj Industries recently obtained a major contract to design and build a bioethanol complex for Biowanze SA, in Belgium. Biowanze is pouring some €200 million into the complex, one of Europe's largest, which will bring economic opportunities to 10,000 farmers. Praj's first order, which only covers the designing phase of the complex, is worth around €2 million (ealier post).