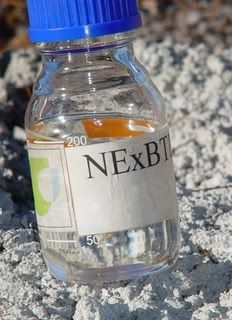 Mauri Pekkarinen, the Finnish Trade and Industry minister, says that the share of biofuels in transport should be raised to 30% by 2020, up from the current 10% target. Mr Pekkarinen
spoke
at the inauguration of Neste Oil's new diesel line and biodiesel factory in Kilpilahti, and said he regarded the current 10-per cent target as insufficient.
The new €100/US$134 million
biodiesel plant
is the first in the world to produce second-generation biodiesel based on Neste Oil's proprietary NExBTL (Next Generation Biomass-to-Liquid) technology. The new plant will be capable of producing 170,000 tonnes per year of NExBTL diesel fuel from a flexible mix of vegetable oil and animal fat. Neste Oil is partly owned by the Finnish state.
Importantly, Neste Oil earlier said it is looking into sourcing
Jatropha curcas
oil from the developing world as its main feed stock, thus tying the production of its second-generation biodiesel inextricably to a kind of 'biopact' with the South (
previous post
).
With the potential for such abundant vegetable oil supplies in mind, Mr Pekkarinen said "The 10 percent target set for the use of transport biofuels is not in my opinion sufficient for Finland. I think it is perfectly feasible that by 2020 we will possess all the prerequisites to raise the share of biofuels to at least a third".
The minister calculated that raising the biofuel share to a third of all transport fuels would yield a reduction of almost 100 million euros in the country's emissions trading bill.
"Research carried out in Finland and results that are already on the horizon show that it is possible to achieve a true breakthrough on next-generation biofuels quite soon. Neste Oil is at the forefront of this development", he added:
bioenergy :: biofuels :: energy :: sustainability :: vegetable oil :: jatropha :: biodiesel :: biomass-to-liquid :: Finland ::

In order to raise the share of biofuels, Mr Pekkarinen would oblige public transport buses and coaches to use alternative fuels. In addition, the minister called for "fast yet soft solutions" to make taxis and agricultural and forestry equipment to swap to biofuel.

NExBTL is a biodiesel production process that differs from classic transesterification but also from second generation biomass-to-liquids processes used to obtain synthetic biodiesel (which is based on the gasification of biomass, with the gas being liquefied via the Fischer-Tropsch process). NExBTL is similar to the second generation biodiesel developed by Italy's ENI and Brazil's Petrobras ('H-Bio'): it consists of hydrogenating fatty acids under high-pressure. The process can use multiple plant oil feedstocks and results in a product with characteristics similar to ultra-clean synthetic biodiesel.

The advantage of NExBTL and the similar H-Bio technology is that it can be fully integrated in existing oil refineries. Such refineries already have hydrogenation facilities, which is why these biodiesel units can be smoothly bundled alongside them, without the need to build an entirely new, dedicated plant.


More information:

Biopact: Finnish oil major is considering jatropha oil for next-generation biodiesel - April 19, 2007

NewsRoom Finland: Finnish share of biofuels in transport third by 2020 -Pekkarinen - June 1, 2007.