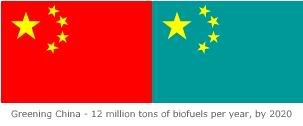 All of China's oil giants are currently vying for a leading position in the development of biofuels, which are considered the most viable alternative to fossil fuels, according to industry insiders who attended an industry forum over the weekend, Chinese state media
reported
. China has set an ambitious biofuel target of 12 million tons by 2020 (
earlier post
).
An official recently said China may consider reducing the use of food crops to achieve that goal in a sustainable way (
previous post
). Even though this is not yet an official policy, China's oil majors have understood the message and are investing in several biodiesel projects based on non-food feedstocks for which they are establishing energy plantations. Meanwhile, four new non-grain based ethanol plants have been approved by the state.
The projects were announced in a report released at the China-ASEAN Forum on Developing Petrochemicals and Biomass Energy Resources. An overview of the new initiatives.
Biodiesel
China National Offshore Oil Corp. (CNOOC), the country's third largest oil company:
location: a biodiesel refining facility in southern China's island province of Hainan will be established by the end of the year; the new facility will be located in Hainan's Dongfang City
capacity: 50 million liters (13.2 million gallons) of biodiesel annually in its first phase
feedstock: initially to be fed with palm oil sourced from Southeast Asia
energy plantation: 6,666 hectares (16,470 acres) of

Jatropha curcas

in Hainan Province; once large scale production of the nut is achieved, it is likely to replace palm oil as the raw material for the Hainan facility
China National Petroleum Corp. (CNPC), the country's largest oil company plans to construct two sets of experimental, next-generation biodiesel production facilities:
location: one set of facilities in the city of Nanchong in Sichuan Province, another set with a in Shandong Province.
capacity: the Shandong plant will have an annual capacity of 100 million liters (26.4 million gallons); the Nanchong project will initially produce 10 million liters (2.6 million gallons) of biodiesel a year, with production expected to grow 10 fold to 100 million liters annually by 2010
feedstock: for the Nanchong project initially locally sourced

Jatropha curcas

oil, later on vegetable oils from other regions in Sichuan, notably Panzhihua; for the Shandong plant, CNPC signed an agreement with the provincial government to develop bioenergy feedstocks

energy plantation: CNPC's Southwest Oil and Gas Field Branch has signed an agreement with the municipal government of Panzhihua to earmark RMB 2 billion (US$262.5 million) for the plantation of 120,000 hectares (296,500 acres) of

Jatropha curcas

near the city by 2015.

China Petroleum & Chemical Corp. (Sinopec), the country's second largest oil company, is not far behind in the race to secure a share of the biofuel market:
bioenergy :: biofuels :: energy :: sustainability :: petroleum :: ethanol :: biodiesel :: biomass :: plantation :: energy crops :: jatropha :: cassava :: China ::
location: one plant in Sichuan province's Panzhihua region, anothe in northern Hebei Province
capacity: the Panzhihua plant will have a capacity of100 million liters of next generation, synthetic biodiesel annually; the Hebei plant wil have an output of 2000 tons per year
feedstock: woody biomass
energy plantation: 26,700 to 33,300 hectares (65,980 - 82,290 acres) of energy forests intended for use as raw material


In another development, UK biodiesel producer D1 Oils plans to invest up to 700 million yuan (€68.5/US$91.2 million) to construct a biodiesel refinery in southwestern China's Guangxi region with

Jatropha curcas

oil as its feedstock.

The plant will be set up in a new petrochemical industry park in Baise city in northwestern Guangxi. Scheduled to be completed by the end of next year or early 2009, it will have an initial processing capacity of 10,000 tons, rising to 100,000 over five years.

At present, China has around 3 million tons of annual biodiesel production capacity under construction or in various stages of planning, according to the report. The country aims to have biofuels account for 15 percent of its total transportation fuel consumption by 2020. By comparison, the European Union has set itself a target of 20 percent for the same period.



Ethanol


Meanwhile, four new ethanol plants that use non-food feedstocks have been approved by the State. The combined capacity is an impressive annual production of around 7.5 million tons by 2015, according to an expert from a State food watchdog.

The projects are located in the autonomous regions of Inner Mogolia and Guangxi Zhuang and the provinces of Hebei and Shandong.

They boast an ample supply of cassava and other biomaterials, which can be manufactured into ethanol with less cost and little environmental impact, according to experts at a food seminar held in Kunming in April.

China National Cereals, Oils & Foodstuffs Corp (COFCO), is building the four new plants. It also has a stake in three of existing grain-based ethanol plants. "COFCO will hopefully get 70 percent market share of ethanol production within three years," Yang Hong, manager with the department of wheat under COFCO, said. According to Cao, with the operation of the new plants, the proportion of corn in ethanol-production will drop from the present 90 percent to 70 percent after 2009.



More information:


China Securities Journal: Overseas food not China's staple - April 26, 2007.
Interfax China: China's oil giants vying for bio-diesel market - June 18, 2007.
Forbes: UK's D1 plans 700 mln yuan China biodiesel investment - report - June 17, 2007.