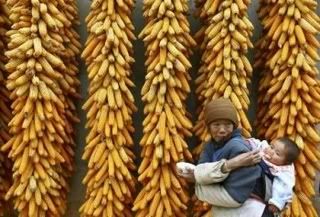 China may entirely switch to non-food energy crops such as
cassava
,
sweet potato
,
sorghum
and cellulose crops (grasses, trees) for the production of ethanol fuel as a substitute for petroleum, a government official
said
, reiterating considerations expressed earlier. The development of second-generation biofuel technologies will be encouraged, whereas first-generation fuels will be phased out gradually.
The People's Republic considers a moratorium on approvals for ethanol projects that rely on the use of food grains such as corn, an official of the National Development and Reform Commission (NDRC) told a seminar on China's fuel ethanol development held in Beijing on Saturday. "Food-based ethanol fuel will not be the direction for China," said Xu Dingming, vice director of the
Office of the National Energy Leading Group
, who was also at the seminar. At the same event, an official of the NDRC also announced the country may discontinue coal-to-liquids projects because they are energy intensive and contribute greatly to carbon dioxide emissions (
earlier post
).
China has been trying to avoid occupation of arable land, consumption of large amounts of grain and damages to the environment in developing the renewable energies. This is in line with expectations. Scientists have found that, contrary to Latin America, Africa and South East Asia & the Pacific (with Australia), China has a small biofuel production potential (
previous post
). Given the
large potential for international biofuels trade
, the People's Republic may thus become an importer of sustainable biofuels produced in other countries.
Currently there are four enterprises engaged in producing corn-based ethanol in China. They would be asked to switch to non-food materials gradually, according to the NDRC official who declined to be named:
bioenergy :: biofuels :: energy :: sustainability :: ethanol :: biodiesel :: non-food crops :: cassava :: sorghum :: sweet potato :: biomass :: cellulose :: China ::

The four enterprises are located in Jilin, Heilongjiang, Henan and Anhui and have a combined production capacity of 1.02 million tons of corn-based ethanol per year.

The country has become a big producer and consumer of ethanol fuel in the world after the United States, Brazil and European Union, according to the NDRC official.

China Oil and Food Corporation (COFCO), the country's largest oil and food importer and exporter, would focus on sorghum in the production of non-food-based ethanol fuel, said Yu Xubo, president of COFCO at the seminar.

COFCO, which owns the Heilongjiang enterprise and has a twenty-percent stake in the Anhui enterprise, aims to produce five million tons of ethanol fuel based on sorghum in the near future.

COFCO is also leading the way in developing cellulosic ethanol fuel under a cooperation agreement with Denmark-based Novozymes, world leader on research into the key enzymes needed in large-scale production of cellulosic ethanol. The current cost for producing ethanol fuel from cellulosic biomass, often residues which are discarded by farmers, is still too high. Novozymes is working on the commercialization of cellulosic ethanol both in the United States and China.

"We are optimistic about China's prospect of making it work ahead of the U.S., as the cost of collecting the stalks of corn are much cheaper in China," said Steen Riisgaard, president and CEO of Novozymes.

There is much opposition both in China and in the world to corn-based ethanol fuel, which is believed will lead to higher corn price. Many non-food crops are available for the production of biofuels, as well as vast tracts of land in the subtropics and the tropics that can be used to grow energy crops.