Quicknote CDM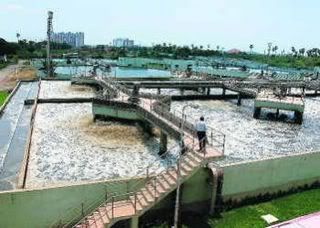 Chennai Metrowater
, the main water supply and treatment organisation in this south Indian city of 7 million inhabitants, is
set to receive
40 million rupiah (€734,000 / US$987,000) annually from the UN's
Clean Development Mechanism
for its environment-friendly biogas project.
The financial incentive supports the development of renewable bioenergy from the waste-water treatment facilities that help reduce carbon dioxide emissions and offsets the use of fossil fuels. The water agency would be presented carbon credits for generating electricity from biogas to operate its sewage treatment plants in the city. The certification of carbon credits is expected in about six months.
The credits can be used by the water agency to attract foreign investment and technology to reduce emissions of greenhouse gases that cause global warming, as envisaged by the Kyoto Protocol. The United Nations Framework Convention on Climate Change based in Bonn, Germany, created the concept of issuing certificates of carbon credits to developing countries that reduce their emissions, credits that can then be bought by organisations in highly industrialised countries to meet their emission reduction obligations.
Metrowater saves about US$1 million a year by generating sufficient electricity from biogas from sewage sludge in four of its plants at Koyambedu, Nesapakkam, Kodungaiyur and Perungudi. The biogas project was initiated in 2005 [entry ends here].
bioenergy :: biofuels :: energy :: sustainability :: waste-water :: biogas :: carbon credits :: Chennai :: India ::