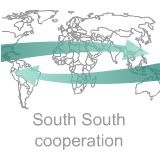 Brazilian President Luiz Inacio Lula da Silva began talks with Indian Prime Minister Manmohan Singh today, aiming to strengthen business ties and boost diplomatic links between the two emerging market giants. Lula arrived in India on Sunday, 3 June, on a three-day visit, his second in a little over three years, with a strong business agenda and a delegation of some 100 businessmen, on his way to the G8 summit in Germany this week, where he will discuss biofuels, climate change and trade (
earlier post
).
India and Brazil have forged strong strategic and trade ties in recent years and have emerged with a common position on key issues such as global trade talks and expansion of the UN Security Council. The two rising giants form the core of the
G20
, the group of developing nations with a special interest in agriculture, which offers a counter-weight to the G8 on trade and the Doha Round. Writing in
The Hindu
ahead of his arrival in India, Lula stated the following:
Both of our countries share a converging, innovative and hopeful perception of the world. Faced with an unequal world order incapable of responding to problems of development and collective security, India and Brazil avow their confidence in multilateralism and, through democratic dialogue, have been undertaking increasing international responsibilities.

This is what we have been pursing within the G-20. Despite the scepticism and opposition of a few countries, India and Brazil have shown steadfastness and determination in order to achieve a balanced equitable results in the Doha Round negotiations.
Announcing the strategic alliance on biofuels, Lula continued:
This is also the case of biofuels. We are endeavouring to forge a genuine energy revolution. India and Brazil joined efforts with South Africa, China, United States and the European Union to launch an International Forum on Biofuels. The democratization of access to new energy sources comes along with the need to create a new world market for these fuels. This aims at offering an alternative to the price increases and inexorable scarcity of traditional fossil fuel sources.
The green fuel revolution Lula wants to kickstart is especially important for developing countries:
The biofuels option is of fundamental importance for the developing countries. That is why India and Brazil are joining efforts and sharing knowledge in order to turn biofuels into an energy commodity at worldwide level. Apart from helping to reduce the effects of climate change, biofuels offer the prospect of new jobs and income, improvement in living conditions and sustainable development in rural areas. In Brazil, the sugar-ethanol industry generates a million direct jobs, many of which are in cooperatives and family enterprises, and six million indirect jobs. Moreover, we save billions of dollars in imports of petroleum and its by-products.
Last year, during the first "India Brazil South-Africa" (IBSA) Summit, both countries signed a
bioenergy agreement
, allowing India to invest in Brazilian
energy plantations
and to acquire land:
bioenergy :: biofuels :: energy :: sustainability :: ethanol :: biodiesel :: energy security :: trade :: Doha :: G8 :: G20 :: Brazil :: India ::

Besides trade discussions and biofuels, Lula and Singh will also talk about are civilian nuclear cooperation and climate change.

Trade between India and Brazil has surged and touched US$2.4 billion in 2006. They have also increased investments in each other's fast-growing economies. Indian firms have focused on investments and joint ventures in Brazil's pharmaceutical, IT and energy sectors while Brazilian companies have targeted India's infrastructure, food processing and energy sectors.

The two countries aim to quadruple trade to $10 billion by 2010 and their business leaders began a day-long parallel conference on Monday to explore new opportunities.
Separately, Brazilian energy giant Petrobras offered 25-30 percent stake to India's state-run Oil and Natural Gas Corp. in three exploration blocks, a Petrobras official said.

In return, ONGC offered a 15-40 percent stake in its three deep-water blocks on India's east coast, Petrobras manager Demarco Epifanio said, adding that a preliminary agreement on the deals would be signed shortly.

Ahead of the visit, Brazilian officials had complained about New Delhi's hesitation to further open its markets to farm imports and pointed at a fall in Brazilian exports to India by 15 percent to $937 million last year. Lula leaves New Delhi for Germany on Tuesday.



More information:


AlertNet: India, Brazil seek to build strategic relationship - June 4, 2007.

The Hindu: Consolidation of the India-Brazil strategic partnership, by Luis Inacio Lula da Silva - June 3, 2007.

LiveMint: Trade ties, bio-fuels focus of Singh, Lula talks - June 4, 2007.

BrazzilMag: In India, Lula and 100 Businessmen Sell Brazil as Land of Opportunity - June 4, 2007.