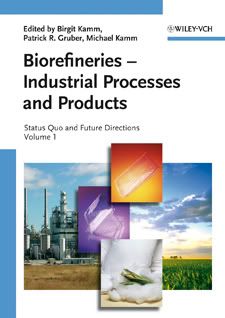 The scientific community is making the transition from a hydrocarbon (oil) based economy to a carbohydrate (biobased) economy. It is one of the great transformations of our time. These ongoing efforts are for the first time described in a comprehensive, systematically composed and clearly structured book about the processing of biomass in the form of whole crops in biorefineries. The 900-page two-volume set titled
Biorefineries - Industrial Processes and Products
focuses on the technological principles, as well as the economic aspects, green processes, plants, concepts, and current and forthcoming biobased product lines.
In the preface, Hennig Hopf (University of Braunschweig, Germany), president of the Community of German Chemists, makes it clear that the great challenge to chemistry and chemists is establishing interdisciplinary cooperation in this field. Paul Anastas, director of the Green Chemistry Institute, emphasizes that the enthusiasm of the best scientists and engineers is essential in order to develop a bioeconomy with biobased raw materials, processes, and products.
The book, which contains 33 articles by 85 authors, is essentially a survey of current biorefinery research and industrial implementation strategies, particularly in the chemical industry. Thereby, the first volume is divided into four, the second into three main chapters.
Bioconversion processes
Volume 1 begins with a review of the history of carbohydrates and the beginnings of integrated biobased production, followed by the definition of the term biorefinery and a brief description of the biorefinery-systems in research and development. Next, it covers the global, technological, and economic dimensions of biomass refining:
Biomass Refining Global Impact - The Biobased Economy of the 21st Century
Development of Biorefineries - Technical and Economic Considerations
Biorefineries for the Chemical Industry - A Dutch Point of View
The remainder of the volume is devoted to the different technologies available, including biorefineries for large-scale industry, lignocellulosic-feedstock biorefineries, whole crop biorefineries, fuel-oriented biorefineries, sugar-based biorefineries, biorefineries based on thermo chemical processes, green biorefineries, and bio catalytic processes to synthesize bulk chemicals. The following sections are included:
The Lignocellulosic Biorefinery - A Strategy for Returning to a Sustainable Source of Fuels and Industrial Organic Chemicals
Lignocellulosic Feedstock Biorefinery: History and Plant Development for Biomass Hydrolysis
The Biofine Process - Production of Levulinic Acid, Furfural, and Formic Acid from Lignocellulosic Feedstocks
A Whole Crop Biorefinery System: A Closed System for the Manufacture of Non-food Products from Cereals
Iogen's Demonstration Process for Producing Ethanol from Cellulosic Biomass
Sugar-based Biorefinery - Technology for Integrated Production of Poly(3-hydroxybutyrate), Sugar, and Ethanol
Biomass Refineries Based on Hybrid Thermochemical-Biological Processing
The Green Biorefiner Concept - Fundamentals and Potential
Plant Juice in the Biorefinery - Use of Plant Juice as Fermentation Medium
A section on biomass production and primary biorefineries located at the farm is covered as well as one dealing with specific bioconverion processes and technologies:
Biomass Commercialization and Agriculture Residue Collection
The Corn Wet Milling and Corn Dry Milling Industry - A Base for Biorefinery Technology Developments
Enzymes for Biorefineries
Biocatalytic and Catalytic Routes for the Production of Bulk and Fine Chemicals from Renewable Resources
Products and markets
The second volume focuses on biobased product family trees and the primary feedstocks for the bioeconomy; biobased industrial products, materials, and consumer products. Finally an assessment of the economics, commercialization and sustainability of the bioeconomy is presented:
energy :: sustainability :: biomass :: sugar :: starch :: lignocellulose :: bioenergy :: biofuels :: bioproducts :: biorefining :: bioeconomy ::

Essays on primary feedstocks:

The Key Sugars of Biomass: Availability, Present Non-Food Uses and Potential Future Development Lines
Industrial Starch Platform - Status quo of Production, Modification and Application
Lignocellulose-based Chemical Products and Product Family Trees
Lignin Chemistry and its Role in Biomass Conversion
Industrial Lignin Production and Applications
Towards Integration of Biorefinery and Microbial Amino Acid Production
Protein-based Polymers: Mechanistic Foundations for Bioproduction and Engineering
New Syntheses with Oils and Fats as Renewable Raw Materials for the Chemical Industry
Industrial Development and Application of Biobased Oleochemicals
Phytochemicals, Dyes, and Pigments in the Biorefinery Context
Adding Color to Green Chemistry? An Overview of the Fundamentals and Potential of Chlorophylls
Green specialty products and consumer products obtained from biorefineries are described in the following sections:

Industrial Chemicals from Biomass - Industrial Concepts
Succinic Acid - A Model Building Block for Chemical Production from Renewable Resources
Polylactic Acid from Renewable Resources
Biobased Consumer Products for Cosmetics
The economics of the bioeconomy as a commercial industry aiming for sustainability is presented in a final section titled:

Industrial Biotech - Setting Conditions to Capitalize on the Economic Potential
The book uses the principles of logic and efficiency of petrol refineries, to assign product lines and product family trees to biomass. Both volumes should be incorporated into the education of chemists, biotechnologists, and engineers. The book also makes an excellent encyclopaedia (partly due to its very good index) for professionals in the field of biobased raw materials, technologies, and products.