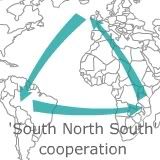 For development economists, Mozambique is one of Africa's brightest success stories. After a cruel civil war that lasted nearly two decades (1975-1992), the country organised general elections, took a careful approach to the 'structural adjustment' programs introduced by international institutions like the World Bank and the IMF, and, ensuring political and economic stability, steadily attracted foreign investments. The country's GNI has doubled in the past 5 years, and GDP growth was 7.7% last year (World Bank
data
).
Some observers have asked why the transition to peace and democracy took so much longer in Angola, that other former Portuguese colony mired in conflict. The answer: the presence of oil and diamonds. As is often the case in Africa, the black gold is a true curse and a barrier to development. Mozambique has more traditional assets, less prone to triggering resource wars, such as a large agricultural potential.
This potential is now being (re)discovered by the Lusophone world. And biofuels are the focus of the attention. Mozambique has several advantages which make it an interesting bioenergy producer: suitable agroclimatic and agro-ecological conditions for a wide range of energy crops, including sugar cane and tree crops; abundant arable land resources, and a largely rural population (amongst the poorest of the world) craving for employment and increased incomes.
Fuel prices have been increasing and put a serious brake on the country's development, which is why the Mozambican government itself is studying the biofuels opportunity. The Energy Ministry says recent increases (9.3% in April, another 3% this week) in prices of diesel, petrol, paraffin, aviation fuel and domestic gas are a result of increased import costs. The Mozambican government has even been forced to enter into negotiations with the International Monetary Fund (IMF) and the World Bank for an additional US$50 million in its foreign reserves to strengthen its capacity to import refined fuels. In search for an alternative, the Mozambican government has recently encouraged farmers to start growing biofuel crops such as jatropha. A real policy is not in place yet, but the Lusophone countries - Brazil, Portugal and China (via Macau) - are helping to craft one.
Biofuel 'super power'
Experts from the International Energy Agency
estimate
that Mozambique alone can produce nearly 7 Exajoules worth of liquid biofuels for exports, without threatening food supplies for its rapidly growing population or biodiversity and protected conservation areas. This amount is roughly equal to a production of 3 million barrels of oil equivalent per day (and given its renewability, this 'green reserve' lasts for decades). In order to actualise the potential, the country does need an influx of investments in agronomic knowledge and skills, logistical infrastructures and biofuel production plants. On all these fronts, the Lusophone world is offering assistance, either trilaterally or bilaterally, in purely private or in public-private ventures.
Sino-Brazilian cooperation
First of all, Brazil's EMBRAPA, the world's leading research organisation dealing with tropical agriculture, is assisting with analysing the biofuel production potential in collaboration with a Portuguese company that acquired 100,000 hectares of land in Mozambique. EMBRAPA already has established an Africa office in Accra, Ghana, from where it enters into cooperation agreements with African countries in the fields of agriculture and bioenergy (
earlier post
). The same organisation attracted interest from the
All China Federation
, the world's largest trade union organisation uniting 130 million members, which wants to collaborate on biofuels in Mozambique as well.
China has a growing presence in the country and in Southern Africa in general, mainly aimed at exploiting mineral resources it needs for its own development. But now the rising giant is looking at agriculture and biofuels, and has created a synergy with EMBRAPA: whereas the latter organisation provides agronomic expertise, China will invest in much needed infrastructures (road, rail, waterways) which must make it possible to bring products to market. The cooperation in Mozambique is part of China's US$5 billion investment strategy for Southern Africa. The Portuguese Millennium Bank, via its 'Conselho Comercial China-África', is to open large credit lines for Chinese companies starting infrastructure projects in Mozambique:
bioenergy :: biofuels :: energy :: sustainability :: ethanol :: biodiesel :: biomass :: energy security :: South-South :: South-North-South :: Mozambique ::



Brazil with Portugal and Italy


Secondly, Portugal's Galp Energia today created a joint-venture with Brazil's Petrobras, aimed at producing 600,000 tons of second-generation biodiesel ('H-Bio') in Brazil, for exports to Portugal. But both companies are now studying to involve Mozambique (and Angola) in the effort, because feedstock production there can serve efforts to alleviate poverty and bring employment to small farmers. 400,000 to 800,000 hectares of suitable land have been identified there.

Likewise, Petrobras and Italy's state-owned oil company ENI, are collaborating on both ethanol and biodiesel production in Mozambique (earlier post). The Italian giant is increasing its presence in Africa in traditional oil production, most notably in Angola and Congo, where it is also looking at exploring the biofuels potential.



Win-win synergy


Mozambique stands to gain from such 'trilateral' approaches to development. It will be crucial to distribute the country's rapidly growing economic wealth amongst the general population. One way to do this is by modernising agriculture and by creating new markets like the bioenergy market.

Since biofuel production is labor intensive and draws upon imputs from farmers, the opportunity is the best there is to activate the rural populations. Foreign knowledge and technology is needed to help farmers increase productivity, since Mozambican peasants currently use their land very inefficiently (yields are extremely low because of a lack of the most basic inputs, such as fertilizers, good quality seeds and basic agronomic knowledge). By drawing on this expertise from outside, and because of much-needed investments in infrastructures (such as tertiary and secondary roads connecting the country-side to main roads), a positive synergy between food and fuel production can be created: increased farmers' incomes from biofuel feedstock production can be invested in more efficient food production, and vice-versa.



More information:


Jornal Mundo Lusíada: Banco Millennium financiará aporte chinês em Angola e Moçambique - May 15, 2007.

Jornal de Notícias: Galp investe 50 milhões na refinaria de Matosinhos - May 19, 2007.

Sunday Times (South Africa): Fuel price up in Mozambique - May 19, 2007.

Macau Hub: Estatal brasileira Embrapa vai investir em África nos países onde a China vai aplicar cinco mil milhões de dólares - May 7, 2007.