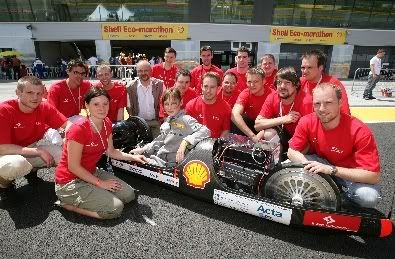 Students from Germany's
University of Offenburg
are familiar faces at the European edition of the
Shell Eco-Marathon
, the race where teams from across the continent compete to drive as far as possible on a liter of fuel. The yearly event is a celebration of efficiency, creativity and future technologies.
The Offenburg team has a very strong track record: two years ago it received the first prize in the diesel engine category, while last year it demonstrated Germany's most efficient hydrogen fuel cell vehicle. At this year's edition, held earlier this month on the race track in Nogaro (France), its hydrogen powered car achieved a mileage of 2716 kilometres per liter (6,491 miles per gallon) of gasoline equivalent fuel.
But it was after the competition, during a unique side-event, that the Offenburg engineers showed their skills to achieve a premiere. On May 13, they demonstrated the world's first 'Direct Ethanol Fuel Cell' (DEFC) in a vehicle. This unique configuration combines the advantages of fuel cells with those of ethanol, side-stepping the disadvantages of hydrogen gas.
In this interview, Professor Uli Hochberg and Andy Hug, both members of the development team behind the DEFC, talked with Biopact's Jonas Van Den Berg and Laurens Rademakers about the technology behind the unique achievement.
Biopact: Can you explain how this type of fuel cell works?
Prof. Hochberg
: Our cell is different from conventional cells, as we use anionic membranes in an alkaline fuel cell. On the cathode side (air side) oxygen from the air and water is reduced to a hydroxyl ion (OH-). For this reaction to occur, an electron is needed. The hydroxyl ion travels through a membrane to the anode side and oxidises ethanol to carbon dioxide and water. The electron is released and "travels back" to the cathode side, powering our motor.
Biopact: Alkaline fuel cells are a rather old technology, abandoned 20 years ago. Why did you pick up this technology?
Hochberg
: Indeed, the technology was abandoned due to the lack of alkaline membranes, though in principle the efficiency should be higher and the use of non-noble catalysts should be easier under alkaline conditions. Meanwhile alkaline membranes are being developed for water treatment systems, but most of the research is still focused on proton exchange membranes (acid membranes). We thought it would be worth it to have a closer look at this technology again. Even catalysts containing noble metals that can oxidize ethanol (like Platinum-Tin) seem to be unstable under acid conditions – another reason for us to reevaluate the alkaline technology.
Biopact: So what types of catalysts did you use then?
Andy Hug
: We characterized noble metal catalysts as well as platinum-free
HYPERMEC
TM
catalysts
from
ACTA
. Those catalysts showed the highest cell voltages and ACTA provided us with sufficient amount of catalysts for the demonstration.
Biopact: Last year you built Germany's most efficient hydrogen fuel cell vehicle, but we never heard of the University of Offenburg actually developing fuel cells. How was it possible for you to come up with such a development?
Hug
: We were supported by the
Zentrum für Sonnenenergie und Wasserstoffforschung
(ZSW - Center for Solar Energy and Hydrogen Research) in Ulm. Dr. Gogel and Dr. Jörissen from the Center guided our students and gave us essential hints for the design of our cell.
Biopact: Did the DEFC perform well during the test in Nogaro?
Prof. Hochberg
: Well, we were very excited by the idea of using ethanol as a fuel for our car. Ethanol is much more practical to use than hydrogen gas. The demonstration was a great success, but it is clear that there is still a lot of work to be done before the technology with alkaline membranes can be commercialized:
bioenergy :: biofuels :: energy :: sustainability :: hydrogen :: ethanol :: BTL :: GTL :: efficiency :: direct ethanol fuel cell :: DEFC :: Germany ::



Biopact: The DEFC's like the one you tested will probably be used first to power electronic devices like laptops and cell phones. Do you think the technology will be scaled up and used in the passenger cars of the future?




Hochberg

: Who knows? Having a horizon of 10 years, I don't think it will be used in passenger cars. But as you say, there are a lot of applications where a combustion engine can not be used.



Biopact: The Offenburg team ran the Eco-Marathon on hydrogen. Many see the 'hydrogen economy' as an alternative to the fossil fuel based economy, and considerable funding and investments are going into the development of hydrogen systems. But some critics point to the fact that this energy concept may not be feasible because hydrogen production, distribution and storage is inefficient or very costly. What is your view on the long term outlook of this 'hydrogen economy', especially when it comes to transport?




Hochberg

: Indeed, the distribution and storage of hydrogen is much more costly and inefficient than distribution and storage of a liquid fuel. Two years ago, we received the first prize in the Eco-Marathon for diesel engines. The weight and the space required for the hydrogen storage this year was significantly higher than the weight and the space for the diesel storage 2 years ago. The difference was up to 10 times as large. So there is still a long way to go before we can switch to hydrogen cars without having to reduce the comfort we like to have in our cars – time enough to look for other alternatives.



Biopact: If you were to have unlimited funds to design a hyper-efficient passenger car, what kind of propulsion/fuel system would it use?




Hochberg

: Unlimited funds? Fantastic!
If the car is to be commercialized within the next 5 or 10 years, it would be a hybrid car with hub motors similar to the motor we have developed for our vehicle, having a combustion engine.

The primary energy source would be a "designer fuel", made from renewable energy such as hydrogen or biomass, converted into a liquid fuel according to the Fischer-Tropsch process. Or methane from renewable (biogas) or non renewable resources. Those "designer fuels" are actually under development (BTL: biomass to liquid, GTL: gas to liquid). Ethanol would also be an alternative. This car would not only be hyper-efficient, it would also have a nice performance due to the fact that each wheel could be accelerated or deaccelareted separately according to the actual situation.

If the car is to be commercialized later, I would invest in at least 3 different technologies, because to me it is not yet clear which will be the technology of the future. One of them would definitely be the hydrogen fuel cell.



Image (

click to enlarge

): The Offenberg team showing the DEFC powered vehicle. The team's members (from left to right): Viktor Ritter (aerodynamics and rims), Boris Kubrak (coordination, aerodynamics and race strategy), Sigrid Herb (pilot, PR), Gabriel Antes (carbon fiber technology), Ulrich Hochberg (administration), Andreas Frank (DEFC development/catalyst and membrane screening), Daniela Morgenstern (driver, PR), Marcel Menne (electronics, software engineering), Frank Erdrich (software engineering), Frank Beger (fuel cell electronics, electrical assembling), Andreas Hug (DEFC development coordination), Christian Bohnert (DEFC development / fabrication), Christian Basler (DEFC development/catalyst and membrane screening), Nils-Malte Jahn (hub motor development, electronics), Heiko Westphal (DEFC development / membrane coating), Oliver Matt (DEFC development/stack assembly) and Johannes Offenburger (DEFC development/MEA fabrication).

Credit

: Shell/Studio Reck.



CC, Biopact, 2007.



More information:


Hochschule Offenburg (University of Applied Sciences): "Schluckspecht auf dem 2. Platz - Weltweit erste Ethanol-Brennstoffzelle vorgestellt" – May 2007.

EnviroDaq: Acta catalysts drive ethanol fuel cell vehicle – May 15, 2007.