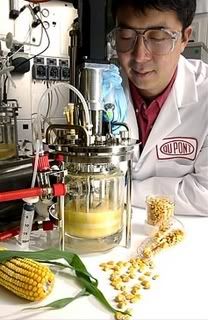 Speaking at an investors' conference today, DuPont Biofuels Vice President and General Manager John Ranieri said the
company's strategy
to bring biobutanol and cellulosic ethanol technologies to market will help address the global need for alternative and more sustainable transportation fuels.
According to Ranieri oil remains the prime energy source for transportation fuels with increasing demand, particularly from China and India, placing additional pressure on current oil supplies. The need to diversify the fuel supply with more sustainable solutions is a large opportunity for agricultural-based alternatives.
The development of an Integrated Corn Based Biorefinery (ICBR) is the center-piece of Dupont's a systems-based approach aimed at converting cellulosic feedstocks into biofuels and other renewable products.
It's
ICBR research program
includes:
Pretreatment of corn stover to separate the lignin from the plant's cellulose backbone to provide access to the cellulose for further processing;
An enzymatic process called saccharification to convert the cellulosic materials to fermentable sugars; and,
A novel technology developed to ferment the sugars to make high concentrations of cellulosic ethanol.
DuPont's research program is supported by a three-part biofuels strategy which consists of investing in the following fields: (1) improving existing ethanol production through differentiated agricultural seed products and crop protection chemicals; (2) developing and supplying new technologies to allow conversion of cellulose to biofuels; and (3) developing and supplying next generation biofuels with improved performance.
"An integrated approach to convert cellulosic biomass to biofuels is necessary to achieve the economics needed to be competitive. Capital investment and operating costs must be comparable with incumbent grain ethanol technologies. We are focused on feedstock collection systems, cost-effective pre-treatment and optimized fermentation technology that assures high yields and lower costs for biofuels derived from cellulosic feedstocks."

- John Ranieri, DuPont Biofuels Vice President and General Manager
Biobutanol is the first advanced biofuel being developed by DuPont in partnership with BP:
bioenergy :: biofuels :: energy :: sustainability :: oil :: ethanol :: biobutanol :: cellulose :: biomass ::

According to Dupont, biobutanol addresses market demand for fuels that can be produced from domestic renewable resources in high volume and at reasonable cost; fuels that can be used in existing vehicles and existing infrastructure; fuels that offer good value to consumers; and fuels that meet the evolving demands of vehicles.

Recent fuels testing has shown that biobutanol is an advanced biofuel because it is similar to gasoline, and performs exceptionally well in vehicles (earlier post).