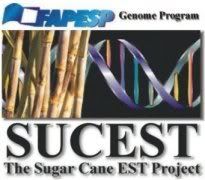 Brazilian authorities have given their fiat for field trials with genetically modified sugar cane plants. The
Centro de Tecnologia Canavieira
(Cane Technology Center - CTC), a research organisation based in the state of Sao Paulo, obtained approval to do so in February 2007. The move is part of an ambitious €3,5/US$5 billion biotechnology policy launched earlier this year by the Brazilian federal government (
previous post
).
The field trials will test three varieties of genetically modified cane. According to CTC, these GM plants have been modified to exhibit sucrose levels 15 % higher than those of ordinary sugar cane – for now, under laboratory conditions. However, if field trials are successful, the company may bring these plants to market by the end of the decade. Scientists and engineers think that the ethanol yield of sugar cane can be doubled from 6000liters/ha to more than 12,000l/ha within over the next 15 years (
earlier post
).
Sugar cane genome project
The development of CTC's high-sucrose GM plants builds on the success of the Brazilian
Sugar Cane EST Genome Project
(SUCEST). This project was funded by FAPESP, the Sao Paulo State research agency, and was carried out by several Brazilian universities between 1998 and 2003. Scientists used project results to establish one of the most comprehensive databases integrating genome sequences for this crop. Subsequently, with cooperation of the Cane Technology Center (CTC), the Lucelia Central Alcohol Distillery, and various Brazilian universities, a new project was launched to analyse more than 2,000 genes of sugar cane. Researchers found and patented 200 target genes related to the accumulation of saccharose in the plant.
Other biotech companies also are interested in the potentially large market of GM sugar canes. The local company Allellyx is such an example, and still is awaiting approval from the Brazilian authorities to conduct field trials with several sugar cane varieties. Equally, the governmental linked agricultural research firm EMBRAPA has expressed interest in stepping up research in this area:
bioenergy :: biofuels :: energy :: sustainability :: ethanol :: sugar cane :: biotechnology :: genomics :: GMO :: Brazil ::



New funding


In February 2007, the federal government announced plans to fuel Brazilian biotechnology by investing €3.5 billion in this area over the next decade. The budget will be used to fund biotechnological research, including the development of a new strain of sugar cane that is resistant to drought. By developing canes with this characteristic, Brazil may be able to expand crops into areas which are substantially drier than the south-central region, where currently almost 90 percent of Brazil's sugar and ethanol are produced.



Brazil's struggle with GMOs


Brazil has been the last major exporter to ban GMO food crops for a long time. The first GM plants in Brazil were Monsanto's Roundup Ready soybeans, imported illegally from Argentina. This crop was legalised only in 2005 – at which point already 30 percent of the soybean plants were genetically modified – and now comprise two-thirds of soy production.

The Bollgard Bt cottonseed is the only other biotech crop approved for cultivation. Although Brazilian authorities approved the planting under several safety prerequisites, the Ministry of the Environment, as well as NGOs, still oppose the planting due to the possibility of crossing with native cotton species.

New governmental funding, as well as scientific progress on the development of GM plants, have the potential to push forward the Brazilian biofuel production. However, since bureaucracy and popular opposition to GM products may slow down the progress, some experts say that the government may fall short of its goals.



More information:


GMO Compass: Are GMOs Fuelling the Brazilian Future? - March 8, 2007.

Unicamp: Sugar Cane EST Genome Project page.

Biopact: Brazil to invest $5 billion into the 'bioeconomy' - February 09, 2007.