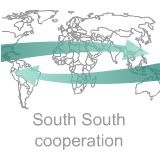 Will biofuels get the Vatican's blessing? Maybe. During his visit to Brazil, Pope Benedict XVI and president Lula discussed some of the latter's plans aimed at alleviating poverty in the country.
Amongst the pro-poor initiatives introduced by the socialist leader in this very catholic country is the famous
'Fome Zero'
(Zero Hunger) program. It ranges from giving direct financial aid to the poorest families, creating cisterns in Brazil's semi-arid region, creating popular restaurants with low prices, educating about healthy eating habits, distributing vitamins and iron suplements, suporting family farming, giving access to credit by microcredit, and a few other programs.
The
'Bolsa Familia'
program is equally part of the initiative, and has been praised by economists and sociologists across the ideological spectrum. Under the scheme the poorest families receive a substantial grant in return for sending their children to school. The system is effectively breaking some aspects of the poverty cycle.
A less well known pro-poor initiative is Brazil's Pro-Biodiesel program, which includes policies that offer incentives to biofuel producers who integrate poor rural family farmers in their activities (earlier post on Brazil's so-called
'Social Fuel Seal'
).
President Lula recently went a step further by expanding the pro-poor biofuels initiative to Africa, at least conceptually. In a close-door meeting with Pope Benedict XVI he
told
the Pontiff the South American nation wants to help African countries develop biofuels because they offer a tremendous opportunity to alleviate poverty on the continent.
Brazil's ambassador to the Vatican, Vera Machado, told the Agencia Estado news agency that the pope said he did not know much about biofuels but appreciated any action in support of Africa.
Brazil, the world leader in developing ethanol from sugarcane, is already working with African crop scientists in Ghana, where it has established a special Africa Cell of its state-owned agricultural research organisation Embrapa. Negotiations are underway with several African countries to assist them in kickstarting a biofuels industry (
earlier post
). Both Italy, France and the UK have teamed up with Africa to create 'South-North-South' alliances aimed at investing jointly in Africa's biofuels potential.
Officials added it is also in Brazil's economic interest to help create new ethanol-producing markets in order to expand global trade of the renewable fuel. Brazil is the world's only major ethanol exporter, but thinks many African countries have a very large potential to follow in its tracks [entry ends here].
ethanol :: biodiesel :: biomass :: bioenergy :: biofuels :: energy :: sustainability :: poverty alleviation :: Benedict XVI :: Brazil :: Africa ::