Palm oil may have a bad reputation for the role it plays in tropical deforestation, but is definitely here to stay, as the industry is highly profitable and offers a ready replacement for petroleum products, prices of which will keep rising. However, in order to limit the expansion of plantations, it is crucial to get the most out of each hectare of the plantations that already exist. One way to do so is by recuperating the vast waste-streams that result from the processing of palm fruits. If these waste streams can be turned into value-added products, the pace of the expansion of new plantations may be somewhat slowed down.
For each tonne of crude palm oil (CPO) produced from fresh fruit bunches, the following 'waste' products become available: around 6 tonnes of waste palm fronds, 1 ton of palm trunks (after a life-cycle of 25 years per tree, and at 150 trees per hectare), 5 tons of empty fruit bunches (EFB, photo), 1 ton of press fiber (from the mesocarp of the fruit), half a ton of palm kernel endocarp, 250kg of palm kernel press cake, and 100 tonnes of palm oil mill effluent (POME). In short, a palm oil plantation yields a vast stream of biomass that is currently not used in a productive way (
earlier post
). Often, it is burned in the open air, or left to settle in ponds where the degrading biomass emits methane.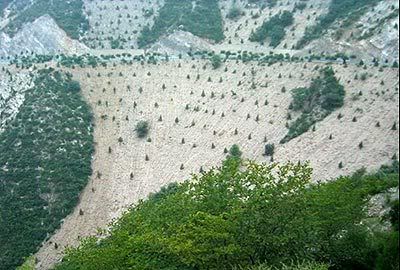 Over the past few years, many research efforts have been undertaken to make use of these waste products. Some of those look at utilizing the biomass as an energy source for green electricity and power (to power palm oil mills) or as a feedstock for the production of second-generation biofuels. Others have shown that a whole range of bio-based products can be made from the residues - products such as renewable and biodegradable plastics, packaging, paper and specialty products such as geo-textiles (photo).
One company very active on this front is Malaysia's
Ecofuture Bhd
, which commissioned its fourth palm oil by-product processing factory last month. Worth 50 million ringgit (€10.9/US$14.7 million) "our new factory will be in full swing next year and we have received fresh sales orders from overseas," Ecofuture executive chairman and managing director Yeo Kim Luang Yeo told reporters.
Ecofuture manufactures biodegradable, toxic-free, compostable and microwaveable food/general packaging products made or recycled from EFB fibres. Its latest plant produces
non-wood virgin pulp
, a feedstock for paper making. The plant is expected to produce between 1,000 and 1,500 tonnes of non-wood virgin pulp monthly, also derived from empty fruit bunches of oil palm fruits and sold at between 2,040 and 2,380 ringgit (€446 to €520/US$600 and US$700) a tonne, considerably above CPO prices:
bioenergy :: biofuels :: energy :: sustainability :: palm oil :: waste :: biomass :: biodegredable :: bioproducts :: Malaysia :: bioeconomy ::

Ecofuture's four factories are all located within the same compund in Segamat, Johor. Yeo said the company has received orders from Canada and it is also looking at possible tie-ups with local companies to produce more of the non-wood virgin pulp.

"This is a huge scientific breakthrough for the company and a good opportunity for our country to convert biomass into products such as manufacturing papers, prints, corrugated cartons and paper-based products."

Ecofuture products further include fibrous sand mats and food packaging materials under the brandname Ecomat, Ecopak and Ecofibre. Ecofuture was listed on the Mesdaq market of Bursa Malaysia in January 2005 and exports half of its products overseas to China, the Philippines, Canada, US, Australia, European and West Asian countries and Taiwan.

For the year ended December 31 2006, Ecofuture posted a lower pre-tax profit of 674,843 rupiah from 2.1 million ringgit a year ago due to the floods in Johor which affected the quality of its oil palm fruit brunches in the fourth quarter of 2006.

Its revenue, however, rose to 80.1 million ringgit from 69.1 million ringgit following the higher turnover achieved by the milling operations and higher crude palm oil prices.



Image

: geo-textiles made from fibres from the processing of palm fruits. The 'empty fruit bunches' offer high strength fibres that can be woven into specialty textiles, such as those used to deal with slope and erosion problems.



More information:


Fibre products made from empty fruit bunches - Ecofuture's ecofibre.

Biodegradable packaging made from the same material - Ecofuture's ecopack.