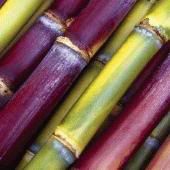 Australia may take a place in the front line of the global biochemical industry thanks to a new
partnership
between the University of Queensland (UQ) and the Korea Advanced Institute of Science and Technology (KAIST). Both institutions have teamed up to develop and patent the technology to convert sugar cane into bioplastics and green chemicals. The UQ-KAIST partnership matches Queensland's strengths in sugar cane production with South Korea's status as a global chemicals giant. The goal of the agreement is to fuse biotechnology and nanotechnology to create hyper-efficient biorefineries that convert sugar cane into a multitude of green products.
Queensland Premier Peter Beattie was present at the signing of the UQ-KAIST agreement in Seoul earlier this month. UQ Senior Deputy Vice-Chancellor Professor Paul Greenfield, who signed the collaboration deal, said that the trillion dollar global chemical industry was expected to shift gradually from reliance on oil to reliance on biomass in coming decades.
"Researchers from UQ's Australian Institute for Bioengineering and Nanotechnology (AIBN) and KAIST will aim to perfect the technology to use sugar cane instead of fossil fuel to manufacture plastics and chemicals. As well as assisting economic growth and job creation in Australia, this will help Australians contribute to a better global environment."

- University of Queensland Vice-Chancellor Paul Greenfield
According to Greenfield, replacing oil with sugarcane would reduce the use of non-renewable resources for chemicals by up to 90 percent. Chemical production currently accounts for seven percent of the world's energy use.
Biorefineries
Mr Beattie said: "Now we have one of the world's top research partnerships on the case, and that means we're driving a whole new industry." The emerging green chemistry sector offers the potential to create jobs in regional Australia. Ideally, biorefineries will be built close to cane farms in order to use low cost, green energy supplied by bagasse (a sugar by-product), whereas the chemical building blocks of the plant will be used for the production of renewable and biodegradable plastics, detergents, drugs, glues, gels, and biopolymers. About 1000 employees would be needed to build a biorefinery.
Recent advances in biotechnology allow scientists to "program" microorganisms to make complex chemicals from simple renewables such as sugar cane. KAIST, regarded as the "MIT of South Korea", is a world leader in this programming, while UQ's AIBN has world-class experts in bioplastic production and characterization:
bioenergy :: biofuels :: energy :: sustainability :: sugar cane :: bioplastics :: green chemistry :: biomass :: biorefinery :: biotechnology :: nanotechnology ::bioeconomy ::

"We have things that South Korea needs: raw materials for biochemicals; and bioplastics research expertise," Professor Greenfield added. AIBN is Australia's only fully-integrated research institution where scientists and engineers collaborate to solve problems at the point where biotechnology and nanotechnology meet.

Other players are looking at sugar cane for bioproducts too. Earlier this month, leading green chemistry company Metabolix announced a collaboration with the Cooperative Research Centre for Sugar Industry Innovation through Biotechnology, an alliance of Australia's sugarcane biotechnology research organizations, to develop natural plastics from sugarcane.

The future of biobased products hints at decentralisation and reliance on local biomass resources. This paradigm set to benefit developing countries who are currently dependent on foreign petrochemical industries. Small countries with a thriving sugar cane industry have already seen the opportunity. The tiny Indian Ocean state of Réunion, for example, recently launched an ambitious research program aimed at building a biorefinery in the next four years that will rely on utilising sugar cane to produce a range of bioproducts and biofuels.



More information:


University of Queensland: Sugar hit for "green" chemical industry - May 3, 2007.

Biopact: Metabolix to develop bioplastics from sugarcane - May 09, 2007

Biopact: Sugar cane has "enormous potential for green chemistry" - September 03, 2006