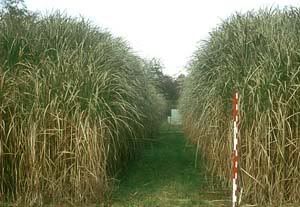 A very interesting development is underway in West-Africa. In order to tap the rapidly growing global market for biomass and to strengthen local energy security, West-African countries are launching the 'African Miscanthus Plantations' project or
'Plantations Africaines de Miscanthus' - PAMI
[*French]. The project aims to create a network of energy plantations across the region, that will export biomass to world markets and fuel local development. The biomass comes in the form of the perennial tropical grass species known as 'elephant grass' or
Miscanthus giganteus
.
The crop will first be used as a source of solid biofuels that can be used in biomass power plants or co-fired with coal; later on, when technologies mature, it will become a feedstock for the production of liquid biofuels (cellulosic ethanol and synthetic biofuels). The project also envisages the use of miscanthus for the production of innovative bioproducts, such as fiber-reinforced bioplastics, biocomposites and renewable building materials.
A pan-African network
The PAMI consists of the establishment of a first experimental but prototypical plantation of 200 hectares (500 acres) of miscanthus and will evolve over the coming 15 years to become a large pan-African network of plantations that exchange knowledge, technologies and management skills.
Each PAMI plantation is expected to show the following numbers:
An investment in the order of €800,000 (US$1.07 million), with an expected turnover of approximately €6/US$8 million and a predicted ROI in the order of 20 to 30%.
The creation of minimally 130 jobs per plantation, 30 of which are direct and 100 are indirect jobs both for highly qualified people (in the R&D, planning, consulting sector) and for lower-qualified labor (in the harvesting, storing, processing and transport sector); finally, jobs become available in the agricultural extension service sector

To cover the 200 ha with optimally spaced plants, 3 million high yield seedlings are required that will be bred and distributed by special centers.
The project's first plantation is based in Benin, a country with 7 million inhabitants in West Africa, where PAMI's initiators think the biomass-related industry will bring numerous employment opportunities and a rural revival.
Benin is currently experiencing a socio-economic boom, largely the result of the fact that it is taking advantage of the crisis in nearby Côte d'Ivoire, and because of a rigorous structural adjustment policy. But even though the country is politically stable and shows encouraging macro-economic results, the challenge is to diversify the bases of its economy. Investing in bioenergy - an industry that integrates a great diversity of economic sectors, from agriculture, technology and engineering, to transport, logistics and distribution - is seen as a strategy to do exactly that. Benin is a test-case for other countries in the region.
Socio-economic goals
The PAMI is placed within the context of the development of a new sustainable energy paradigm, based on agriculture and rural revival, as it was outlined by a Beninese Council of Ministers last month. As such, the project has the following aims:
to fight against unemployment and rural poverty
to create solid and secure energy markets in non-oil producing African countries
to create new export opportunities

to fight against climate change
Miscanthus is a polyvalent and rapidly growing perennial crop native to tropical and subtropical Asia and Africa. It has received a lot of attention both in the US and the EU, where research and actual trials are under way to test the crop's suitability for the production of energy (for two examples, see
here
and
here
). In the subtropical environment of West-Africa, the grass species is expected to attain average dry weight biomass yields of up to 30tons/ha (12tons/acre), which exceeds the amount generally deemed necessary for commercial production. Miscanthus requires relatively low amounts of fertiliser and pesticide inputs:
bioenergy :: biofuels :: energy :: sustainability :: climate change :: energy security :: poverty alleviation :: rural development :: biocomposites :: bioeconomy :: energy crops :: miscanthus :: biomass :: Benin :: West-Africa ::

The PAMI project clearly outlines the logic behind the choice for miscanthus. As a pure ligno-cellulosic biomass crop, it offers a complement and an alternative to crops that are currently being used for the production of biofuels:

Current biofuel production relies on the utilisation of oil, sugar and starch-rich crops. This limits the quantitative potential as these crops require good land.
The path based on using lignocellulosic crops will complement the production of first generation biofuels and will result in more land becoming available. If this fact is true for developed countries, then this is true for African countries and we must aim to create concrete partnerships with the countries of the North, to master our energy policies collectively.


Hints: a 'biopact' with the North?


Interestingly, the presentation of the project includes some references to the opportunity for the developed countries of the North to cooperate with the South on the PAMI venture. The Global South, the initiators say, must hedge against the risks of globalisation and increasing energy prices. In this context, technology transfers, capital, and knowledge from the North are more than welcome, in exchange for a new stream of bioenergy from the South:

In this century of globalisation and rapid change, we cannot deny the many advantages presented by an energy crop like miscanthus. [...] One must understand the course taken by the countries of the South, which is aimed at opening a new era in the energy politics of this world. A new era of cooperation with the North will emerge, because now African countries have a strong asset in their hands that can contribute to satisfying the energy demand of developed countries.

This form of cooperation will offer opportunities to tackle the many challenges [faced by the developing world], both on a macro-economic as well as on a micro-economic level. It will benefit both government and people.

Apart from the announcement that tax incentives might be looked into and that agricultural credit institutions will create financial instruments for the project, no concrete policy initiatives or directions were announced within the context of PAMI.

Still, it is refreshing to see this initiative coming out of West-Africa, which is clearly waking up to its large bioenergy potential (earlier post), and which is well aware of the challenges and debates surrounding biofuels. The choice for the creation of non-food biomass plantations from the start, with the ambition to address both the issues of local energy security and international export opportunities, while keeping a long-term view on a post-petroleum future in which plant-based alternatives to oil-based products will be introduced on a large scale, shows the breadth of the initiative.

In 2006, non-oil producing African countries created a 'Green OPEC' of sorts, the PANPP, which aims to introduce biofuels on the continent to boost energy security and lessen the negative impacts of dependence on increasingly costly fossil fuels.

More information:
Jean-Noel Ahondjon: Plantations Africaines de Miscanthus, Tela Botanica [French portal focusing on agriculture in the South], March 26, 2007.

Fraternité Matin (Côte d'Ivoire) (via AllAfrica): Recherche agro-industrielle: le Miscanthus comme alternative à la production du biocarburant - March 30, 2007.

EU BioBase: Miscanthus Handbook.

Website dedicated to miscanthus as an energy and fiber crop (*German).