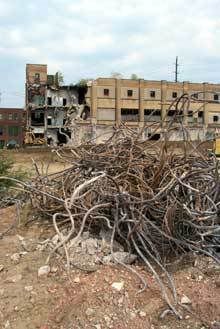 Biofuels are not destined for human consumption. For this reason, they can be grown on land not suitable for food crops. Earlier we referred to the potential of energy plantations to function as bioremediation agents on former industrial sites (previous post on
phytoremediation of coal-bed methane water
, and on
turning brownfields into 'green fields'
using, for example,
miscanthus, as is being studied in France
). When grown on mining sites, biofuel crops can do several things at the same time: they clean up water resources, contain the spread of fine and dangerous particles which affect people living in the vicinity and halt progressive erosion (
earlier post
and a
concept under development in South Africa
).
The UK's Waste and Resources Action Programme (WRAP) is joining this line of research by launching a project aimed at growing willow on former landfill sites to help test the viability of using contaminated brownfield land for biofuel production. The industrialised world has thousands of hectares of such polluted, degraded and abandoned sites - the scars of a bygone industrial era.
The WRAP
pilot project
will convert former landfill sites at Lumley North and Coxhoe East. The poor quality soils of these sites will first be restored by an application of 1,000 tonnes of certified (BSI PAS 100:2005) green compost per hectare after which they will be planted with short rotation coppice (SRC) willow.
The fast growing willow will then be harvested and used in biofuel production – a sustainable fuel resource that will provide energy for the local area. Assessment of the establishment and yield from the willow grown in compost will be compared to the same crop under conventional agricultural conditions grown in the same area, to determine whether low-value sites, such as former landfills, can generate cost effective biofuels using organic materials:
bioenergy :: biofuels :: energy :: sustainability :: biomass :: willow :: SRC :: brownfield :: landfill :: phytoremediation :: bioremediation :: United Kingdom ::

The Lumley North and Coxhoe East sites, which extend to 60 hectares, form part of Premier Waste Management Ltd's portfolio of operational and closed landfill sites and are managed by Land Remediation Services Ltd. The trailblazer programme is designed to help developers, designers and contractors realise the financial and environmental benefits of specifying high quality compost in brownfield projects.

Dr Eric Evans, of Land Remediation Services, said: "We specified green waste compost for the project as it is the best form of organic matter to restore the poor quality soils with respect to improving water retention and nutrient levels. This makes it suitable for planting short rotation coppice willow for biofuel production."

The compost was sourced from Premier Waste Management's Joint Stocks Recycling Centre in Coxhoe and is made from recycled municipal garden waste. The project started in November 2006 and is due to complete in March 2008. The coppice willow produced will be contracted to Renewable Energy from Agriculture (REFA) for local energy production. When mature, the crops will yield in the region of 20 tonnes per ha per year on a three year cutting cycle.

Pilot projects at other sites conducted in conjunction with WRAP, which look at the benefits of using PAS 100 compost in-situ as a soil improver, have shown significant improvement in both cost efficiencies and the quality of the resulting topsoil. In some cases, costs have been reduced by over 50 per cent*.

Richard Swannell, Director of the Organics Programme at WRAP, said: "Previous trials have shown that using locally sourced quality PAS 100 compost as a soil improver, not only saves transportation and landfill costs, but also produces good quality, fertile soil making it suitable for a wide range of uses. These two trailblazer sites are the first to use quality compost in restoring the land for biofuel production."

The BSI PAS 100:2005 certification means that the compost, which is produced from source segregated garden waste such as grass cuttings, prunings and leaves, has been manufactured to a consistent high quality level and is also safe, reliable and sustainable.

WRAP is a non-profit working in partnerships to encourage and enable businesses and consumers to be more efficient in their use of materials and recycle more things more often. This helps to minimise landfill, reduce carbon emissions and improve the environment. The organisation is backed by substantial Government funding from Defra and the devolved administrations in Scotland, Wales and Northern Ireland.

Working in seven key areas (Construction, Retail, Manufacturing, Organics, Business Growth, Behavioural Change, and Local Authority Support), WRAP's work focuses on market development and support to drive forward recycling and materials resource efficiency within these sectors, as well as wider communications and awareness activities including the multi-media national Recycle Now campaign for England.