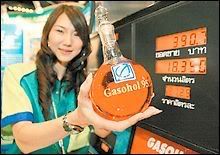 From Thailand comes an interesting story on how the new green fuel paradigm that is conquering the world is going through birth pains. Lack of planning, weak policy frameworks, and a steep learning curve to understand market drivers are typical for emerging industries. Local ethanol producers in Thailand, for example, have
failed
[*cache] to persuade the South East Asian nation's Energy Ministry to replace all octane 95 gasoline with E10 (locally called 'gasohol 95'), a 10% ethanol-mixed gasoline, even though they claim that ethanol supply exceeds demand by 200%. The reason for the Ministry's refusal is the fact that car manufacturers have not yet given guarantees that the blend does not harm older car engines. Flex-fuel cars, which make up 75% of all cars in biofuel leader Brazil, have not yet penetrated the Thai market either.
This fact, in combination with other factors such as the lack of export mechanisms, makes Thai ethanol producers face surpluses. Thailand has seven ethanol plants with a combined capacity of 955,000 litres per day. Actual production is 905,000 litres per day, according to Phichai Tinsuntisook, chairman of the
Federation of Thai Industries
' renewable energy industry club. Overall capacity would grow to 2.17 million litres per day while actual production would increase to 1.95 million litres by the end of 2007 once eight new ethanol producers begin operating.
However, domestic demand for ethanol is currently only about 350,000 litres per day, based on E10 consumption of 3.5 million litres. Mr Phichai said: "Motorists consume 4.5 million litres per day of octane 95 gasoline. So, if the fuel is taken off the market, E10 consumption will increase to eight million litres per day, which would increase ethanol demand to 800,000 litres per day."
The ousted Thaksin Shinawatra government - popular amongst rural classes and the poor - actively encouraged investment in ethanol plants and feedstock production, telling the industry it intended to stop sales of the premium gasoline, which would result in much higher demand for E10. However, after the military coup last year, the interim government said octane 95 gasoline would remain on the market as long as there were cars that could not use E10:
bioenergy :: biofuels :: energy :: sustainability :: ethanol :: flex fuel :: trade :: Thailand ::

Only Thai Alcohol Co Ltd is licensed to sell its products in the liquor market so most alcohol plants have no alternative sales channels. In addition, they cannot yet export their products because larger and very well established Brazilian producers offer lower ethanol prices, made possible by smooth logistical and trade chains.

At present, Brazilian prices are used as the reference for ethanol trades between oil companies and Thai ethanol producers. From April to June this year, the reference price is 18.62 baht per litre, compared with 19.33 baht during the first three months of the year, said Mr Phichai. "The government should help ethanol producers. They have tried their best to reduce production costs to meet the reference price level, which dropped 36% from 25.30 baht in October last year," he said.

However, Pornchai Rujiprapha, the Energy Ministry's permanent secretary, disagreed. He said that ethanol producers took advantage when ethanol supply was insufficient near the end of last year to raise the price to 28 baht per litre, doubling their price at the time. As a result, oil companies chose to import cheaper ethanol. He also said that the government continued to promote E10 consumption even though octane 95 gasoline was not eliminated from the local market.

"I don't think local ethanol producers should request any subsidy at the moment," said Mr Pornchai. Energy Minister Piyasvasti Amranand said ethanol producers should persuade car manufacturers to offer warranty coverage against problems arising from older vehicles that use gasohol.

"I will take octane 95 gasoline off the market immediately if car manufacturers offer warranties on old cars," he said. "But, if they refuse, is it fair to let hundreds of thousands of car owners suffer from the elimination of premium gasoline while a small number of ethanol producers enjoy benefits of the ban?" Boonsong Kerdklang, deputy director-general of the Energy Policy and Planning Office, added that local ethanol producers are free to export surplus output if they can find customers willing to pay.

Thailand's ethanol is primarily made from cassava and sugarcane.