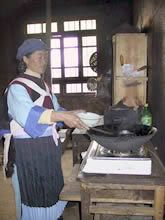 The Government of Netherlands has agreed to continue financing its highly successful rural biogas program, by releasing another €3.7/US$5 million. The funds will be used to build 140,000 more small biogas units for rural households nationwide.
Dutch Ambassador Andre Haspels
announced
his government's intentions in Hanoi at a ceremony to announce that Vietnam's Dutch-sponsored biogas project for animal husbandry won the
Energy Globe Award
, one of the world's prestigious environmental prizes.
The biogas for animal husbandry programme, part of a cooperative agreement between the governments of Vietnam and the Netherlands, helped build 27,000 household-based biogas units in 24 cities and provinces nationwide between 2003 and 2006. The biogas units convert animal waste into fuel that is immediately useable for cooking, heating, lighting and generating electricity. This way, the pressure to harvest wood fuel is reduced, and indoor air pollution - a true
killer in the kitchen
- is avoided.
Vietnam's Minister of Agriculture and Rural Development, Cao Duc Phat emphasised the project has helped boost rural development while at the same time dealt with environmental pollution issues to contribute to the improvement of the living conditions of rural people.
The awards, handed out to 10 projects from around the world, were selected from a short list of over 700 entries and were presented at a special gala event at the European Parliament in Brussels, on April 11 [entry ends here].
bioenergy :: biofuels :: energy :: sustainability :: waste :: husbandry :: biogas :: rural development :: Vietnam ::