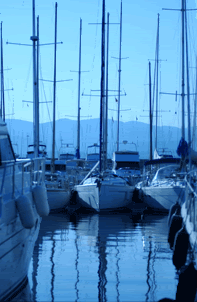 Nano Chemical Systems Holdings Inc.,
announced
today it has developed a "nano-enhanced", rapidely biodegradable 2-cycle oil for use on marine applications. The product will enter the multi-billion dollar performance chemical category under the name of 'NanoilMarine'. The biolubricant is the breakthrough step towards achieving the stringent goals set by the U.S. Environmental Protection Agency (EPA) in its
'Final Rule'
[*.pdf] which regulates outboard motor and Personal Water Craft (PWC) emissions and calls for a 75% reduction in hydrocarbon emissions nationally by 2025.
Unlike today's fossil and synthetic oils, NanoilMarine is non-toxic and biodegradable. Nanochem will produce the lubricant by utilizing the same nano-technology patent applications and inventions that it utilizes in its Nanoil product, which directly address biofuel production for a nano-enhanced line of 'green' biolubricants (
earlier post
). The patented technology is based on nano-sized molybdenum metal ball bearings that are introduced into bio-based oils, giving them superior properties as lubricants.
Initial results indicate that NanoilMarine can perform as well as today's fossil and synthetic oils in marine applications. Further, the biolubricant can be made from a waste-product obtained from biodiesel production that is based on saturated plant oils (such as palm and coconut oil, whose fatty acids have a low number of double bonds, which is why they harden at high temperatures). Biodiesel made from such oil types involves physically removing a fraction (up to 15%) of the fuel, needed to lower its melting point. This reduces the overall energy balance of the fuel and negatively affects its economics. By utilizing this fraction as a feedstock for NanoilMarine, the biolubricant can play a crucial role in strengthening commercial viability of biodiesel production:
bioenergy :: biofuels :: energy :: sustainability :: plant oil :: biolubricant :: molybdenum :: nanotechnology :: bioeconomy ::

Nanoil 2-cycle marine oil is a critical introduction in reducing hydrocarbon emissions and alleviating concerns that outboard and Personal Water Craft emissions pose a substantive threat to water quality. Since this oil is mixed with gasoline, the potential exists for boating enthusiasts to accidentally spill this oil directly into the water supply, says Lou Petrucci, COO and VP Sales of Nanochem. With 100% biodegradable oil, accidental spillage will not have an environmental impact.

Nano Chemical Systems holds a portfolio of in-house nano-research, development and a manufacturing plant. Earlier, it introduced Nanoil, a bio-based lubricant with nano-sized molybdenum particles, which is made from the residues from palm oil based biodiesel production.