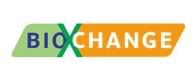 Several companies have contacted us lately with requests on where to secure biomass supplies or whether we own plantations ourselves (!) or sell seeds of particular crops. Needless to say, the Biopact is not a commercial enterprise so we do not trade any feedstocks, neither is it our intention to act as an intermediary. We do not sell any bioconversion technologies or agricultural inputs. And 'owning' or acquiring energy plantations is the last thing on our mind - we are a tiny volunteer organisation that merely wants to discuss the complexities of biofuels and highlight some of the chances the sector offers to the developing world...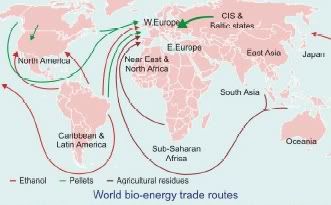 A good thing about the requests we have received is that they do offer some interesing insights into how the nascent bioenergy sector is developing. From them, we retain the following points:
(1) there are no established global markets or trading floors for biomass, volumes are small and instruments like futures markets don't exist since the resource isn't a genuine commodity yet
(2) there are no standardised protocols for describing the chemical properties of tradeable biomass feedstocks (the sheer diversity of potential feedstocks would make some kind of database of properties come in handy)
(3) there are no clear criteria on the social and environmental sustainability of biofuels that would allow importers to assess the quality of their feedstocks with these important factors in mind
(4) formal certification of biofuels is only being considered in a few countries, even though the companies that contacted us understand the need for such rules and expect them to be introduced sooner rather than later (we hope so indeed),
(5) confusion about the classification of bioenergy feedstocks as 'commodities' is rampant, as is
(6) the question of duties and taxes on different types of imported biofuels; intermediaries and trading experts are not very visible in this sector
(7) similarly, there are very few dedicated bioenergy consulting firms or independent experts who can assist start-ups or help farmers diversify into the sector (if they are out there, they are not very visible)
(8) there are unrealistic expectations about the current size of the market, especially when it comes to solid biofuels in the form of agricultural residues from the South (such as oil palm kernels, coconut husks or olive press cakes), and of the logistics and trade mechanisms involved.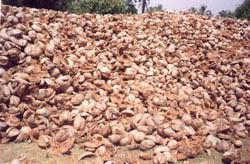 One example of a company's request illustrates how these factors come together and result in problems. The company in question is a bioenergy start-up in an EU member-state that is utilising solid biomass in a small district-heating system. Because it has not been able to secure enough local supplies, it wants to import miscanthus/wood chips/or cheap tropical residues with a particular heating value (cocoa/coconut husks) in bulk - at once, from anywhere, no questions asked, only a quote needed. Local biomass prices there apparently have skyrocketed, so the company searches 'globally'. This detail shows that business is rushing ahead of policy frameworks with regards to sustainability rules (in the case of miscanthus, the problem is probably not that outspoken). In the meantime, the capital cost of the venture is mounting; the investment has been made and must deliver on its potential today, and we quote: "but until this country is up and running in terms of production I will need to import". We have received numerous similar requests, showing similar difficulties.
At the same time, we receive many more questions from what we assume to be small producers from Africa, South East Asia and Latin America. Without being too prejudiced, upon reading these mails we had the feeling that some of these producers are working with very limited means, and are overly excited about "exporting biofuels"; our reply can only be that the market is very young, and that, in most cases, there are no infrastructures, procedures or logistical operations that make this kind of small scale exports competitive or feasible. Replies and further exchanges often confirm this basic assessment. We have advised some of these small producers to look into cooperating with local competitors, in order to achieve a bigger scale and synergies. A Nigerian farmers' association wants to know whether there is a market for low quality cassava chips in Europe, hoping there are ethanol producers here who would be interested - the offer is 50 tons. A Ghanese company wants to know how much it costs to pelletise forestry residues and whether shipping them unprocessed is cost-efficient, etc...
We are going to analyse these cases more in-depth and maybe organise a small survey questioning both the companies in the West, and the smaller potential suppliers in the South, to get a grip on what kind of very concrete challenges these parties are facing today.
For the time being, though, we can and have only recommended one source that may link these two different worlds: the
European Biomass Exchange
. This is a recently created EU-sponsored online trading floor that facilitates the trade in bioenergy feedstocks (such as forest wood and residues, biomass pellets and briquettes, bio-coal, and other types of solid and liquid biomass). We hope our correspondents find opportunities there.
To conlude: want to stress again that 'Biopact' does not sell or trade biomass, doesn't own 'energy plantations', does not sell any agricultural inputs like seeds, nor manufactures or sells pelletisers, biogas digesters or any other bioconversion technology. We appreciate the many questions we receive in this context, but when it comes to trade or actual production, we would advise correspondents to utilise more appropriate channels. It will save them time and energy. Finally, we can offer help with basic research on matters relating to biofuel policies in developing countries, broad analyses of local and regional potentials, basic agronomic analyses and social & environmental impact assessments of smaller projects, questions about access to European markets and overviews of global and regional trends in the market. In case we are not able to help, we forward requests to experts more knowledgeable about specific aspects of the bioenergy sector [entry ends here].
bioenergy :: biofuels :: energy :: sustainability :: ethanol :: biodiesel :: biomass :: trade ::