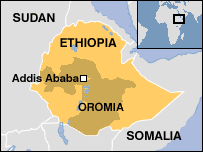 The biofuel opportunity is reaching some of the least accessible and poorest regions of the planet, namely the Oromia region in central Ethiopia. German company
Flora Eco Power
is investing what local people see as an 'enormous' 671 million birr (€57/US$77 million) in the Oromia Regional State to stimulate food and biofuel production in the region. Flora Eco Power will join four other firms in Ethiopia, a country rich with potential for growth in the sector. In light of high fossil fuel prices for which an alternative will become available, new employment opportunities and guaranteed incomes, excitement amongst local farmers is great.
Oromia is one of Ethiopia's nine ethnic divisions. 76% of the region's 24 million inhabitants depend on agriculture. Lack of market access and new market opportunities, poor agricultural skills, weak infrastructures and institutions, and high energy costs keep the region in abject poverty. Coffee production is the main source of income, but keeps farmers dependent on volatile world prices. The German biofuel venture opens new perspectives for crop diversification and increased income security.
The investment consists of the following objectives and numbers:
in first instance to produce biodiesel from castor seeds in the Oromia Regional State; castor is a hardy, drought tolerant shrub that thrives in degraded lands
to introduce new crop varieties of sorghum, maize, and sunflower specially bred for biofuel production

to reduce the region's dependency on foreign food aid and strengthening the food security of rural communities
the company has been granted 8,000 hectares of land by the Oromia Investment Commission
an additional 2,500 hectares for community farming in the Fadis and Miks woredas of the East Hararge zone were secured after a Memorandum of Understanding with the regional farmers' association was signed. The agreement contains a 5-year community farming contract. 700 farmers have already joined the project, providing 2 hectares of land each.
Flora EcoPower also signed a
Memorandum of Understanding
with the Ethiopian Train Authority to have access to Dira Dawa railway station's facilities, for storage and transportation to the Djibouti seaport.
The nursery that will grow the plants to be distributed amongst the farmers has meanwhile been established and is yielding its first results. The german entrepreneurs have also been granted an additional 15 hectares in Fadis worerda for the construction of the biofuel processing plant. The company has set aside a budget of 33 million birr (€2.8/US$3.8) to erect the plant and is importing farming equipment from India.
The biofuel project is set to create 4,000 farming jobs for poor farmers and 150 workers will be employed in the logistics and processing sector. Mohammed Ibrahim, aftercare and compensation execution coordinator at the Oromia Investment Commission said "Such a project has not been witnessed in the region before":
bioenergy :: biofuels :: energy :: sustainability :: castor :: biodiesel :: energy security :: food security :: Oromia :: Ethiopia ::

He said that the company started operation before it had signed a contract with the region; it was also the first company that went there to invest in biofuel production. The plots were promised to the company, after which it proceeded to bring in construction machineries without waiting for contract. Following his initial activities, the entrepreneurs signed the contract with the region's authorities.

The company will distribute seeds to the farmers, who will plant them on the 2,500 hectares designated for community farming, and sell their produce to it. It has also promised to establish a school, clinic, and dig water wells. Yusuf Bedri, a resident in Fedis woreda, told a local newspaper that the company is already supplying water to the local communities using eight tanker trucks.

Ethiopia has been attracting bio-fuel investments since last year. The Ministry of Trade and Industry (MoTI) is presently coordinating experts from the Ministry of Mines and Energy, Ministry of Agriculture and Rural Development (MoARD) and Ethiopian Oil Enterprise to study the kinds of incentives that could be provided for bio-fuel investors. There are now five biofuel companies in Ethiopia, including Sun BioFuel Ethiopia Plc, Becco and Green Power.

Flora EcoPower is also active in Israel and China where it is collaborating on the establishment of a 200,000 hectare jatropha plantation.

More information:
Fortune (Addis Abeba) (via AllAfrica): Ethiopia: German Co Invests Half Bln Birr Plus on Bio-Fuel - April 9, 2007.